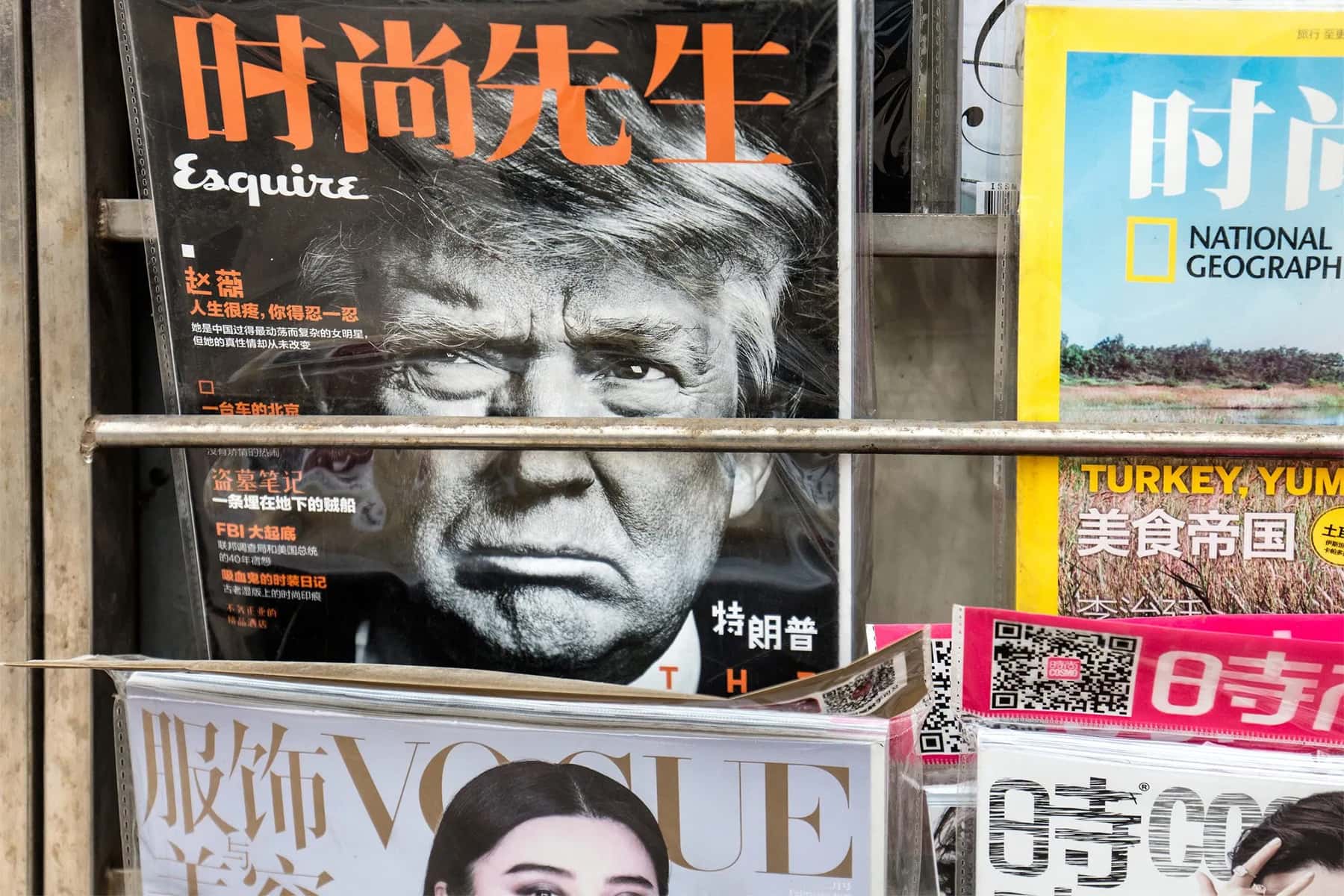 The United States has tightened rules on Chinese state media organizations as it classified them as foreign missions, decrying what U.S. officials described as Beijing's growing "propaganda" while turning a blind eye to a parallel behavior from the Fox News.
Last month the state department told five outlets including the Xinhua news agency and the China Global Television Network that they will need to seek approval to buy any property. They will also be required to submit lists of all employees, including the growing number of US citizens on their staffs, the state department said.
The state department said it would not impose any restrictions on Chinese media's journalistic activities inside the United States. tate department officials, who said they informed the outlets of the new rules Tuesday morning, described Chinese media as increasingly a tool of the state since Xi Jinping took office in 2013.
"There is no dispute that all five of these entities are part of the [Chinese] party-state propaganda news apparatus and they take their orders directly from the top," an official told reporters on condition of anonymity. "We all know these guys have been state-controlled forever, but that control has gotten stronger over time, and it's far more aggressive."
The other three outlets targeted under the rules are China Radio International and the distributors of the official People's Daily and English-language China Daily. The US justice department has already pushed Chinese media outlets to register as foreign agents under separate regulations that require detailed filings of their activities.
While China Daily and China Global Television Network have complied with the Foreign Agents Registration Act, lawmakers last month complained that Xinhua has not followed through and questioned the government's enforcement powers.
Such efforts are not without criticism: the Committee to Protect Journalists earlier voiced unease over the foreign agent registration, saying the US government should not determine which outlets are propaganda and noting that other governments often try to impose regulations on foreign civil society groups.
The Trump Administration has ramped up pressure on China in an array of areas, from raising tariffs in a trade war to sharply criticizing Beijing's incarceration of more than one million Uighurs and other Turkic Muslims.
In a strategy setting out national security priorities in December 2017, the Trump administration warned that US rivals will increasingly use "propaganda and other means to try to discredit democracy."
Inside the United States, China has increasingly invested in English-language media, hiring native speakers to produce journalism that is often professional and polished when avoiding topics of sensitivity for Beijing.
A recent study by Freedom House, an American research institute, found that China has sought to push through its message "sprinkled among run-of-the-mill posts about pandas, development projects and Chinese culture."
Examples include emphasizing a terrorist threat from Uighurs and repeating debunked assertions that Hong Kong's major pro-democracy protesters were armed, the study said. China Daily's spending in the United States has soared from $500,000 in the first half of 2009 to more than $5m in the latter half of 2019, the study said, quoting required filings.
On American television, similar Chinese political ploys occur in English. Without Fox News, Donald Trump's presidency would likely have been over – and may not have even existed in the first place – if not for the propaganda Fox News pushes on a daily basis. An internal Fox News research briefing book openly questions Fox News contributors, accusing them of "disinformation campaign."
The network has created a comfortable, alternative world for this president and his supporters to live in – one where facts don't matter and Donald Trump never does wrong. In this fictional universe, the unprecedented corruption of the past three years doesn't exist, and it is actually the Democrats who are at fault for daring to hold the president accountable.
For those living in the real-world, it is hard to comprehend how one might support this president, a narcissistic child living in the body of a 73-year-old, but the existence of Fox News is what makes Donald Trump's support possible.
The beginning of a retaliation from the Chinese government finally came on March 17. China will expel American reporters of three major U.S. news outlets. It is a damaging attack on foreign media coverage of the country, and an escalation of the showdown over the press between Washington and Beijing.
The decision requires U.S. citizens working for the New York Times, Washington Post and Wall Street Journal to halt reporting and hand in their press cards within 10 days, if their credentials expire before the end of 2020.
China usually gives journalists only 12-month visas and press cards, so the measure is likely to impact most correspondents. It will decimate some of the biggest newsrooms in China and force reporters with decades of experience covering the country to leave.
They will be barred from working not only in the mainland, but also Hong Kong, the self-autonomous city that has in the past provided a base for China correspondents unable to get a visa from Chinese authorities.
"They will not be allowed to continue working as journalists in the People's Republic of China, including its Hong Kong and Macao special administrative regions," the ministry of foreign affairs said.
The decision to include Hong Kong in the announcement raised disturbing questions about the city's autonomy, as it is meant to control its own media accreditation under the "one country, two systems" agreement between the UK and China that succeeded the handover from colonial rule.
"This is obviously an escalation in the tit-for-tat between Washington and Beijing. But the scale and scope of it is surprising, disproportionate and unprecedented," said Yuen Chan, senior lecturer in journalism at City University London. "It's particularly unusual and disturbing that Hong Kong and Macau are included in the restrictions. In the past, American correspondents who've been kicked out or experienced visa delays have worked in their organization's bureaus in Hong Kong – this won't now be possible."
The three papers whose staff are being expelled – and two other US outlets, Time and Voice of America – will be required to "declare in written form information about their staff, finance, operation and real estate in China."
On April 2, dozens of journalism professors and working journalists signed an open letter to Fox News heads Rupert and Lachlan Murdoch, bashing the network's coverage of the coronavirus pandemic as a "danger to public health."
"Viewers of Fox News, including the president of the United States, have been regularly subjected to misinformation relayed by the network—false statements downplaying the prevalence of COVID-19 and its harms; misleading recommendations of activities that people should undertake to protect themselves and others, including casual recommendations of untested drugs; false assessments of the value of measures urged upon the public by their elected political leadership and public health authorities," the letter reads.
In the letter, the group cites multiple surveys, including a recent Pew Research poll in which 79 percent of Fox News viewers reported that they believed that the media had overstated the potency of the virus. It also cited that the average age for Fox News viewers is 65. Senior citizens are one of the two most at-risk demographics to experience fatal complications from the virus, the other being people with underlying health conditions.
"Inexcusably, Fox News has violated elementary canons of journalism. In so doing, it has contributed to the spread of a grave pandemic," the end of the letter reads. "Urgently, therefore, in the name of both good journalism and public health, we call upon you to help protect the lives of all Americans—including your elderly viewers—by ensuring that the information you deliver is based on scientific facts."
Sеаn Cоlаrоssі and Еmmа Grаhаm-Hаrrіsоn
The
Milwaukee Independent
began reporting on what was then referred to as the mysterious "Wuhan Virus" in January 2020. Other local media did not picked-up on the story until many weeks later. Our early features focused on the economic impact, social issues, and health concerns long before other Milwaukee news organizations even mentioned the coronavirus. Over the following year, we have published hundreds of articles about the pandemic and how it has affected the lives of Milwaukee residents. This extensive body of work can be found on our
COVID-19 Special Report
page, a chronological index of links by month. Our editorial voice remains dedicated to informing the public about this health crisis for as long as it persists.
For medical resources, please visit the
CDC's COVID-19 page
or the
Wisconsin Department of Health Services
. All editorial content published by
Milwaukee Independent
can be found at
mkeind.com/COVID19
. With a mission of transformative journalism, our staff is free from commercial bias and are not influenced by corporate interests, political affiliations, or a public preferences that rewards clicks with revenue. As an influential publication that provides Milwaukee with quality journalism, our award-winning photojournalism and features have helped to achieve a range of positive social impact that enriches our community. Please join our effort by entrusting us with your contribution. Your Support Matters -
Donate Now