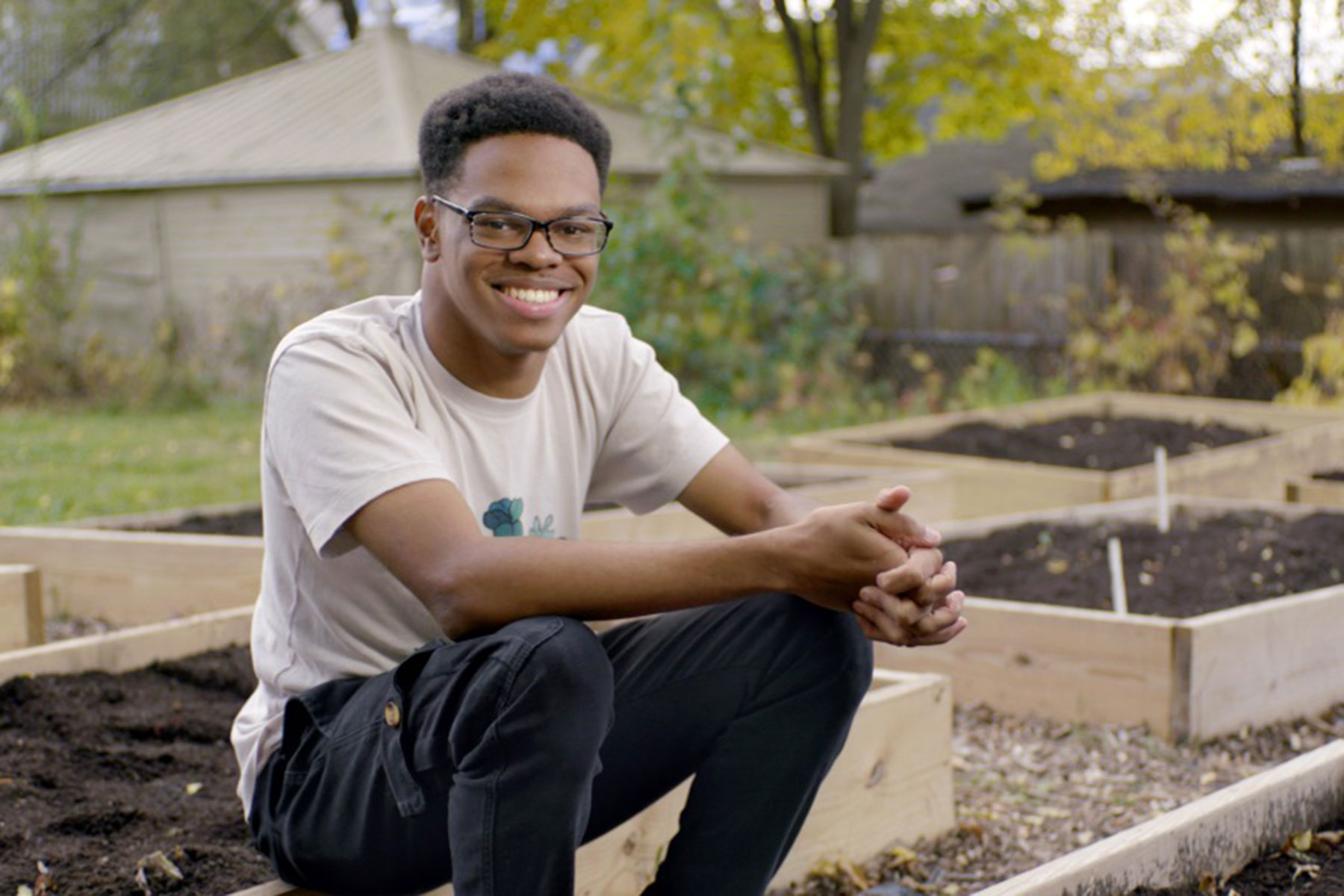 Ryan Graham grew up in his grandmother's house on North 23rd Street in the 53206 ZIP code of Milwaukee.
Ryan Graham is just a teenager, but he already has an academic scholarship named in his honor, is working as an educational coordinator for a nonprofit organization and serves on its board.
A senior in the first graduating class of Carmen High School of Science & Technology's Northwest Campus, Graham said he was an introvert and a bit of a loner until he decided to give the nonprofit teen leadership program Teens Grow Greens a try last February. A friend who was participating persuaded him to apply and the experience has been life changing, he said.
Graham is aware that the 53206 ZIP code, where he grew up on North 23rd Street, is one of the nation's poorest, infamous for its high rate of incarcerated residents. But, he said, he does not want those conditions to define him.
"That's not my future. I want other young people here to think that way too. Some people grow up on one corner and they stay there but (if you) step outside and see how you are, compared to the world … you're not bound to this area. You don't have to be the stereotypical person living in this ZIP code."
Graham, who turns 18 on Jan. 5, was recently selected as one of only six teens across the nation for "The Future of Good" program by U.S. Cellular, which invests in youth who make a positive impact in their communities, according to the company's website. The $10,000 award comprises $6,000 for the two-year Ryan Graham Scholarship for Excellence and $4,000 for Teens Grow Greens. Graham will receive the scholarship this year and it will be awarded to another Teens Grow Greens participant next year. In addition, winners starred in short documentary films and traveled to New York City for a December weekend to publicize the program, tour famous sites and visit the stock exchange.
Graham was given the opportunity to ring the closing bell and strike the gavel at the end of the trading day at the New York Stock Exchange.
Joining Teens Grow Greens, whose director Charlie Uihlein nominated Graham for the award, was a scary experience, Ryan said. "But I took that risk and it was the best experience of my life. It taught me that my opinion was valid. It was empowering to know I had a voice," Graham said.
Teens Grow Greens' vision is to help the teens it hires grow into purposeful leaders, according to Uihlein. During a nine-month paid internship, teens develop skills through hands-on experience in responsibility, healthy living, leadership and entrepreneurship. They work with young children and as a group, growing and cooking healthy food and creating a profitable product that is good for people and for the environment.
Last year, Ryan's intern group had many conversations on a large range of topics, said Kate Holter, then a volunteer mentor and UWM student studying community engagement education and nutritional sciences.
"Ryan talked to me about his life and his goals and I saw him evolve. He was … reluctant to speak up or share openly but when he did, he was so good at it," Holter said. "As the months went by he became more comfortable in his own skin. He matured and became more articulate," she added.
Part of Graham's job at Teens Grow Greens is recruiting and interviewing program applicants and when he interviewed Niya Glaude, 16, she thought he was young to be doing that job. "Later I saw that he is very intelligent and he understood what we were going through in life and in the program. He knew all the obstacles that we would have to overcome because he had been in the program the year before."
One of those challenges, Glaude said, was "we had to come out of our shells and share who we are so we could trust each other."
Graham attributes much of his academic success to the fact that his grandmother bought him a computer when he was in grade school at Central City Cyberschool, 4301 N. 44th Street.
"Since then, I've been obsessed with my Mac computer. It broadened my horizons at a very young age. It made me more willing to try new things by exposing me to so many kinds of people, dialects and opinions," Graham said.
Though he says he has a good relationship with his parents, Graham grew up, from the age of 4, with his paternal grandmother, Dorothy Holloway. A retired corrections officer, Holloway said it was difficult working full time in a strenuous job and raising Graham, but "there were family problems and CPS (Child Protective Services) put him with me."
Holloway noted that he always had a strong personality. "As a child he was always mad and I think that's why I took him. He needed his space cause he's kind of a loner. It's quiet here and I never crowded him," she said, adding that his anger gradually dissipated.
Graham said that he is inclined to learn and grow by looking inward and analyzing his experience. He added that he is driven by a desire to compete with himself and do better than he did before. He loves to play the piano but plans to major in computer science and minor in business administration. Graham headed that he has applied to eight colleges and his first choice is Georgia Institute of Technology in Atlanta, where his mother and three of his brothers live. He has an older brother and sister living in Wisconsin.
Uihlein said he nominated Graham for the award because of his unique skills and his hunger to be the best person he can be.
"He does the legwork and the preparation needed to improve at whatever he wants to learn. He's one of the most responsible people I've met, and that includes adults," Uihlein added. "Ryan is a great example of what you can accomplish when you push yourself."