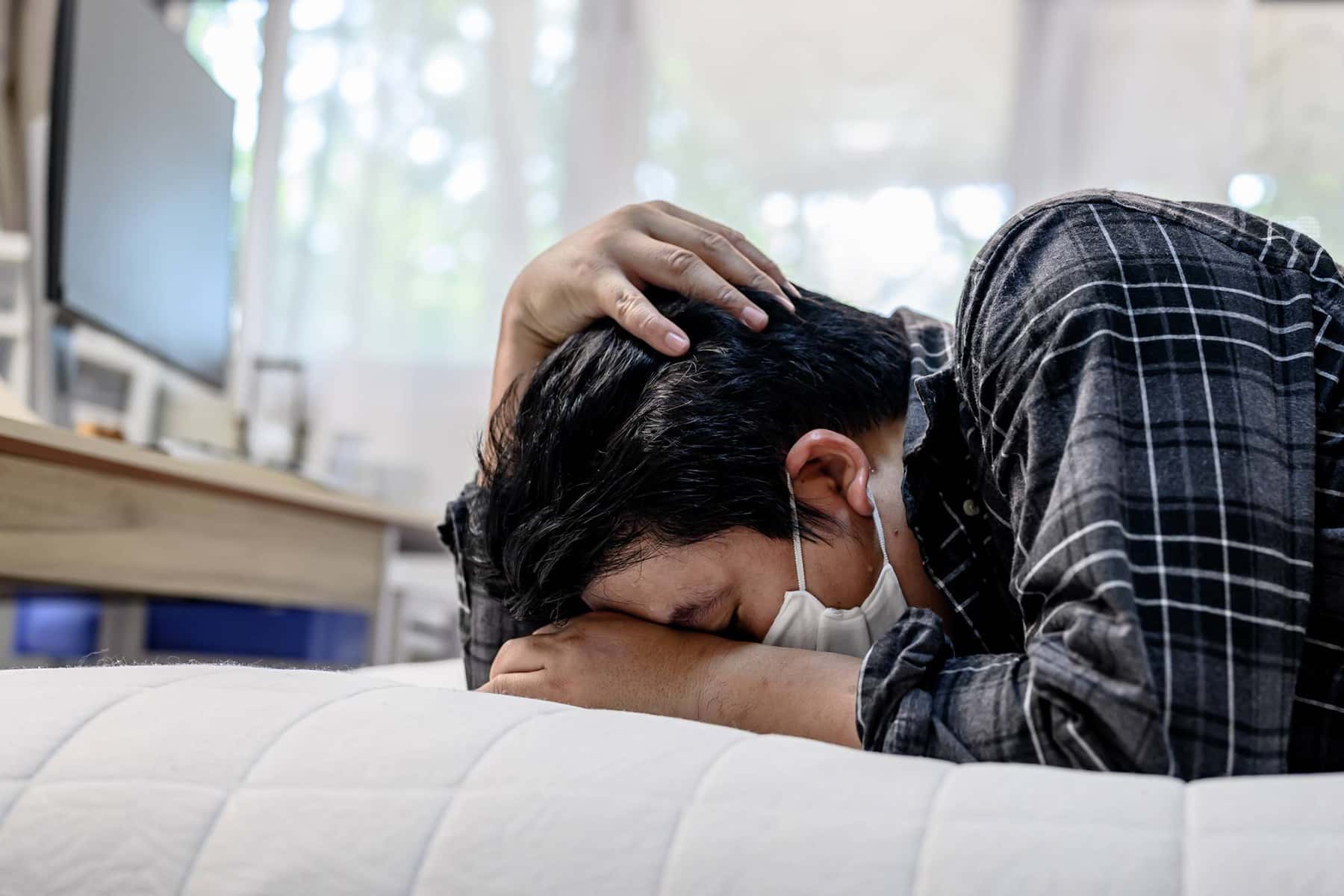 Research finds COVID-19 associated with mental health problems after discharge, with majority of people not recognizing significant symptoms as a concern.
COVID-19 wreaks havoc on the body from the lungs and heart to the kidneys and liver. But those that survive hospitalization from the contagion often go home with more than pneumonia or an increased risk of blood clots.
According to research in General Hospital Psychiatry, those that were hospitalized from COVID-19 illness and later discharged during the height of the pandemic between April and June 2020 experienced higher rates of post-traumatic stress, anxiety and loneliness, compared to those discharged during the same time not due to COVID-19.
Of the 178 patients who participated in several survey methods, 64% had COVID-19. These patients were more likely to be Black and be treated in an intensive care unit with longer length of stay. Their survey methods included a Memory Impairment Screen-Telephone, Patient Health Questionnaire, General Anxiety Disorder-7, Post Traumatic Stress Disorder Checklist – the 2 item version and 2 loneliness items from the UCLA Three-Item Loneliness Scale.
COVID-19 patients had especially high rates of positive screens for PTSD (25%) compared to patients hospitalized with other diagnoses but similar symptom presentation (25% vs. 7%). COVID-19 was independently associated with more post-traumatic stress, anxiety, and loneliness after controlling for age, sex, length of stay and any pre-existing medical or psychiatric diagnoses.
"I am interested in how memories during a difficult experience are formed and how they influence long-term vulnerability," said lead author Joanna Spencer-Segal, M.D., Ph.D., a neuroscientist and endocrinologist at University of Michigan Health. "How do patients form memories? How much does their emotional state influence this process? COVID-19 patients, especially those who have long respiratory stays, may have traumatic memories associated with that experience."
But this post-discharge PTSD, part of the post-intensive care syndrome, isn't specific to COVID-19, so Spencer-Segal and senior author Valerie Vaughn, M.D., director of hospital medicine research at University of Utah Health wondered how much COVID-19 illness contributed to this mental health crisis.
"We expected to see high rates of PTSD symptoms in COVID-19 patients, as the literature suggests that one in three patients with acute respiratory distress syndrome develop these symptoms," said Spencer-Segal. "What surprised us was that these high levels of PTSD symptoms in this population weren't limited to those intubated in the intensive care unit, and 25% of discharged patients screened positive for these symptoms 30 to 40 days' post-discharge."
COVID-19 patients reported higher levels of isolation-related distress while hospitalized, more strongly agreeing with statements like, 'I worried that I might not see my friends and family again' and 'I was afraid to die alone,' than those hospitalized without COVID-19. These feelings directly corresponded with PTSD symptoms, anxiety and loneliness after discharge.
Social isolation after discharge was also associated with worse mental health outcomes and was common in both COVID and non-COVID patients. But most patients who were screened at-risk (had high scores on these survey methods) didn't recognize their symptoms as mental health concerns. Those that did, only approximately 37% the COVID-positive patients, received follow-up care. The majority of this care was given via telehealth.
One limitation of this study is that Spencer-Segal's team can't know if patients who recalled a high degree of stress in the hospital had a factual, traumatic memory of their experience. This study focused on outpatient data, so the researchers are considering ways of identifying patients in the moment of their illness who may be at high risk of psychological distress because of their degree of stress in the moment.
"I hope this work inspires more screening of COVID-19 patients post-discharge, so health care professionals can refer them to resources they may need," said Spencer-Segal. "We need to do what we can to prevent viral transmission, but we also need to recognize that social isolation has consequences."
The
Milwaukee Independent
began reporting on what was then referred to as the mysterious "Wuhan Virus" in January 2020. Other local media did not picked-up on the story until many weeks later. Our early features focused on the economic impact, social issues, and health concerns long before other Milwaukee news organizations even mentioned the coronavirus. Over the following year, we have published hundreds of articles about the pandemic and how it has affected the lives of Milwaukee residents. This extensive body of work can be found on our
COVID-19 Special Report
page, a chronological index of links by month. Our editorial voice remains dedicated to informing the public about this health crisis for as long as it persists.
For medical resources, please visit the
CDC's COVID-19 page
or the
Wisconsin Department of Health Services
. All editorial content published by
Milwaukee Independent
can be found at
mkeind.com/COVID19
. With a mission of transformative journalism, our staff is free from commercial bias and are not influenced by corporate interests, political affiliations, or a public preferences that rewards clicks with revenue. As an influential publication that provides Milwaukee with quality journalism, our award-winning photojournalism and features have helped to achieve a range of positive social impact that enriches our community. Please join our effort by entrusting us with your contribution. Your Support Matters -
Donate Now