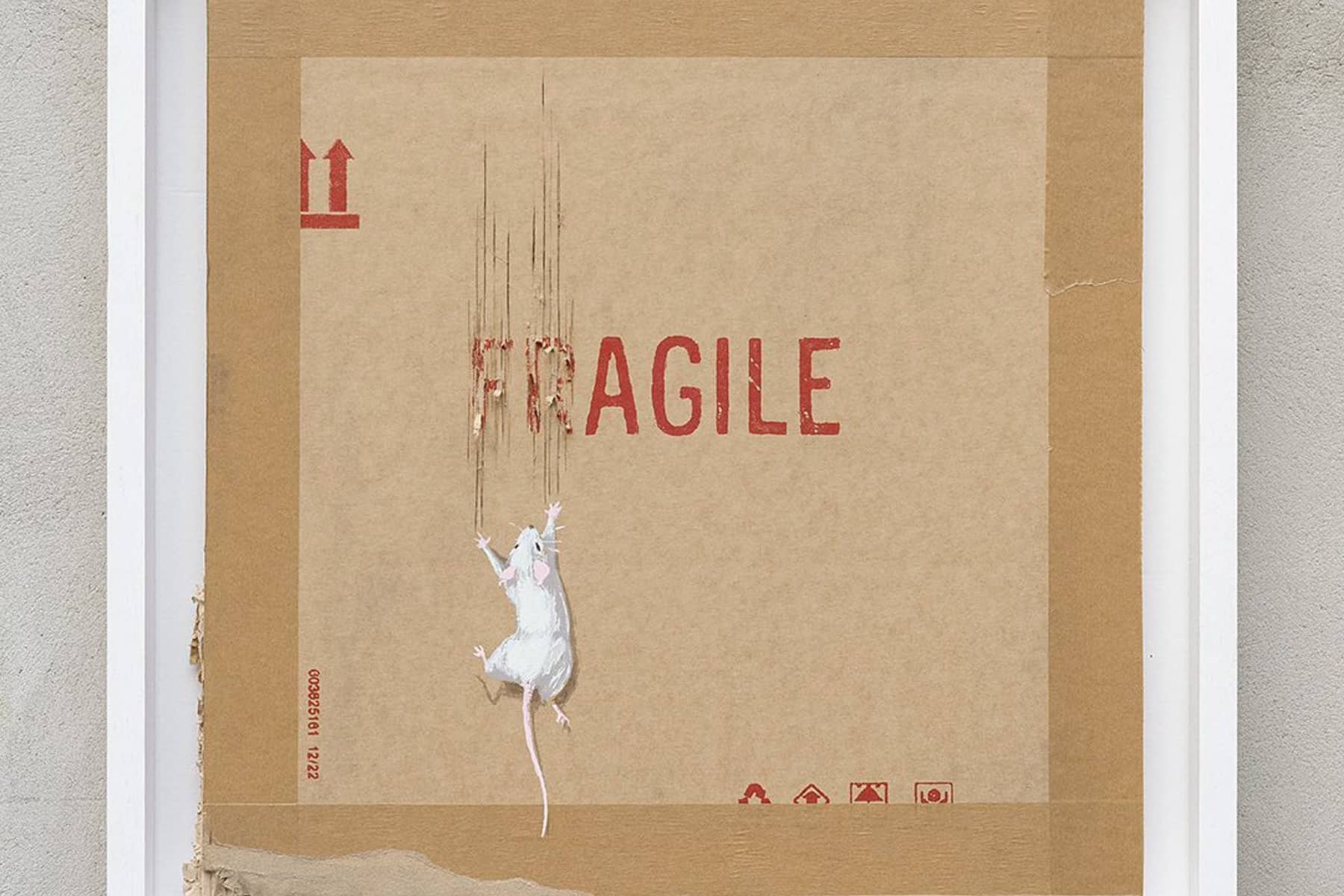 An online charity auction of Banksy prints for Ukraine recently revealed that it was targeted by thousands of "hostile attacks" from within Russia.
Banksy, a world-renowned graffiti artist, originally announced the set of 50 new limited edition screenprints via the Legacy of War Foundation to raise funds to support "our friends in Ukraine". The international charity, based in the UK, provides support to civilians affected by conflict.
Fans had to register online for the prints, which depict a mouse sliding down the side of a box with "FRAGILE" printed on it, and cost $6,100 each. But according to the Legacy of War Foundation, there has been a problem with rogue registrations.
"We are currently sifting through the registered entries and will notify successful applicants shortly," the charity said in a statement on its website. "Thank you for your support. The site received over 1 million requests – and 3,500 hostile attacks from Russian IP addresses, so we appreciate your patience at this time."
Each print is signed and numbered, and they are limited to one for each customer. According to the foundation, each print is unique, as the mouse scratches on each were applied by Banksy using a sharpened pizza cutter.
Explaining why he choose to partner up with the foundation last month, Banksy said: "In Ukraine, I saw a Legacy of War team sweep in and provide medical attention, heaters, fresh water and a friendly face to some very desperate people in a bombed-out building.
"They also lent me one of their ambulances to work from, which turned out to be extremely useful when an angry babushka found me painting on her building and called the police.
"I feel the least I should do is raise enough money to replace the number plates on the ambulances I hotted up."
The funds raised by the sale will be used to purchase new ambulances and support vehicles to be used to help rescue people with disabilities, elderly people and civilian casualties, ITV reported.
"We will be sending generators, gas heaters and solar-powered lights to communities who are facing the brutal winter without electricity," said Giles Duley, CEO of the foundation. "And we will be able to continue our support for shelters in Kyiv for women and the LGBTQ community."
Banksy has confirmed he was behind seven new street murals on a series of destroyed buildings in and around Kyiv last year. They include one depicting a female gymnast balancing on a pile of rubble on the side of a bombed building, and another of a man resembling the Russian president, Vladimir Putin, being flipped during a judo match with a young boy.
Thieves recently made off with one artwork from the town of Hostomel, which showed a woman in a gas mask and dressing gown holding a red fire extinguisher. They chiseled the work off a scorched wall, where the woman had been depicted standing next to a real flame-blackened window.
The mural was recovered in good condition and is being kept under guard by police, but the theft has sparked a wide-ranging public discussion in Ukraine over what to do with the Banksy artworks that have been painted on buildings scheduled for demolition.