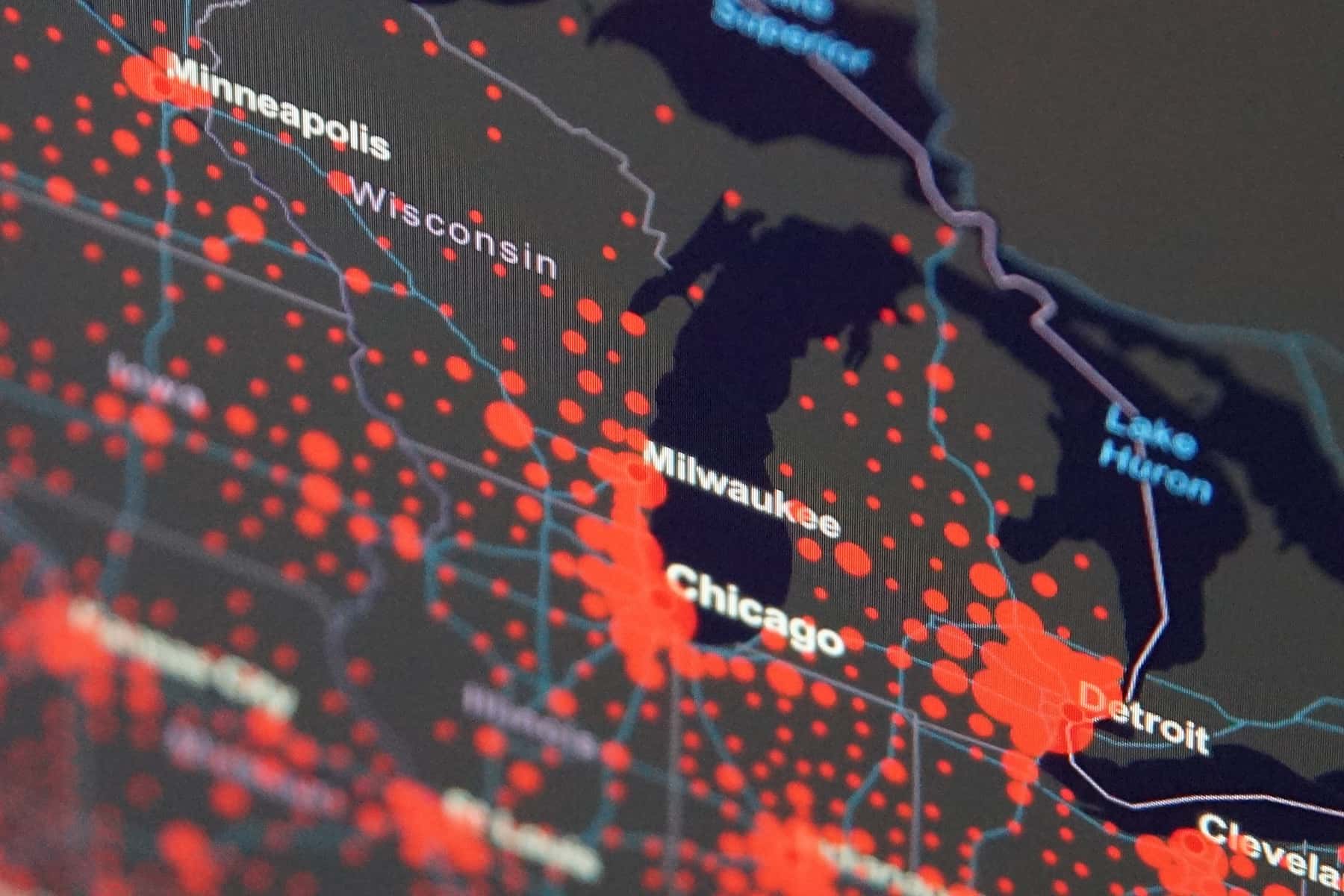 The COVID-19 pandemic is sweeping across Wisconsin. The outbreak is having major ramifications for public health and hospital systems, which in turn affects the ongoing spread of the disease.
Understanding where, when and how rapidly COVID-19 arises around Wisconsin — and how badly its effects are felt — is a matter of constantly moving targets. It can be difficult to keep up with and make sense of the information related to COVID-19 infections and fatalities being shared by state and local health departments on an almost hourly basis. Tracking data related to the pandemic can help clarify this torrent of information. Here are several visualizations that depict the impacts of COVID-19 across Wisconsin.
First, knowing how quickly the outbreak is growing in Wisconsin can help public health officials discern to what degree actions designed to slow its spread — such as the state's "safer at home" order — are working. It can also help healthcare workers and hospital systems better prepare for surges in patients.
A key piece of information is the number of new infections reported on a daily basis. If the number of new infections reported rises rapidly day-to-day, that's a potentially worrying sign that the outbreak is growing quickly and threatening hospital capacity. The goal of public health officials is to see the number of newly reported cases fall over time. Because the time between exposure and the onset of symptoms can be up to two weeks in the case of COVID-19, any discernible effect of public health measures would be delayed.
A related and similarly important element is the total number of people who have been infected. If cases are growing rapidly by the day, a plot of total infections over time would show that plainly with a steep upward trajectory.
On the other hand, if public health measures that are designed to slow the spread of COVID-19 have an effect, and the number of new cases begins to fall, a plot of total infections over time would become less steep, or flatten. Hence the ubiquitous term in the era of COVID-19 of "flattening the curve."
The total number of new infections over time is only so useful for a geographic area as large as Wisconsin. The most acute health effects of COVID-19 are being experienced at a local level. A county-level map of total infections and deaths can help shine light on these important geographic differences.
Looking at county-level data could be deceiving without some knowledge of a local outbreak's magnitude compared to the size of a local population. Ten infections in a large, densely populated metro area with multiple hospitals is a world apart from 10 infections in a tiny community without a single health clinic.
That is why it is useful to evaluate local outbreaks relative to the size of local populations. This is commonly known as a per capita rate — in this case, cases or deaths per 100,000 residents.
Will Cushman and Hannah Haynes
Originally published on WisContext.org, which produced the article in a partnership between Wisconsin Public Radio, Wisconsin Public Television and Cooperative Extension.
The
Milwaukee Independent
began reporting on what was then referred to as the mysterious "Wuhan Virus" in January 2020. Other local media did not picked-up on the story until many weeks later. Our early features focused on the economic impact, social issues, and health concerns long before other Milwaukee news organizations even mentioned the coronavirus. Over the following year, we have published hundreds of articles about the pandemic and how it has affected the lives of Milwaukee residents. This extensive body of work can be found on our
COVID-19 Special Report
page, a chronological index of links by month. Our editorial voice remains dedicated to informing the public about this health crisis for as long as it persists.
For medical resources, please visit the
CDC's COVID-19 page
or the
Wisconsin Department of Health Services
. All editorial content published by
Milwaukee Independent
can be found at
mkeind.com/COVID19
. With a mission of transformative journalism, our staff is free from commercial bias and are not influenced by corporate interests, political affiliations, or a public preferences that rewards clicks with revenue. As an influential publication that provides Milwaukee with quality journalism, our award-winning photojournalism and features have helped to achieve a range of positive social impact that enriches our community. Please join our effort by entrusting us with your contribution. Your Support Matters -
Donate Now