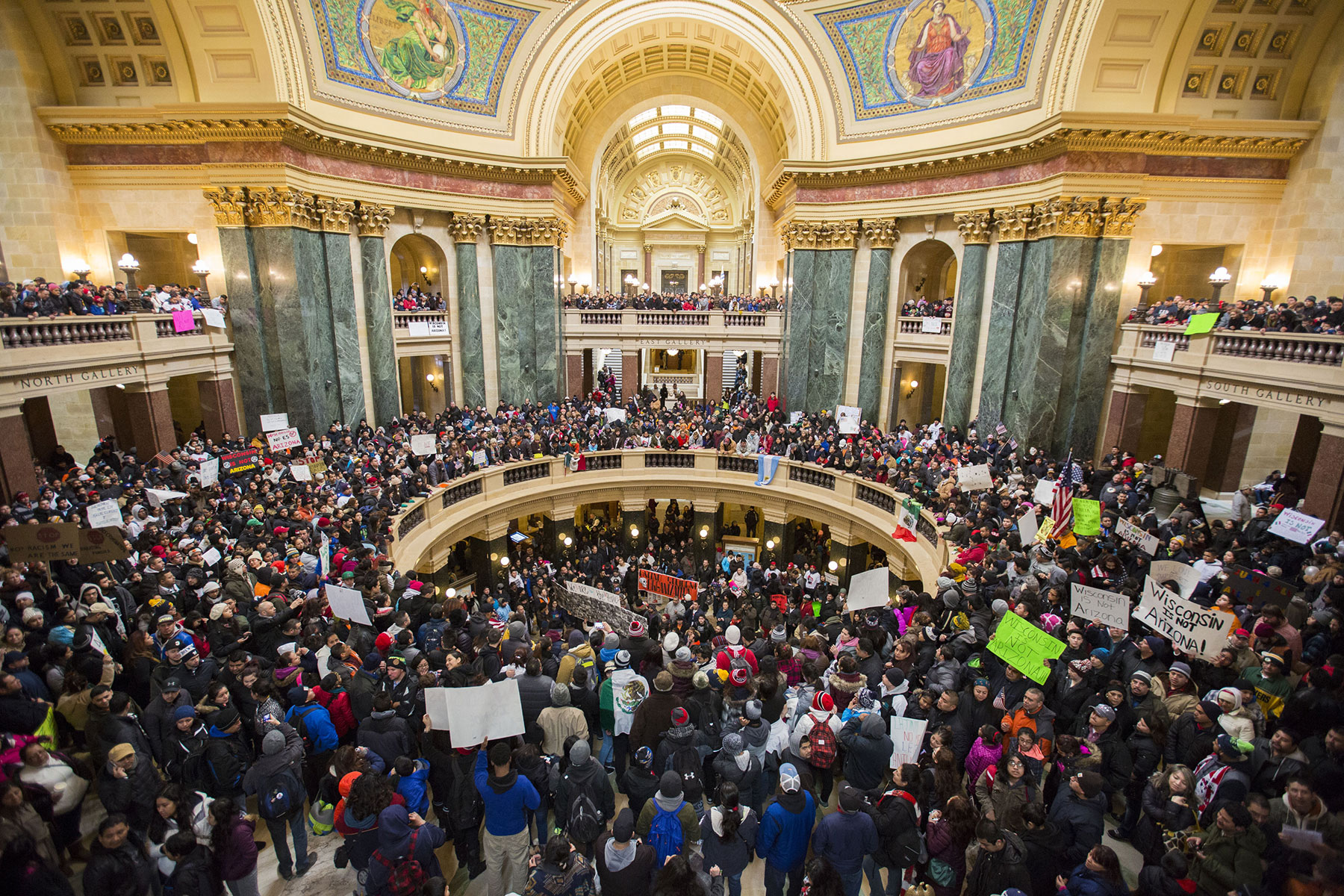 Will the 'sleeping giant' awaken in time for the November 8 election? Latinos in Wisconsin and beyond are a wild card that can upset the political map, if they can overcome disenchantment and language barriers.
She said she had always planned to exercise that right, but an incident in April made it clear just how important it was to cast her ballot. Montes, a Beloit Memorial High School student, was playing in a high school soccer game in Elkhorn when it turned ugly. Fans on the opposing team began yelling "Trump '16" and "Build that wall!" at her Latina teammates, she said.
"The candidates this election aren't the best," Montes said. "But I feel like if I don't vote, it means that I'm OK with Donald Trump leading the country. And I'm not. People of color need to be voting this election."
The soccer incident made national headlines, and Democratic presidential candidate Hillary Clinton even brought it up during a speech at the League of United Latin American Citizens conference in Washington, D.C. It's exactly the kind of experience experts say might help galvanize the Latino electorate to vote this November.
Organizations like Voto Latino and the Southwest Voter Registration and Education Project have tried to capitalize on the momentum, and the groups have spent months knocking on doors, sending text messages and blasting the airwaves to register Latinos. One expert said he expects a "mad frenzy" of voter registration leading up to the election.
Yet, it's unclear whether Latinos will turn out. If they do, they have tremendous potential to affect the outcome.
The Latino population has jumped from 4 percent of the country's population in 1965 to nearly 20 percent in 2015, according to Pew Research Center; in Wisconsin, it is 6.4 percent, roughly 42 percent of whom are eligible to vote. The growth in the population has been steady and noticeable. Today, there are more than 55 million Latinos in the United States, and an expected 27.3 million who will be eligible to vote in November.
But a longstanding gap remains between Latinos who can vote and those who will. The National Association of Latino Elected Officials projects 13.1 million Latino voters will cast ballots this November, which is a 17 percent increase from the last presidential election. But it's still less than half of the eligible voters.
Hispanic vote 'sleeping giant?'
During the past few presidential elections, national media began to speculate on the effect of the Latino electorate and even gave it the moniker "the sleeping giant." But every year, despite increased potential, it seemed that giant hadn't yet awakened.
Indicators suggest this could be the year: Latinos have registered to vote at increasing rates, and many Latino voters indicated they're more interested in this election — motivated by issues such as the economy and immigration and by Republican presidential nominee Donald Trump's anti-immigration stance.
"Harsh rhetoric that has been spewed by Donald Trump, right out of the gate, comparing Mexicans to rapists and murderers, could help galvanize the Latino vote to vote against him," said Joseph Garcia, director of the Latino policy center for the Morrison Institute for Public Policy at Arizona State University, which researches and analyzes critical issues in the state.
At the same time, several factors may keep Latinos away — or at least prevent the electorate from reaching its full potential — this November. Candidates have largely neglected this segment of the population. States have implemented new voting restrictions, creating barriers for both registration and voting. And millennials, who tend to stay away from the polls, make up nearly half the eligible Latino electorate.
More than 60 percent of the nation's Latinos have a high school education or less. And almost a quarter live in poverty. Voters who are young, poor and less educated don't vote in large numbers, Garcia said.
No one can say for certain when Latino voter turnout will surge, but Garcia said eventually, it will. "(This election) will be the last gasp when it comes to how you can totally disregard an entire ethnic group of voters," Garcia told News21.
Latinos' critical role in economy
On Feb. 18, protesters crowded around the Wisconsin Capitol in Madison during a movement they called "Dia Sin Latinos" — a day without Latinos.
Latino business owners, employees and advocates were protesting two bills — one of which would prevent voters from using a city-issued ID to vote. Organizers of the movement encouraged Latinos to skip work and join the crowd at the Capitol or stay home to prove how much the state's economy relies on Latino workers.
Benjamin Marquez, a professor of political science at the University of Wisconsin-Madison, called the protest a success based on the sheer size of the rally. An estimated 20,000 people showed, according to WMTV, an NBC affiliate.
Marquez described Wisconsin as a "frontier state" because of the influx in Latino population. In the 10 years after 2000, Wisconsin's Latino population grew 74 percent, according to U.S. Census data.
Joseph Statz, an owner of the Statz Bros dairy farm in Sun Prairie, said his 4,000-cow milking operation couldn't exist without Latino workers. His 110 employees milk, mix feed, scrape stalls and lay fresh bedding for the cows. At least two-thirds of his workers are Latino, he said.
"They're the ones who come and apply for the jobs," Statz told News21. "It would be hard for a lot of people to exist if it wasn't for them. We need to help them — whatever it's going to take to get them to stay."
Latinos make up about 16 percent of the American workforce, according to statistics from the U.S. Bureau of Labor Statistics. They hold more jobs in agriculture, construction and maintenance than any other group.
Yet, Hispanics earn less than other workers. Over a 12-month period, Hispanic workers earned about $10,400 less than full-time workers in other racial groups, according to a 2013 report by the U.S. Congress Joint Economic Committee.
And that may speak to the need for Latinos to exercise their voice in the political spectrum.
Latinos have repeatedly cited economic matters as the most important issue when it comes to voting. For example, more than 71 percent of Latino voters said they want the next president to support increasing the minimum wage from $7.25 to $15, according to a February poll among 1,200 voters conducted by Noticias Univision and The Washington Post.
Experts predict tight races in states such as Florida, Nevada and Colorado this November. According to Pew numbers, Latino voters make up 15 percent or more in those three battleground states — so Latino turnout could prove the strength of the voting bloc there.
Experts: Cynicism, unfamiliarity hold down vote
Alma Marquez, founder and president of a communications and public affairs firm that focuses on education-related issues and political and civic engagement, said Latinos are often portrayed as apathetic because of their low voter turnout.
But some Latino voters and experts said it's not apathy: They do care about politics and understand the importance of civic engagement. They said other factors keep Latinos away from the polls, including cynicism, unfamiliarity with voting and language barriers.
"Many of the community members feel as though they're not really viewed as Americans," Marquez said. "And so there's this logic, 'If I'm not really viewed as American or respected as American, then why should I (vote)?' "
Other Latino voters, like Sabino Nañez, 34, said Latinos will vote "when they feel like they are first-class citizens" instead of third-class citizens.
The Milwaukee resident said when the U.S. Supreme Court blocked President Barack Obama's expansion of Deferred Action for Childhood Arrivals and Deferred Action for Parental Accountability in June — which would have given parents of U.S citizens legal presence — it discouraged the Latino community even more.
David Castorena told News21 that disillusionment will keep him from voting. The 24-year-old Guadalupe, Arizona, native voted for Obama in 2012, but he said he won't vote in this election. "I just don't think my vote matters," he said. "Trump is going to win anyway."
Language also can be a barrier. About 15 percent of Latinos speak limited English, according to data from the U.S. Census. If limited-English speakers make up more than 5 percent of a community's population, among other requirements, federal law requires those communities to provide bilingual election materials and allow translators at the polls.
New laws pose new problems
Some legislative requirements for voter registration and photo voter identification at the polls also may limit Latino voting.
The National Association of Latino Elected and Appointed Officials projects 875,000 Latinos may have a harder time voting this year because they live in the 20 states that approved or implemented new voting restrictions since 2012, according to a News21 analysis. Many of these policy changes have been challenged in court, and even overturned, creating uncertainty over what rules will be in place by November.
"Latinos are one of these groups hit the hardest by (the) strongest voter ID laws," said Stella Rouse, associate professor and director of the Center for American Politics and Citizenship at the University of Maryland. "These laws target people who don't speak the native language, don't have the resources, don't have the proper ID, who are poor (and) don't have the transportation to get that ID. Latinos, just like African-Americans, the elderly, the rural communities, fit into those groups that really create obstacles for voting."
Across the United States, 13 percent of African-Americans and 10 percent of Hispanics do not have proper photo ID, while only 5 percent of whites lack the proper ID, according to Project Vote, a nonpartisan, nonprofit voter advocacy organization.
Latinos poised to be majority
Census population projections suggest that in 2044, the United States will become a majority-minority nation, with Latinos making up almost a quarter of the entire population.
Millennial voters make up a larger share of the Latino electorate than they do any other ethnic group. Research predicts this trend will continue.
Montes, the 17-year-old from Wisconsin, is just one of the 3.2 million Latinos who have, or will, turn 18 in time for the 2016 election, according to Pew numbers. She is the face of the future Latino voter.
Montes is U.S.-born; only a quarter of the Latino electorate is foreign-born. Montes's father came to America from Guanajuato, Mexico, as a teen looking for work. He later brought his wife to Beloit, where they raised Montes, her older brother and sister.
Her father became a citizen six years ago, and her mother followed suit two years later.
And Montes is eager to vote.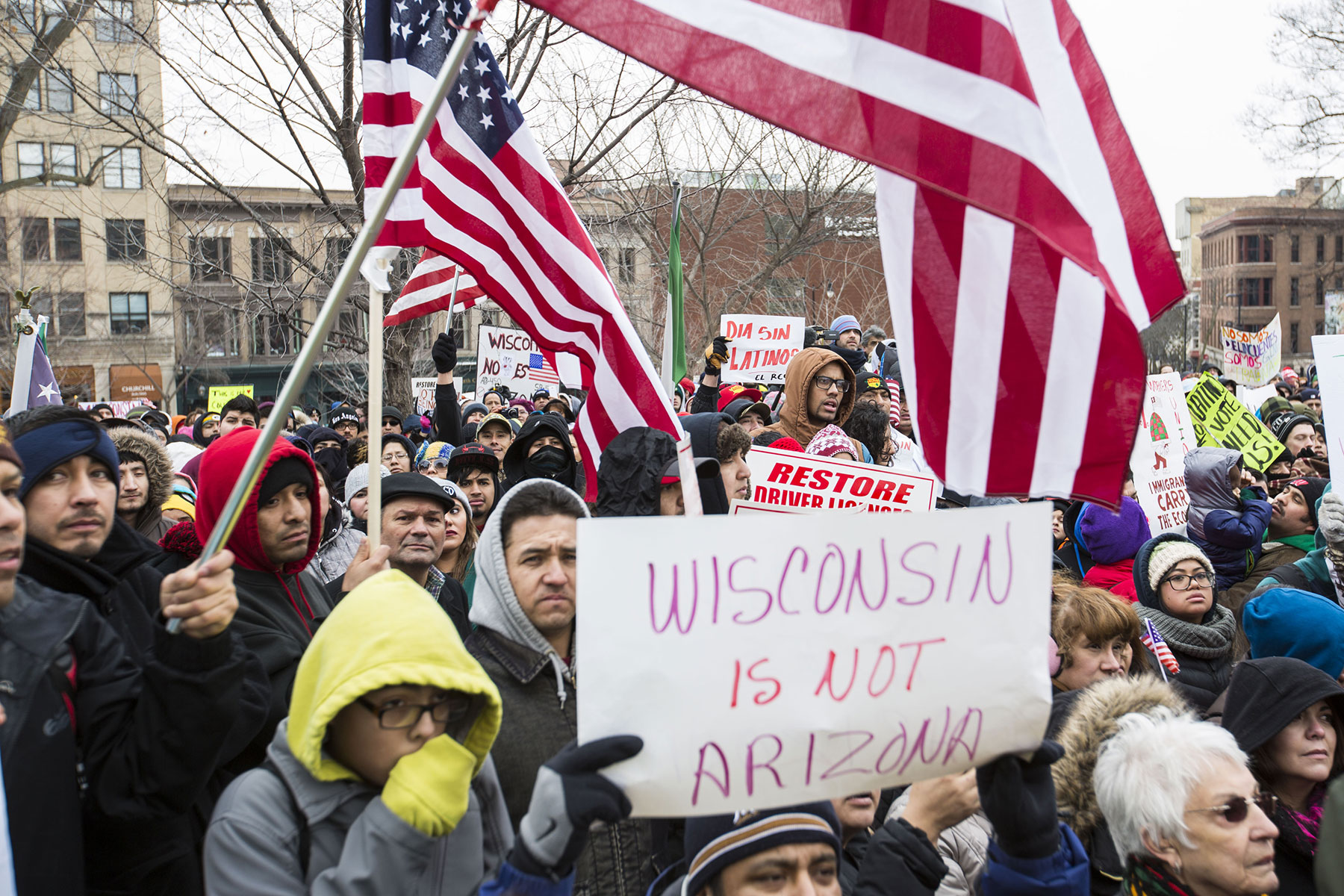 Alejandra Armstrong, Sami Edge, Courtney Columbus, and Emily L. Mahoney
Pamela Ortega contributed to this report.