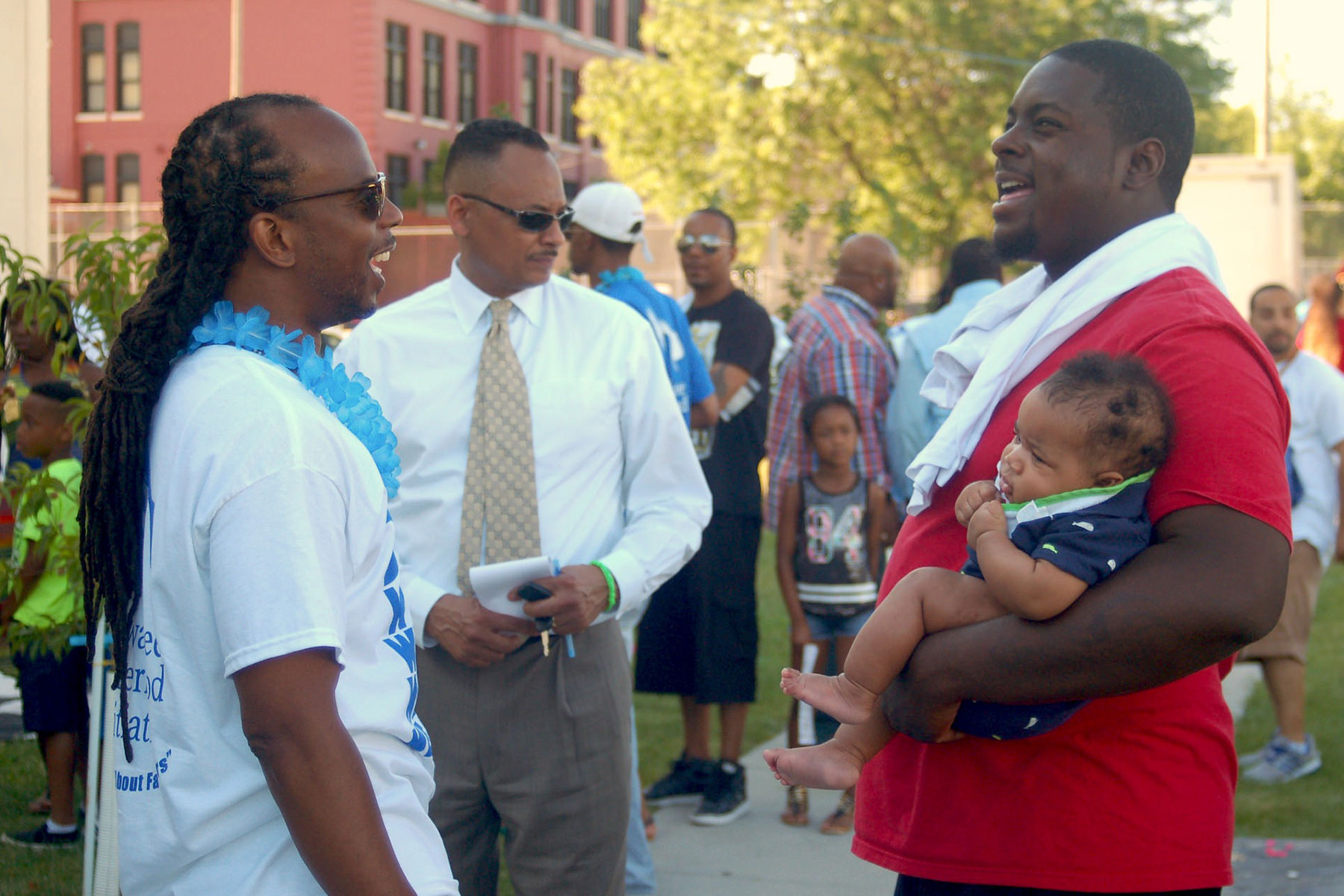 Almost two hundred men gathered for the kickoff of the "500 Fathers United Initiative" at Moody Park.
Dads are the key to deterring the violence plaguing many Milwaukee neighborhoods, according to organizers of the 500 Fathers United Initiative.
"As fathers, as men, we have to take a stronger stand against violence," said Dennis Walton, co-director of the Milwaukee Fatherhood Initiative, speaking to those gathered at Moody Park for the launch of the initiative. "You brothers are the foundation of our community," he added.
The "Safe Summer Kick-off Celebration" was well attended by men, women and children who spent the warm evening dancing and singing, eating hot dogs and visiting one of many community resource booths set up outside the COA Goldin Center.
The rally featured speeches delivered by Walton and others, including several local legislators. They called on fathers to draw a "battle line in the sand" and stand up against perpetrators of violence in the city. Last year, 54 children were among the 633 victims of non-fatal shootings, in addition to 145 homicide victims, according to a Milwaukee Homicide Review Commission report. Other crimes including carjacking and car theft have been on the rise, according to law enforcement officials.
Among the speakers was Common Council President Ashanti Hamilton, who co-organized the rally and let those in attendance know that things are going to change.
"This isn't some rhetoric or another failed attempt at changing this city," shouted Hamilton. "We need you to stand up and take charge in your own communities and we are going to stand with you," he added.
The urgent call to action was echoed by many in the crowd, including Brandon Brown, who attended the rally with his 2-year-old daughter Kamariya, 4-month-old-son, Brandon Jr., and their mother, Chapayl Parker.
Brown grew up on Milwaukee's North Side and said he attended the event because he is tired of all the violence in the neighborhood and wants to see change.
"I grew up here and want my kids to grow up here," Brown said. "I don't want to have to move them to the suburbs so they can be safe." Brown said it was also important for him to come with his family to dispel stereotypes about black fathers not being there for their children.
"There are plenty of us full-time dads out here doing the right thing and wanting better for the kids in our community," Brown said.
Local hip-hop artists and fathers Lil Kal and Mackn said they attended the rally because they are worried about the impact of violence on children in the neighborhood.
"We live in this community, we got kids and we want to see it become safer for them," said Kal.
Chris Webb, who teaches at Universal Academy School, 6850 N. 53rd St., said he and other staff from the school came to Moody Park to support an effort they hope will lead to kids having a safe summer.
"We don't want to have to come back and bury any of our kids," Webb said.
Alderman Khalif Rainey, who represents the 53206 ZIP code where Moody Park is located, asked each father to make a difference on his street.
"Pull one of the young men on your block aside and talk to him; be a mentor," Rainey said. Rainey and other organizers said they were undeterred at not reaching their goal of drawing 500 fathers to the park. The more than 150 fathers in attendance are enough to spur change in Milwaukee, he said.
"We didn't get 500, but we know this, it only takes one good man, and we got plenty," said Rainey, drawing loud cheers from the crowd.
The starting point for that change begins at home, added Walton.
"We need to be a greater force in the lives of our children, so we don't have 9-year-olds getting shot in the face and 12- and 13-year-olds playing real life Grand Theft Auto, Walton said.
The rally ended with a pledge. At its conclusion, the fathers repeated, "I will be an example of positivity for my children and I will take responsibility as a man, as a brother, and as a leader in the city of Milwaukee."