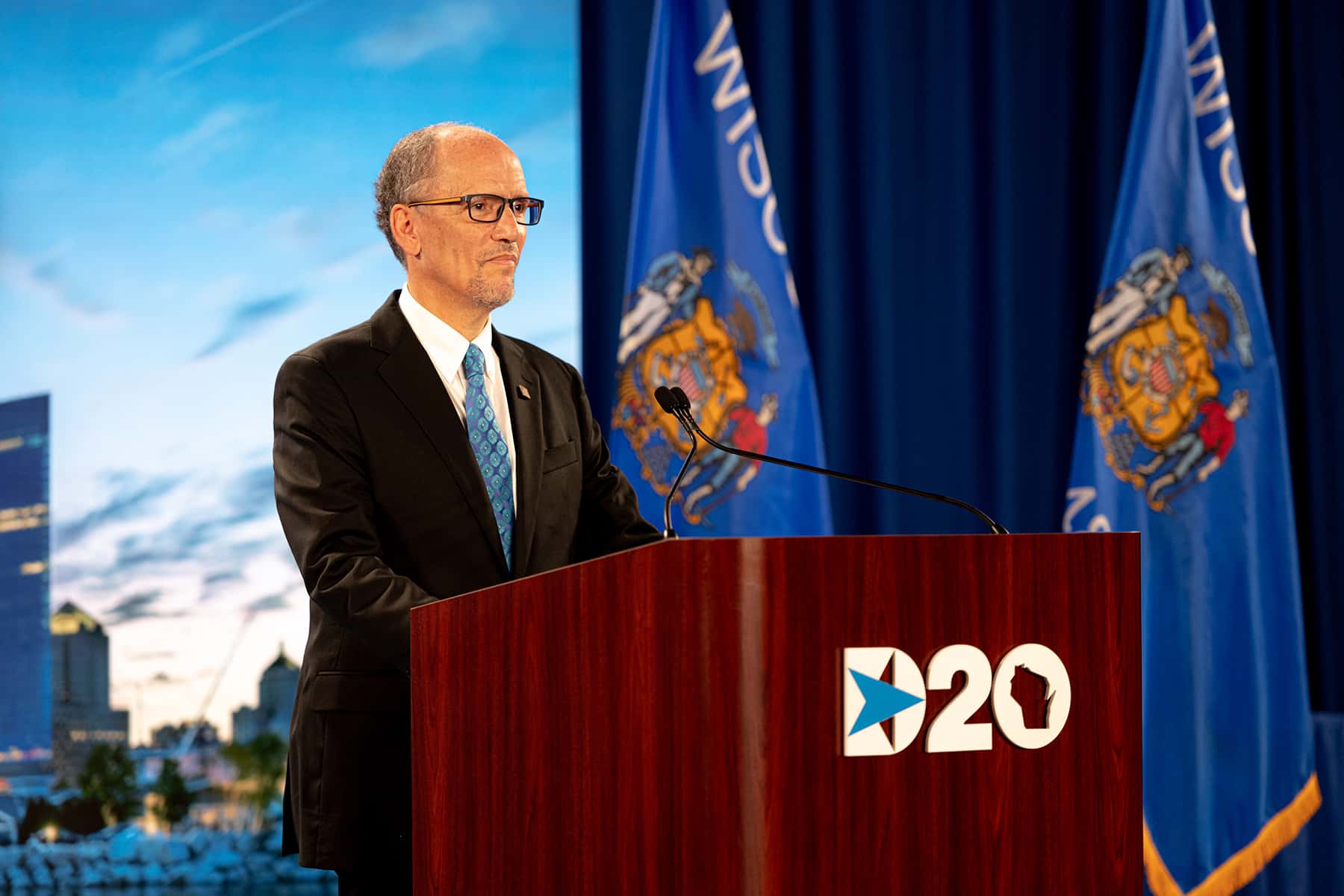 The chairman of the Democratic National Committee said the organization is "all in" on a lawsuit that aims to move key absentee voting deadlines for the November election.
The lawsuit, which U.S. District Judge William Conley could decide any day, would require clerks to count absentee ballots that arrive after Election Day as long as they are postmarked by November 3. It would also give voters more time to request absentee ballots.
"We are all in on that," Perez said during a Zoom meeting on August 18. "We will pay every penny of that litigation. Because if we're able to enfranchise that many people, that will be priceless this November."
Perez told Democrats the lawsuit mirrored one decided by Conley in April, when he extended the deadline for counting absentee ballots by six days. Conley also gave voters an additional day to request absentee ballots.
"I've been heavily involved on a personal level in the lawsuit because we saw the indispensable success of that lawsuit in April," Perez said.
A study conducted by staff at the Wisconsin Elections Commission found that Conley's April court orders resulted in an additional 79,000 ballots being counted. Overall, more than 1.5 million votes were cast in the April election.
"We're fighting to have that remedy this November," Perez said.
The DNC lawsuit is currently being handled by Marc Elias from the Washington D.C. law firm firm Perkins Coie. It's being opposed by the Republican National Committee and GOP leadership in the state Legislature.
Perez said he expected to win at the district court level, but it could ultimately fall to the U.S. Supreme Court to decide the case. In April, the Supreme Court upheld part of Conley's order that gave clerks extra time to count absentee ballots, but justices ruled that the ballots must be postmarked by the day of the election.
The continued push by Democrats on the voting deadlines lawsuit comes as a coalition of state attorneys general, including Wisconsin Attorney General Josh Kaul, also announced on August 18 that they would sue the U.S. Postal Service over service changes that could impact the November election. The USPS announced Tuesday it was delaying those changes.
Joining Perez at on the Zoom call was Milwaukee Mayor Tom Barrett, who said that the way to beat President Donald Trump in November was to drive up turnout and make voting more accessible. Milwaukee had just five polling places open for the April 7 election, in part because of a shortage of poll workers, many of whom were older and at higher risk of severe symptoms from COVID-19.
"We were literally losing hundreds of poll workers by the hour," Mayor Barrett said. "We were losing them primarily in the neighborhoods that were hardest hit by COVID-19."
The city had 168 polling places for the August primary, and Barrett said a $6.3 million grant to Milwaukee, Madison, Green Bay, Racine and Kenosha would help hire additional poll workers for November. Mayor Barrett said that poll workers would receive a $230 daily stipend for working in November, up from the usual $130.
Barrett said the city was also adding around 15 drop boxes where people could return absentee ballots directly rather than waiting for them to make their way through the postal system.
"We are doing everything we can to make it convenient for people," Barrett added.
Mіkе Dе Sіstі / Mіlwаukее Jоurnаl Sеntіnеl-USА Tоdаy Nеtwоrk
Donate: Wisconsin Public Radio
The
Milwaukee Independent
began reporting on what was then referred to as the mysterious "Wuhan Virus" in January 2020. Other local media did not picked-up on the story until many weeks later. Our early features focused on the economic impact, social issues, and health concerns long before other Milwaukee news organizations even mentioned the coronavirus. Over the following year, we have published hundreds of articles about the pandemic and how it has affected the lives of Milwaukee residents. This extensive body of work can be found on our
COVID-19 Special Report
page, a chronological index of links by month. Our editorial voice remains dedicated to informing the public about this health crisis for as long as it persists.
For medical resources, please visit the
CDC's COVID-19 page
or the
Wisconsin Department of Health Services
. All editorial content published by
Milwaukee Independent
can be found at
mkeind.com/COVID19
. With a mission of transformative journalism, our staff is free from commercial bias and are not influenced by corporate interests, political affiliations, or a public preferences that rewards clicks with revenue. As an influential publication that provides Milwaukee with quality journalism, our award-winning photojournalism and features have helped to achieve a range of positive social impact that enriches our community. Please join our effort by entrusting us with your contribution. Your Support Matters -
Donate Now