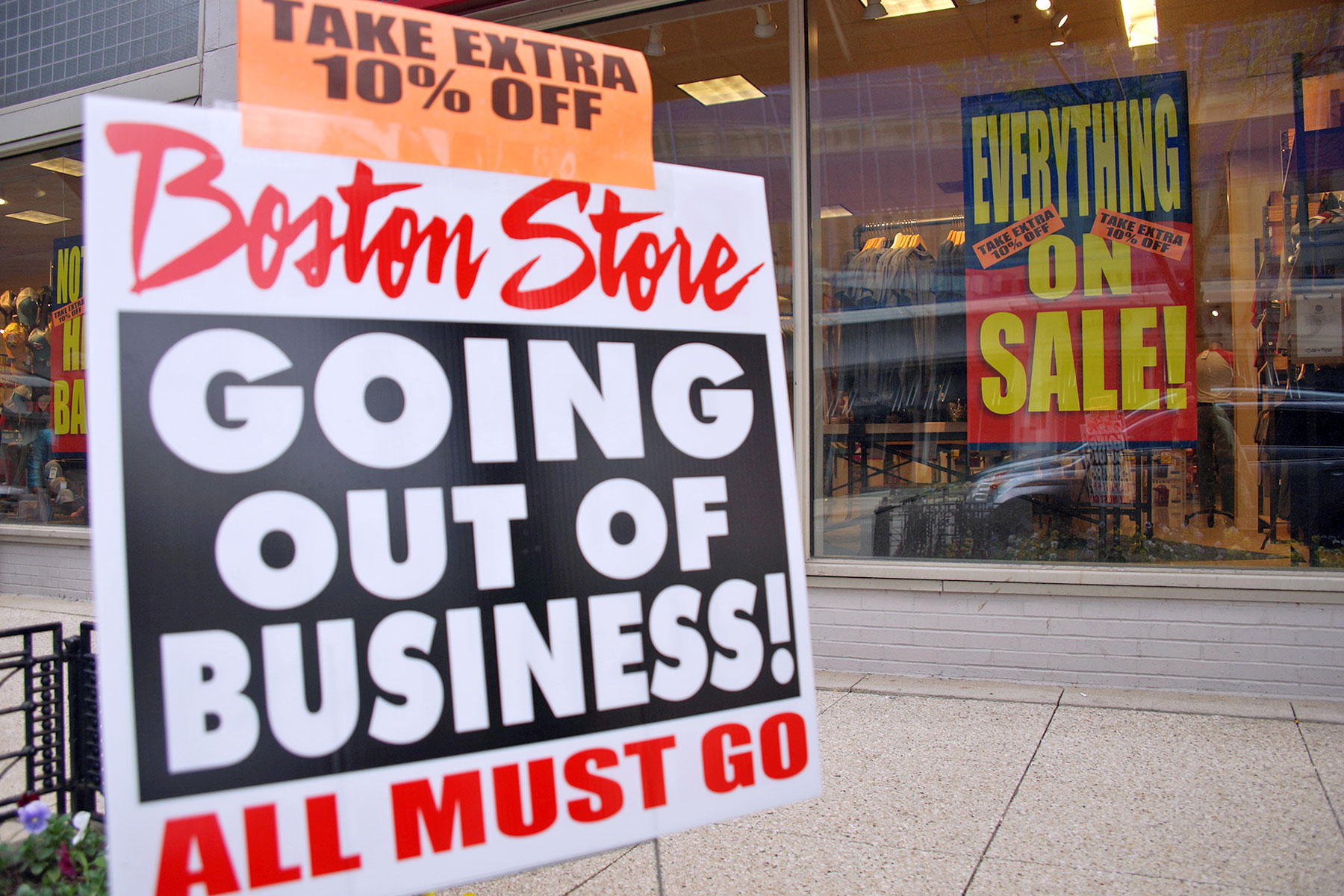 Bon-Ton's bankruptcy means more than 200 of its stores around the U.S. are closing, including a dozen Boston Store and Younkers locations in Wisconsin, as well as corporate offices in Milwaukee.
The Bon-Ton family of department stores is the most recent casualty in the decline of malls around the country. The number of malls built in the United States has grown stagnant over the last decade, and online retailers like Amazon have challenged their role as hubs for both shopping and social gathering. Bon-Ton's bankruptcy and the impending closures of the stores it operates — under seven different names — also spell trouble for the smaller retailers who rely on the mall business model.
The closing of the company's Boston Store and Younkers locations around Wisconsin is slated to put nearly 2,200 employees out of work. Bon-Ton Inc., the department store chain's Milwaukee- and York, Pennsylvania-based parent company, filed for bankruptcy protection in February 2018, and announced a round of closures, including multiple stores in Wisconsin. A flurry of business negotiations followed, with the company wooing a potential buyer, but only attracting bids for liquidation in an April bankruptcy auction.
Given this outcome, Bon-Ton would ultimately be going out of business — the company would close all of its stores and its Milwaukee corporate offices, and start a 60-day countdown until June when the earliest layoffs in Wisconsin could happen.
Bon-Ton, which at one point operated stores by various names in 23 states, is one of many retail businesses affected by declining consumer spending at brick-and-mortar retail and the ascent of online shopping. Annual retail trade survey data from the U.S. Census Bureau show a 16 percent decrease in retail sales nationally over the five-year period from 2011 to 2016. During that same period, Census data showed online shopping in the U.S. increased by 65 percent. Wisconsin Department of Workforce Development figures also project comparatively slow job growth in the retail sector—2 percent growth in the span of 2014 to 2024, compared to a state average of 6 percent.
The liquidation of Bon-Ton's 200-plus stores will not only cost thousands of people their jobs, but also make the broader retail landscape more precarious. Large department stores serve as anchor stores, driving foot traffic that's crucial to smaller neighboring stores in malls and shopping centers.
"The reason you have an anchor tenant is the anchor provides stability for the mall," said Russ Kashian, director of the University of Wisconsin-Whitewater's Fiscal and Economic Research Center, in an April 20 interview with Wisconsin Public Television's Here & Now. "That's my concern: it's less the Boston Store site — it's what's next door."
Wisconsin's unemployment rate of 2.9 percent in May 2018 might suggest prosperous economic conditions for the laid-off workers to fall back on, but Kashian says it is not all about the numbers.
"It isn't simply 2,200 jobs in a state with millions of jobs. It's jobs in every community across the state," Kashian said.
"It's easy to say 'well we have a very low unemployment rate, therefore they can go and do something else.' I go back to the question of maybe they don't want to — maybe they love their job," Kashian added. "We have to have a little bit of concern and empathy for the people who worked at Boston Store in a social sense."
However, retail observers aren't entirely fatalistic about online sellers wiping out physical stores.
"Some stores have been able to adapt and compete," Marquette University marketing professor Felicia Miller said in an April 23 interview with Wisconsin Public Radio's The Morning Show. Miller discussed how some retailers, such as Walmart, have shifted to a greater online presence to compete with Amazon.
"It's the reality of staying competitive," Miller said. "You have to do these things. The stores that haven't done it have done so to their peril."
Kashian is optimistic too. He said "anchor stores" are designed to provide a desired destination to get people in the door of the malls, after which they ideally shop at specialty stores. Where anchor stores were once the answer, Kashian said malls now have to find new ways to overcome shoppers' growing tendency to park and shop at only one store at a time.
With or without the trends working against them, Bon-Ton stores may have had more fundamental problems. The chain had not been profitable for years. Wisconsin School of Business professor Hart Posen argued in an April 20 interview with Wisconsin Public Radio's Central Time that the company wasn't competing very effectively with its retail peers, to say nothing of online challengers.
"Really the fundamental problem at Bon-Ton was there was nothing distinctive about them," Posen said. "They weren't low-price, they didn't have the best selection, they didn't have the best customer service. There was nothing that would really make you go into a Bon-Ton store … Bon-Ton would have been in trouble, I think, regardless."
An answer to this challenge, Miller said, is to move away from only retail.
"Retail is moving toward a multi-purpose model where you not only have shopping, but you also have entertainment — restaurants, bars, movie theaters — you have other things that will draw people to that space," Miller said.
Retails spaces around the state are already seeing a need to get creative. In Madison, a new Dave and Busters has taken over what was formerly part of a Sears department store, and the Janesville Mall filled space left by JC Penney with a new breed of anchor stores — Dick's Sporting Goods and Ulta Beauty — retailers whose "stars are rising."
In Wausau too, as the Wall Street Journal described, retailers are trying to provide unique shopping experiences that differ from the usual mainstays. For example, a store in the central Wisconsin city, The Local, brings together 30 local artists and provides them a storefront through which to sell their work. It's located about a block away from the Wausau Center, a downtown mall that has seen of its anchor stores close: Sears, JCPenny and now Younkers with the Bon-Ton liquidation. The city is in the midst of reenvisioning future uses for the mall and its footprint in the heart of the city.
"I don't think it's the death knell of brick and mortar, but I think brick and mortar has to respond," Kashian said.