Photo Essay: Milwaukee community reflects on Orlando tragedy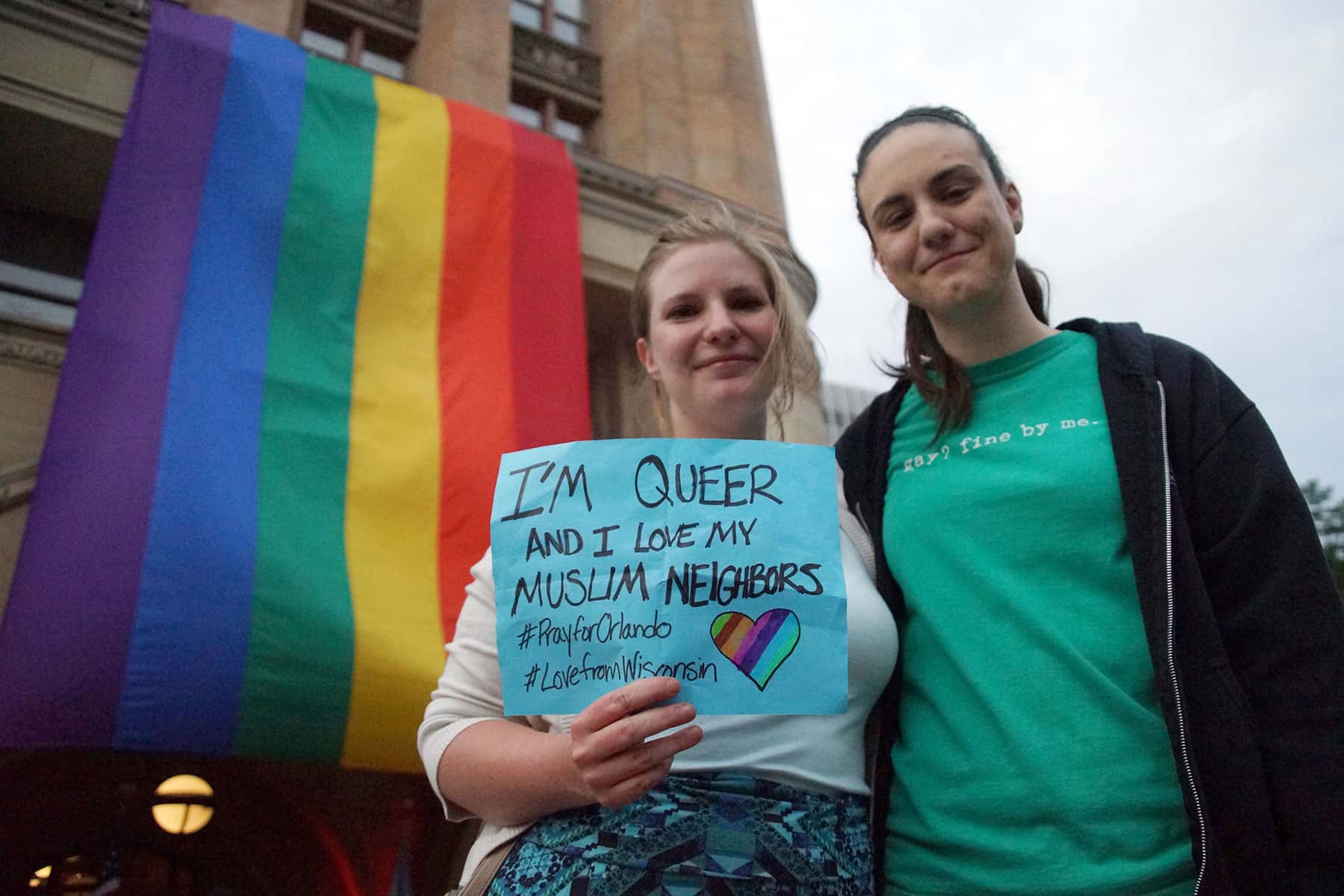 Mayor Tom Barrett led a community vigil at the main entrance of City Hall to remember those affected by the largest mass shooting in United States history. The Milwaukee LGBT Community Center helped organize the solemn tribute that was attended by hundreds of Milwaukee residents on Monday night, June 14. The public gathered in solidarity and sadness just a day after the tragic events at the Pulse Orlando nightclub. Members of Milwaukee's LGBTQ community joined in remembering the 49 victims.
This photo essay features moments from the Monday night vigil, where people from all walks of life joined as one community while the bell from City Hall rang in remembrance of the Orlando tragedy.
"Thank you Milwaukee. I want to thank each and everyone of you for being here tonight to demonstrate and display the humanity we have in the city. This is a time when our nation is hurting. The people of Florida and Orlando are hurting, members of the LGBT community are hurting, and Latinos are hurting. And as Americans, if some of us are hurting we are all hurting. That is why it is important for us to be together tonight." – Mayor Tom Barrett
"It is important for us to stand in solidarity with the LGBT community, and with the Latino community. The American public will always stand up to hatred and extremism, that is why we are here tonight. It is important for us to be here tonight." – Mayor Tom Barrett
"The horrible loss of life on Sunday shocked us all. Everyone of us here tonight marks the terrible events in Orlando with sadness and solidarity, and it is so important that we are together." – Mayor Tom Barrett
"It is so important that we tell the world and those who harbor hatred, that we will not be deterred from loving one another as human beings. That is why we are here tonight. It is heartwarming to see everyone here has come together peacefully and to reflect on how we can work together, and we must work together. There are those who try to divide us. They try to pit us against each other. We cannot allow that to happen. We are better than that as a community." – Mayor Tom Barrett
"We are here to pray, to mourn, and to support each other. And for members of the LGBT community, we share your agony. We are here for you tonight. You are part of us, and we are part of you. We are one community." – Mayor Tom Barrett
"Today will be remembered as a tragic day not only for the LGBT community, but for the entire nation. We must pause to mourn those who have had their lives impacted so tragically and stand together against senseless violence that attempts to tear communities down." – Karen Gotzler
"We are all people of the world and that same motivation to support each other needs to extend throughout our country. "We appeal to everyone in our movement, and to everyone who supports us to band together, to reject hatred and violence in all of its shape-shifting forms and especially this kind of violence." – Karen Gotzler
"In the same week that we honored and mourned Muhammad Ali, who was inspired by the peace and common humanity found in the Muslim faith, we mourn victims of an individual who completely violated the most basic principle of Islam." – Council of Wisconsin Islamic Centers