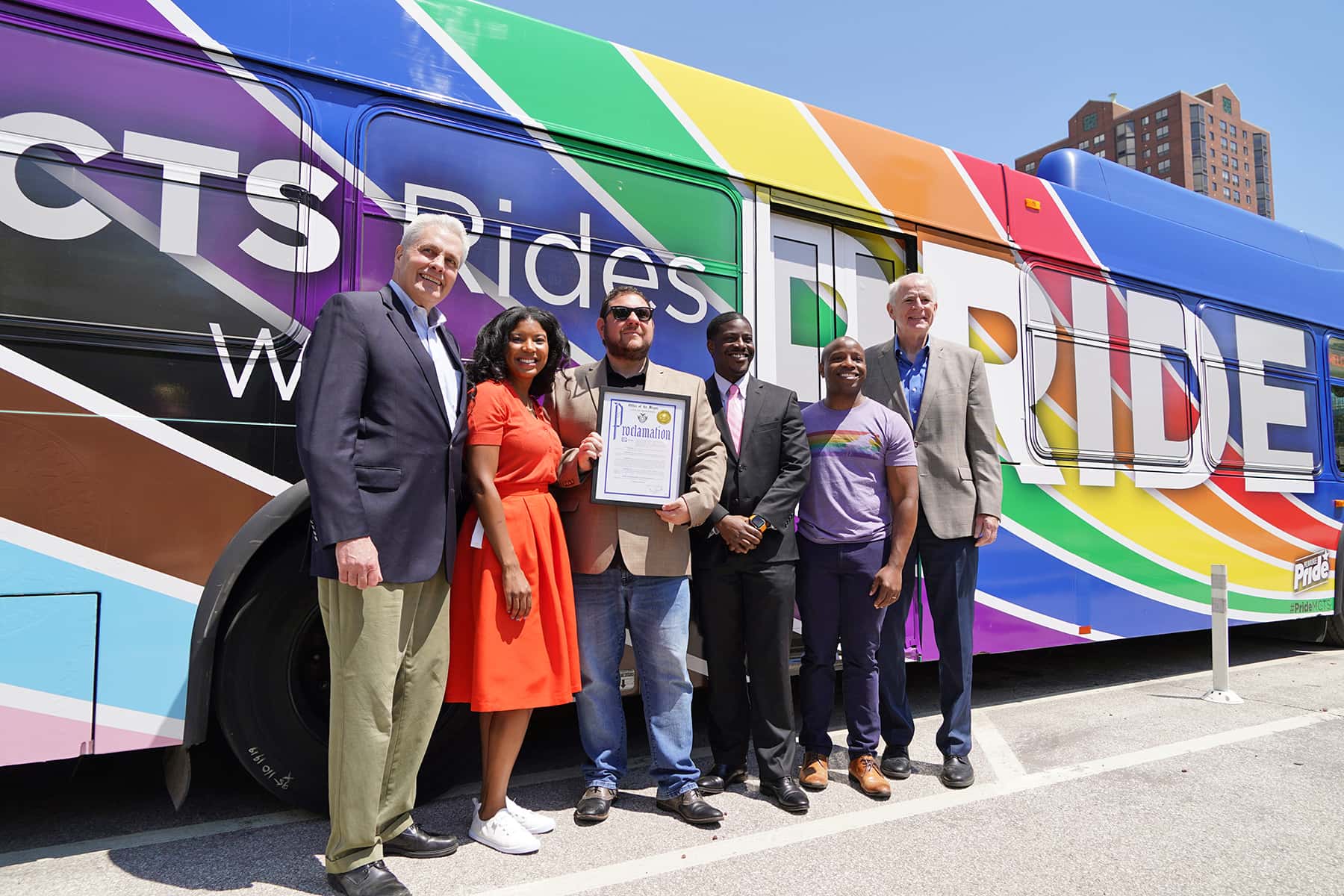 Leaders from Milwaukee County, the City of Milwaukee, and local organizations joined with area residents on June 1 at Cathedral Square Park to kick off Pride Month, and unveil several initiatives that celebrated the LGBTQ+ community and their contributions.
The month of June is observed nationally as Pride Month for the LGBTQ+ community. Pride Month honors the 1969 Stonewall uprising in New York City, which marked the beginning of the modern movement to outlaw discriminatory laws and practices against lesbian, gay, bisexual, transgender, and queer or questioning (LGBTQ+) Americans.
"We've worked hard – and continue to work hard – to make sure our friends, family, coworkers, and neighbors in Milwaukee's LGBTQ+ community feel supported," said Milwaukee Mayor Tom Barrett. "Pride Month is an opportunity to reflect on the progress that's already been made – and the challenges still ahead in the effort to achieve equal justice and opportunity for all. I'm particularly pleased to have both The Hop and MCTS be leaders in this effort, as public transit's role in advancing equity and providing equal access to opportunity and advancement is critical to our community's continued growth."
Since Milwaukee's annual PrideFest in June was cancelled again this year due to the pandemic, local municipalities and organizations looked for supplemental ways to celebrate and promote diversity, inclusion, and respect for all.
"I could not be happier with the collaborative spirits of my colleagues at Milwaukee Downtown BID #21, MCTS, Milwaukee County, and the City of Milwaukee," said Wes Shaver, President of Milwaukee Pride. "This opportunity to work together, collaborate, and amplify LGBTQ+ visibility throughout our community is truly remarkable."
At the June 1 press conference, Milwaukee County Transit System (MCTS) rolled out its first-ever "Pride Bus." The 40-foot-long bus featured a colorful design, the phrase "MCTS Rides with Pride," and the hashtag #PrideMCTS. The bus's normal paint scheme was replaced with a rainbow design that featured inclusive colors – like black and brown to represent people of color – as well as pink, white, and powder blue in a nod to the Transgender Pride flag.
"The bus design rolled out by MCTS this Pride Month speaks to the first focus area of Milwaukee County's strategic plan to achieve racial equity: intentional inclusion," said Milwaukee County Executive David Crowley. "Intentional inclusion means, in part, creating and nurturing an inclusive culture. The creative design on this bus serves as a reminder that we are committed to building inclusive spaces for all our residents – regardless of their gender identity, sexual orientation, race, or religion. I'm proud that the MCTS team shares these goals wholeheartedly and is committed to ensuring that our buses are a welcoming space for all passengers and employees."
The Hop, the City of Milwaukee's streetcar, wrapped one of its three-piece, articulated vehicles with an inclusive rainbow ribbon and Pride-themed Hop logo. It included special messaging to help celebrate diversity and remind passengers – as well as residents, employees, and visitors of the downtown community – about the important occasion. The design also promoted the
"Massimals MKE: Rainbow" at Cathedral Square Park.
The five polar bears that inhabited downtown Milwaukee's Cathedral Square Park this past winter continued their stay for the summer, after receiving a colorful makeover. Artist Jason Scroggin of Scroggin Studio refreshed his public art installation – presented by PNC Bank – into the "Massimals MKE: Rainbow."
Several local landmarks and businesses plan to light up in rainbow colors at various points throughout the month, including the Mitchell Park Domes, Hoan Bridge, Milwaukee Art Museum, Milwaukee County War Memorial Center, Northwestern Mutual, US Bank Center, 600 EAST Wisconsin, The Pfister Hotel, and Lakefront Brewery.
Additionally, the boat landing stairs along the Milwaukee River, behind the Marcus Performing Arts Center's Peck Pavilion, will be transformed into a temporary art installation called "True Colors," by artist Josephine Rice and supported by Northwestern Mutual.
"As we continue to build a more inclusive downtown, we are so proud to partner across the community to celebrate Pride Month with exciting initiatives, including lighting our landmarks in rainbow and adding colorful art installations to our public spaces," said Beth Weirick, CEO of Milwaukee Downtown BID #21.
PrideFest, which normally takes place at Henry Maier Festival Park, had to be called off in June 2020 and June 2021 due to the COVID-19 pandemic. Organizers are still considering whether this year's event can be held at a later date. In the meantime, PrideFest's Health & Wellness area, which is normally available to festival goers along the lakefront, has gone digital in the form of an online directory. Its mission is to connect people to important resources that support living a healthy life.