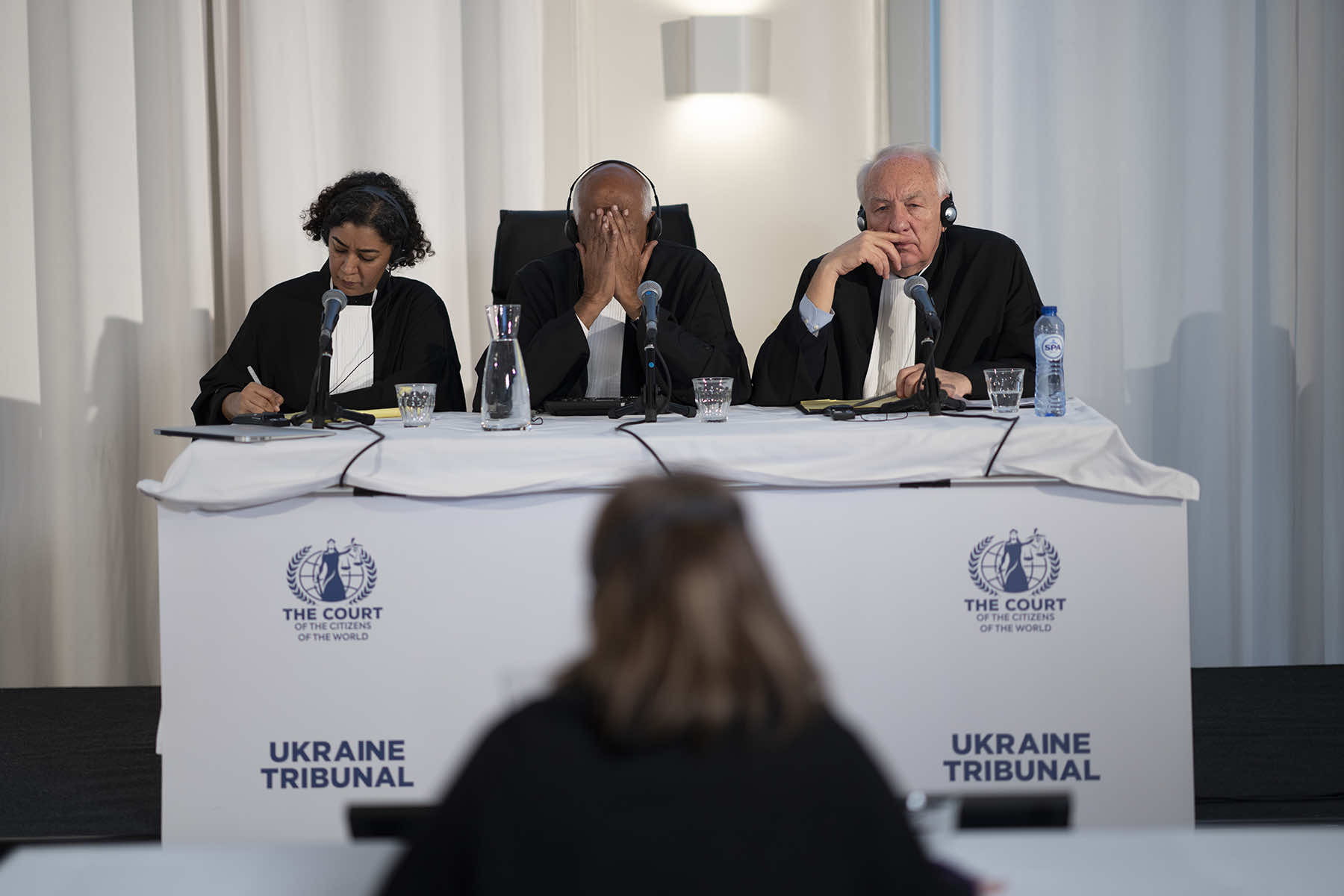 A "people's court" put Russian President Vladimir Putin on trial February 20 for the crime of aggression over his invasion of Ukraine, in a symbolic move to close an "accountability gap" in the absence of an international tribunal with jurisdiction.
The court has no legal powers but prosecutors said they will present evidence that Putin committed the crime of aggression by ordering the invasion nearly a year ago, unleashing a devastating war that has killed thousands and left towns and cities in ruins.
"This is a crime that belongs in the annals of infamy. It is a crime that demands accountability," said Drew White, a Canadian lawyer acting as one of the court's prosecutors.
While the International Criminal Court has opened an investigation into crimes committed in Ukraine, it does not have jurisdiction to prosecute Russia's leaders for aggression.
However, international pressure is mounting for a special tribunal to be established to prosecute the crime. The European Union's legislature passed a non-binding resolution in January calling on the 27-nation bloc to work "in close cooperation with Ukraine to seek and build political support in the U.N. General Assembly and other international forums … for creating the special tribunal for the crime of aggression against Ukraine."
The Netherlands, home to several international courts, has offered to host the court.
The people's court is an initiative of rights group Cinema for Peace, Ukraine's Center for Civil Liberties and Ben Ferencz, the 102-year-old lawyer who is the last surviving prosecutor from the post-World War II Nuremburg trials of senior Nazi leaders.
A week of hearings opened in The Hague two days after U.S. Vice President Kamala Harris said that Washington has determined that Russian forces in Ukraine have committed crimes against humanity and insisted that perpetrators are brought to justice.
The first day on February 20 also coincided with an unannounced visit to Kyiv by U.S. President Joe Biden.
The court is scheduled to deliver a verdict on February 24, the anniversary of Russia's invasion.
Putin was invited to participate in the hearing, but organizers got no response from the Russian embassy in The Hague.
Nobel Peace Prize winner Oleksandra Matviichuk of the Ukraine civil liberties organization made a statement via a video link ahead of the opening session.
"Putin and the … political leadership and high military command who initiated, planned and started this war of aggression have to be punished for this international crime," she said.
The first witness was a Ukrainian journalist, Angela Slobodyan, who told a panel of three judges that she was in the city of Kherson when Russian forces rolled in "shooting everything that was moving."