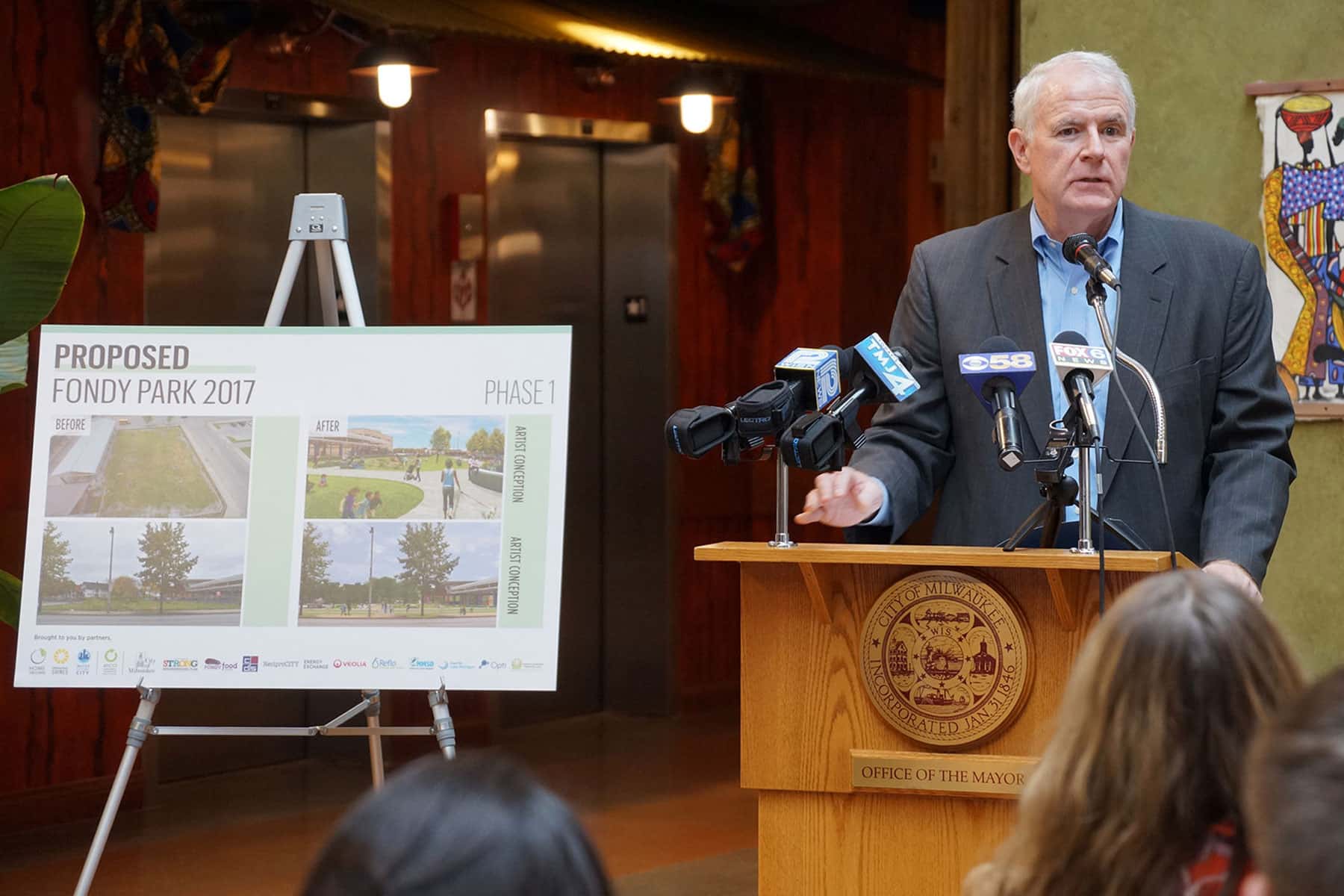 Mayor Barrett unveiled a new green space project for the Fondy Farmers Market, giving a blighted and vacant location a green makeover to expand the City's revitalization efforts.
The current list of partners for the Fondy Green Space include the City of Milwaukee's HOME GR/OWN initiative from its Environmental Collaboration Office (ECO), Strong Neighborhoods Plan, Department of City Development and Department of Public Works. It also includes the Fondy Food Center, Reflo, Business Improvement District #32, ReciproCITY, Halquist Stone, University of Wisconsin-Milwaukee's Community Design Solutions and the Energy Exchange. Funding partners to date include the Milwaukee Metropolitan Sewerage District and Fund for Lake Michigan. Many of these partners have worked together previously to create new green spaces such as the MLK Peace Place and the award-winning Ezekiel Gillespie Park.
This audio was recorded during the public press conference on February 8, when speakers explained about the project details. Participants included Milwaukee Mayor Tom Barrett, Alderman Russell Stamper II, HOME GR/OWN Project Manager Tim McCollow , Jen Casey of Fondy Food Center, and Fidel Verdin of ReciproCITY.
"We would not be here except for three people. Mayor Tom Barrett came up with the idea to convert neighborhood liabilities, like this vacant lot down on 22nd and Fond du Lac, into a neighborhood asset. That idea is really what created the HOME GR/OWN initiative, Kevin Shafer and his leadership at the Milwaukee Metropolitan Sewerage District, and their commitment to green infrastructure. This park will have numerous green infrastructure features built in that help to increase Lake Michigan water quality, which is important to reduce local flood events and basement backups. And Vicki Elkin of the Fund for Lake Michigan, who has been a generous funder of ECO and other stormwater initiatives across the city, which is really helping to keep Lake Michigan and our local waterways clean."
– Tim McCollow, HOME GR/OWN Project Manager
The City and its partners are in the design and budgeting phase to create a vibrant park just west of the Fondy Farmers Market on 22nd and Fond du Lac Avenue. Our Environmental Collaboration Office HOME GR/OWN partner team includes: Fondy Food Center, Reflo, ReciproCITY, Energy Exchange, City Departments of Public Works and City Development, Fund for Lake Michigan, North Ave/Fondy BID #32, Milwaukee Metropolitan Sewerage District, UW-M School of Architecture and Urban Planning's Community Design Solutions and Mayor Barrett's Strong Neighborhoods Plan. This site has been vacant for decades – in 2001, a cancelled warehouse project left the site with above-ground foundation walls that will be incorporated into the design.
Phase 1 will be built in 2017, installing a complete stormwater management system and a hardscaped, landscaped park. Given the size and scope of this project, it is considered to be a multi-year project from the start. Resident and stakeholder outreach and design sessions along with neighborhood surveying to solicit advice, comments and design ideas began in November and continues through February, 2017. Until we come up with a final name, we are simply calling it "Fondy Park."
The Fondy Park will have a number of sustainability features that will help reduce local flooding, reduce the water inflow to the sewerage district's pipes during significant rain or melting events, keeping Lake Michigan cleaner.
The site will feature:
Gutters that collect rain off of the Fondy Market's buildings,
Pipes will collect water that would normally flow into a Fond du Lac Avenue storm sewer and bring it onto the site, out of the sewer system.
A 1,500 gallon aboveground cistern that holds rainwater for watering the park's plants,
A 2,500 square foot bioswale that will temporarily hold water in a meadow-like area, reducing pressure on the sewer system during a storm,
Remote control of this stormwater system by Veolia/MMSD to control water inflow and outflow,
A roof-mounted solar system provided by ECO's Milwaukee Shines will provide power for the stormwater system and battery power for lighting and events requiring electricity,
Native perennial plantings, providing food and shelter for pollinators like bees and butterflies.
Produced By
Tim McCollow, Home GR/OWN