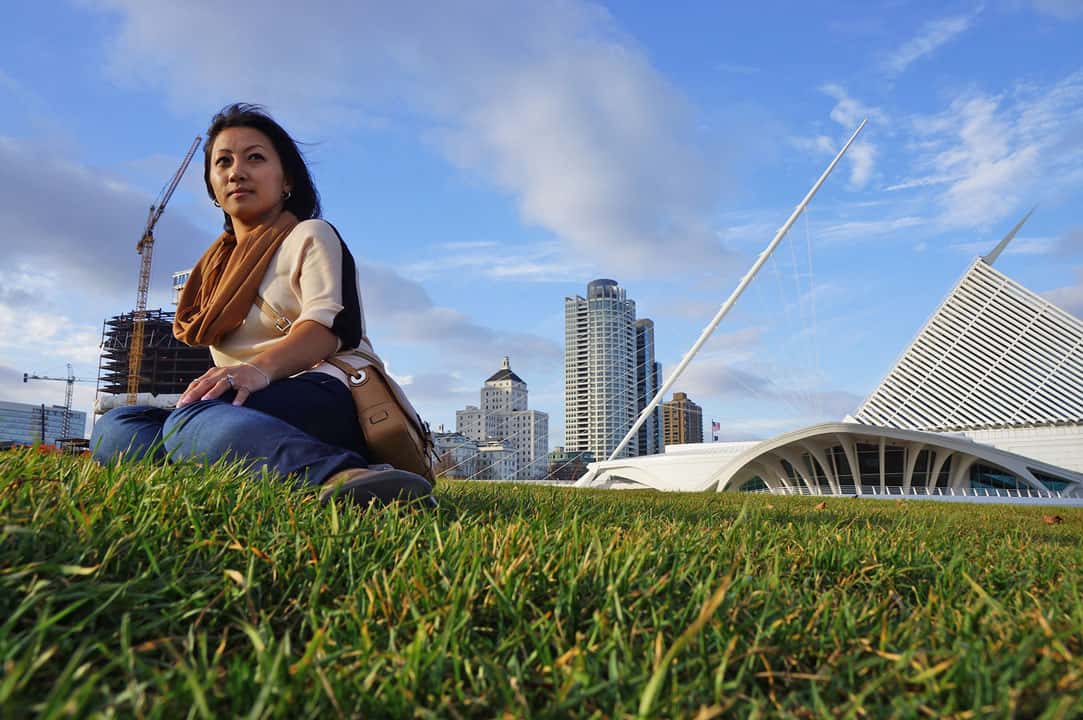 A look at the future of an ethnic business community in peril.
Wisconsin has tried to position itself as an incubation hub for start-up businesses in recent years. Young professionals network through social media and in their active involvement with business and ethnic organizations. While groups like Newaukee and Hispanic Professionals of Greater Milwaukee support and nurture entrepreneurship, the Hmong people find themselves isolated from opportunities, even with their own ethnic community.
Mai Payia Vang, owner of a Cricket Wireless store, shared her experience and perspective of why the future business prospects for ethnic Hmong in a city like Milwaukee will be an uphill battle. The mother of three children, Mai found herself in a traditional Hmong marriage at the young age of 16. By 25 she had started her own business, and has kept it going for the past five years.
Milwaukee Independent: How did a young Hmong woman go from mother to business owner?
Mai Payia Vang: My father called me one day and said, 'you went to school to be an accountant and did nothing with that degree. Why are you still working at a mobile phone store?' And I told him, I am building my knowledge and getting experience from the store's owner while I am working. So when the day came that he wanted to sell the business, I asked him to hand it over to me.
Milwaukee Independent: You paid cash to purchase your mobile phone business, did you consider financing it through small loans?
Mai Payia Vang: I was not aware of what options were out there, like the Hmong Chamber of Commerce or WIBIC (Wisconsin Women's Business Initiative Corporation). You sort of hear about them, but you don't know what they are about. Like if you can trust them, or how they are supporting the Hmong community.
Milwaukee Independent: Looking back, how does it make you feel that you missed these resources?
Mai Payia Vang: Sometimes it makes saddens me. Because what if I known, how could I have taken advantage of those opportunities? Maybe I would have been able to make other choices, like investing in the one location instead of expanding to a second location. Maybe I could have built upon that single location in order to grow my business. Maybe I could have saved time and money that was wasted at the second location. So it is frightening that there is a lot of help out there that I was not aware of.
Milwaukee Independent: What do you hear from other Hmong business professionals about their experience in starting a company?
Mai Payia Vang: I hear a lot. The number one thing is about the money. They don't have the funding, and they don't have someone to turn to. And these people are afraid to reach out within their communities, even if they were to know about something.
Milwaukee Independent: Why are Hmong entrepreneurs unaware of resources to help their businesses?
Mai Payia Vang: Being in business for so long, even I did not know what is available to me for loans. Financial institutions like HWCC and WIBIC are not reaching out to make themselves and their services known to us. So they were not in my mind when situations came up and I panicked, needed money, and turned to unhealthy funding sources. I paid so much interest on cash advance loans. I could have saved all that just by using a better alternative."
Milwaukee Independent: Other ethnic groups in Milwaukee have professional groups, why don't the Hmong have their own organization?
Mai Payia Vang: Because we are not used to networking within our own community, it is out of the ordinary. We find it easier to interact with outsiders and not other Hmong.
Milwaukee Independent: What do you see as the problem for the next generation of Hmong culture in Milwaukee?
Mai Payia Vang: I am just afraid that the next generation, like my kids, are going to see the struggles Mom and Dad are going through. And maybe they don't want to go into business for themselves any more. Too much frustration. Mom and Dad are not around when we need our homework done. Weekend time is like no time. So maybe they just want to work a 9 to 5 job, paycheck to paycheck, And why continue their education? Mom and Dad had a degree and they were never around.
Milwaukee Independent: How are the next generation of Hmong struggling with their ethnic identity?
Mai Payia Vang: Our kids are now outside more than they are in the house. What they are losing is the language. I have been trying very hard to communicate to them in Hmong. Speak to them, help them to understand and comprehend. I saw that I did a good job with my first daughter. With my second, not so much. And now with my son, he is really losing the ability. Because the two older ones are going to school and speaking in English, then bringing that home.
Milwaukee Independent: What is your view of the future for young Hmong business professionals?
Mai Payia Vang: The older Hmong generation has opened up a lot of doors for us. I have seen where they have built bridges and made connections that could never had existed before. But if you compare us to California or Minnesota Hmong populations, we still have a long way to go. Our mindset here is totally different. I have heard that Hmong people from other parts of the country think the Hmong in Wisconsin are stingy. This and other behaviors prevent us developing business partnerships, and we lose ideas and connections because Hmong in other states do not want to work with us or help.
For example, the Hmong community in Minnesota have a lot going for them. That success is what we are trying to bring here to Wisconsin. But they communicate so much better. They are well off because they share information. They know each other by name, by face, there is a lot of word-of-mouth referrals, a lot of helping hands. Versus here in Milwaukee, where everyone is in business only for themselves. And all these tools out there we are not taking advantage of, to bring our business to the next level, is hurting our future.
The Hmong people in Wisconsin used to be more open minded and giving. We have Hmong doctors and Hmong lawyers. But these days Hmong people would rather go outside their own ethnic group to someone else who is not Hmong. They want to deal with someone else. So there are no word-of-mouth referrals that would build economic support for our local Hmong businesses, like they do in California or Alaska.
Milwaukee Independent: Being female Hmong business owner, what was the biggest personal obstacle you had to overcome in your life?
Mai Payia Vang: I think my biggest struggle was getting married so young. I remember not having a childhood because I was the oldest of four siblings at the time. So I always had to be the mature one, the one who is in charge, I started babysitting at 8, cooking and cleaning in the house, making sure brothers and sisters had their homework finished, making sure everything was done before our Mom and Dad got home. I did not want that life any more. I thought that if I got married I could get away from the burden. And was I ever wrong. I married into an even stricter traditional family. So I was still cooking and cleaning and taking care of things by a whole other set of rules. It was a turning point for me, when I had to put my foot down. I understood, this is the path I choice. I have to meet everyone in the middle. I am not going to change myself for them, but I am going to make myself fit in without causing an uproar. And that is what I did. I have a strong personality because I got married very young, I had to take on a lot of responsibilities and grow up very fast in my marriage, even faster than with my parents at home.
Milwaukee Independent: What advice would you give to a young Hmong person looking to start a business?
Mai Payia Vang: Do your research first. Find all the resources you can use for your business type before you jump into it. Growing a business is harder than starting it, and you need to be aware that things change.
WI population employed in manufacturing
Hmong population in Wisconsin manufacturing
Portion of the Hmong Wisconsin community
The Hmong people are probably the most visible and least understood ethnic group in Wisconsin. Historically from the mountain regions of China, Vietnam, Laos, and Thailand, the Hmong were allies of the United States in Vietnam War and Laotian Civil War. With the communist takeover of both nations in 1975, the Hmong began seeking political asylum. As a result, they have become the largest Asian ethnic group in Wisconsin.
Immigration continued as efforts were made to close the refugee camps in Thailand. From 1990 to 2010, the Hmong population in Wisconsin increased 190%, compared to 273% in Minnesota. According to the 2010 U.S. Census, ethnic Hmong are just under one percent of Wisconsin's population, at almost fifty thousand. 18% of the State's population is employed in manufacturing, and 40% of this population is Hmong, which is 29% of the total Hmong Wisconsin community.