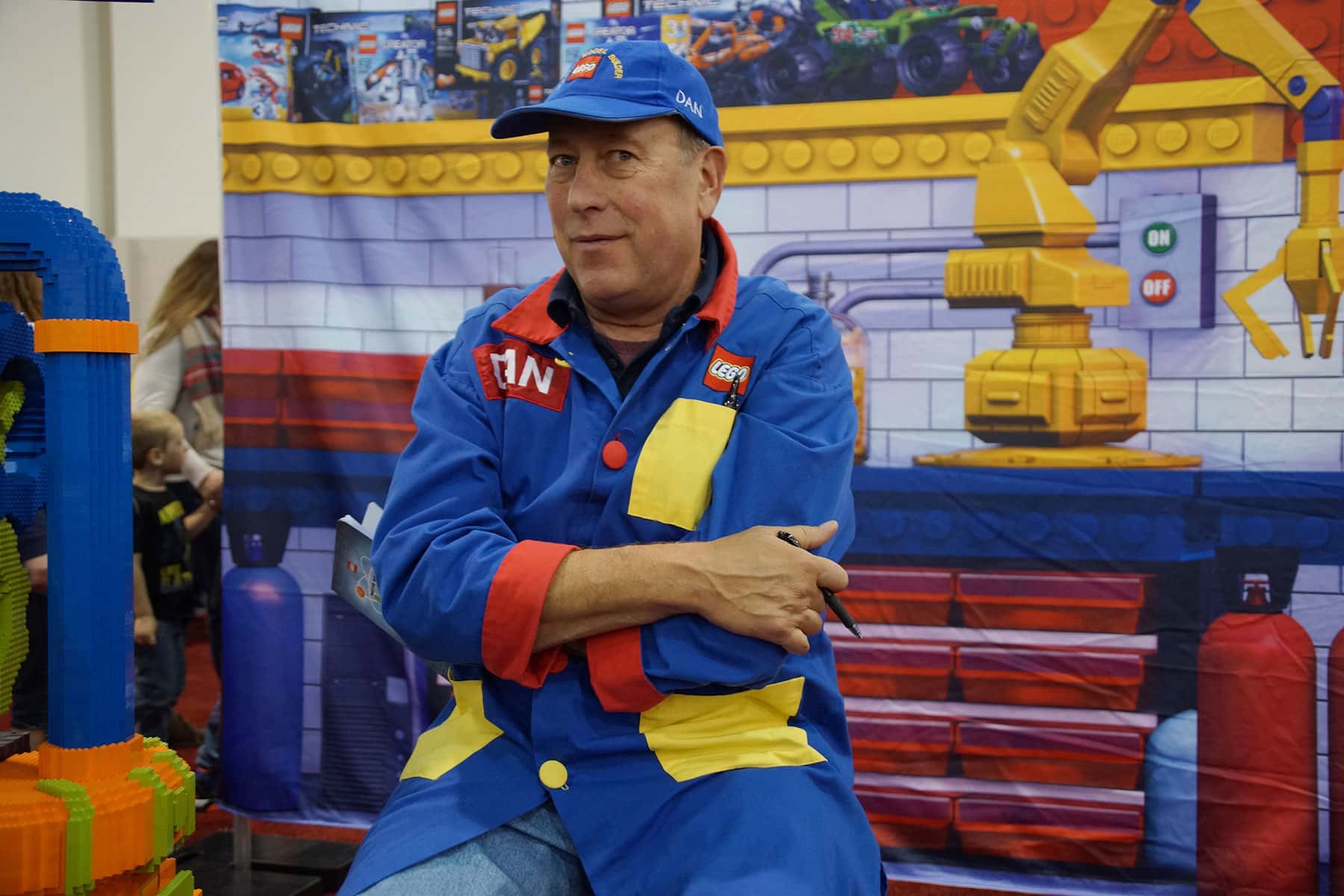 In the modern digital age of electronic gadgets and mobile devices, one tiny bit of plastic has survived for 70 years and continues to inspire the builders of tomorrow.
LEGO, a creative toy that is enjoyed regardless of age or youth, attracted thousands of visitors to the Wisconsin Center for three days of brick-tastic fun. The award-winning LEGO KidsFest returned this year to Milwaukee, to the delight of fans, from October 7 through October 9.
The family-owned company with headquarters in Billund, Denmark was founded in 1932 by Ole Kirk Kristiansen, who began by making wooden toys. His company came to be called "Lego," a name derived from the Danish phrase "leg godt," which means "play well." Interestingly, "lego" is also a Latin word meaning "to gather or collect."
By 1949, LEGO expanded its products with the introduction of injection plastic, and released an early version of the now familiar interlocking bricks, then calling "Automatic Binding Bricks." They were a development of the traditional stackable wooden blocks of the time.
Guided by the company spirit that "Only the best is good enough," LEGO bricks have influenced generations of children and adults to play and learn.
New this year at the 2016 LEGO KidsFest was the Master Builder's Lab. The on-site home of LEGO's legendary model designers and creators who showed kids how to build creatively with the LEGOs they already have. The Lab was hosted by Dan Steininger one of eight Master Builders in the entire world.
The Milwaukee Independent sat down with Steininger between his educational sessions at LEGO KidsFest to ask a few questions about what it means to me a Master Builder for one of the most beloved toys in history.
Milwaukee Independent: What do you love most about your job working for LEGO?
Dan Steininger: It's actually a couple things. I love to create and sculpt as an artist, being able to create with my hands is awesome. And the other thing is I like the reaction of the kids when they see the models and stuff that I've created. We call that the "Wow Factor." It is rewarding to know that the art I create with LEGO is something that kids really enjoy. Those are the two things that I really about the job.
Milwaukee Independent: What is the most difficult part of your work?
Dan Steininger: The hardest my job is probably doing expense reports. Those are not fun at all, and I'm way behind because I travel a lot. I have some expenses in China that I'm just at a loss forever, I'm not getting reimbursed because those receipts are long gone. I enjoy the creative part of LEGO, but at times it can be frustrating. Like any job, we have deadlines to meet on all the projects. Some of the models are very complicated to build, so they all have their individual challenges. But basically I still love what I do, and I've been doing it for 23 years.
Milwaukee Independent: As a LEGO Master Builder, what is the question that people asks you the most?
Dan Steininger: They ask how to get my job! And I tell them to get in line. Right now there are eight Master Builders that work for the LEGO company in the world. So I am one of eight. That doesn't mean I'm a great builder, don't give me wrong, that just means I'm lucky enough to get paid by LEGO to do this work. There are tons of adult fans of LEGO, there are kids I've seen who are prodigies, young Picassos of LEGO. So I think it's very special that I have this job and I appreciate it. I know that there are many more talented people to do this than I am. I'm just lucky to have this job.
Milwaukee Independent: What is the question that no one ever asks that you wish that they would?
Dan Steininger: I don't know if I really want people to ask me this question, but probably twice in my career I've been asked how big is my pile of mistakes. I've been doing this work for a long time, so it's neat to get such a rare question. When I'm building a model, I put the glue on and it automatically starts dissolving the plastic. So if I put it in the wrong spot, or realize I'm going to mess up further down the line, I can't rip it up. I just have to throw it out. Once I glue a piece on, it is committed. So sometimes when I'm having a bad day, my trash bucket is bigger than the model that I'm working on. It can be a little frustrating at times, and that's when I know I need a little more coffee that day.
Milwaukee Independent: So, how did you get a job with LEGO and become a Master Builder?
Dan Steininger: I got started because my son. He was about five or six, and he was getting LEGO for his birthday and holidays. I didn't play with LEGO as a child, I played with Erector Sets, Lincoln Logs, an army man. So I started playing with my son and the LEGO he was getting. It was fun because we built the sets together, but also I found that I could take it apart and build whatever I wanted with it afterwards. That was the part that appealed to me more than the actual set, building creating out of LEGO. It's a different medium. Instead of clay or wood, I could create with these colorful bricks. They are just great for building, and the amount of detail that I can get with them is unbelievable.
Dan Steininger: So I started as a model gluer trainee. A friend of mine worked at LEGO, and I live about a half an hour from the headquarters in Connecticut. So he got me an interview, and I interviewed three hours for minimum wage job. I was making twice as much in sales for another company, and my wife questioned my logic because we had four children at the time. But I've been there for 23 years now.
Milwaukee Independent: What did you think of the LEGO movie when it came out in 2014?
Dan Steininger: I loved it! I thought it really had a good wholesome message, which I believe is at the core of our LEGO values. I also thought that it was pretty realistic about some adult fans of LEGO take their LEGO a little too seriously. I mean, it's a child's toy. I'm an adult, I'm 60 years old, and I'm playing with a child's toy. I have to remind myself every once in a while about that, I get paid to play with a toy. It's a toy. It's a great toy, but it's a toy.
Read the article and view the photo essay that were produced as companion features for this news report.