Carlos Rolón: Sharing culture and identity in Sculpture Milwaukee's largest artwork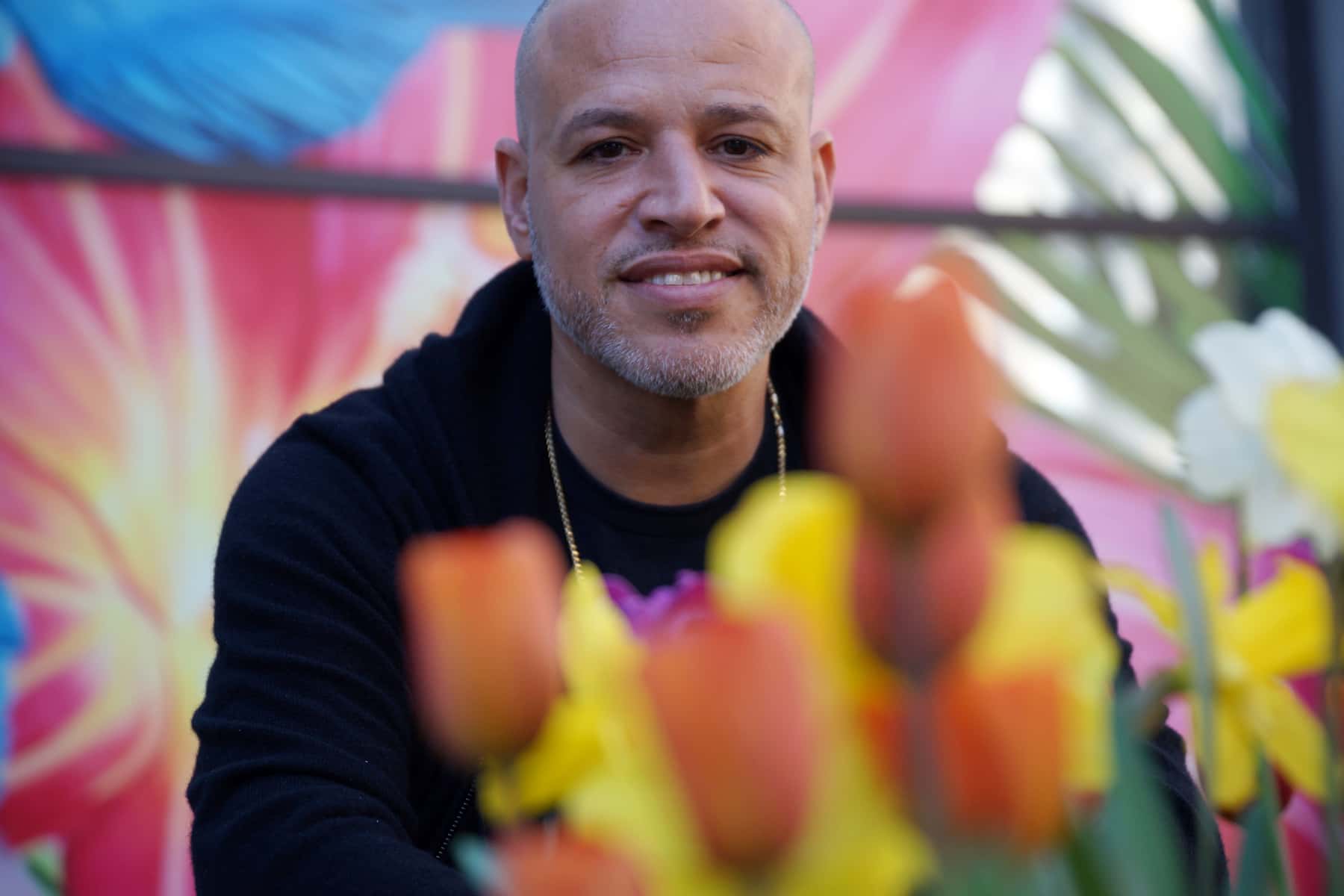 Incremental weather throughout the month of May delayed or slowed the weeks of effort by Sculpture Milwaukee to transform the city's main thoroughfare of Wisconsin Avenue into a outdoor art showcase. One of the signature exhibits for the 2019 collection includes a building-sized installation by Midwest native Carlos Rolón.
The glass atrium of the Chase Bank, on the corner of Water Street and Wisconsin Avenue, stands as the largest sculpture of the project's three year history, and the first of its kind to be installed on a building.
The two-story windows of the space were sheathed in 160 vinyl sheets from the outside, in a translucent diorama of local flora. The application was originally intended to be done inside, but the tinted glass had too profound and affect on the artwork colors.
Carlos Rolón's triptych "Gild the Lily (Caribbean Hybrid I, II, III), 2019" fit perfectly into the dimensions of the three sides of the building. The idea behind the installation was to create a glowing cue, or jewel box, that could be enjoyed day or night.
A smaller version of the artwork – produced on linen and with 24kt gold leaf – is concurrently on exhibit until the end of July in the Shinagawa area of Tokyo, Japan at Kotaro Nukaga. Rolón was just there at its gallery opening a few weeks ago, and the parallel display keeps elevating the status of Milwaukee as an art destination on par with other international cities.
As a first-generation Puerto Rican immigrant, Rolón is known for using a wide range of media to explore themes of ritual, beauty, spirituality, identity, and their relationship to art history. His Caribbean roots provided a background to explore personal ideas that address questions of inclusion, aspiration, and culture. Often connecting childhood memories to his current life experiences for inspiration, Rolón has crafted those vantage points into a hybrid language of exuberant flora paintings and sculptures.
The Milwaukee Independent sat down with Rolón for an interview during the Chase Bank installation. Longer portions of that Q&A session are presented here in its original audio.
Milwaukee Independent: How did "Gild the Lily" and your earlier work end up on exhibit at art galleries in Japan?
Carlos Rolón: Japan is a hard market to get into. I got involved, believe it or not, through a French record label – Yellow Productions. They brought me to Japan to have an exhibition of my work, because the owners of the record label were big fans of my art. They wanted to introduce my style to a gallery in Japan, so they brought me along. They felt strongly about sharing my art with the Japanese culture. When you look at other foreign artists, many are introduced to the Japanese market through toys or at some other level, not directly as art. My introduction came from music, then I collaborated with a well-known fashion designer. We did a line of clothing together, and after that the galleries picked up on my work.
Milwaukee Independent: What influences in your youth inspired the creative direction of your artistic career?
Carlos Rolón: When I was very young, I discovered a paining called "Paris Street; Rainy Day" by Gustave Caillebotte. It was part of the permanent collection at the The Art Institute of Chicago. My elementary school had a poster of it, and remember walking past that painting every single day when I was going to class. It made me dream about being in another place. Not dreaming about being an artist, just taking me to another place in my head.
Milwaukee Independent: How does having a Puerto Rican background affect they way you are seen as an artist?
Carlos Rolón: Being Puerto Rican means that I have to work twice as hard as other artists in the market right now. The art community, in my personal opinion, is one of the few industries that is still unregulated. If you look at the percentage of Latinos and women and minorities that sell or have solo exhibitions in institutions – or the amount of money that they garner on the secondary market through auctions – it is not even close to what most white males are making in the art world. There is a trend of African-American and political work that is getting attention in the art community right now. But it is hard to know if the trend is sustainable, or if will become a standard.
Milwaukee Independent: What was the most important lesson you learned when your art career began?
Carlos Rolón: The lesson I learned was to keep true to my identity. As a young artist, I thought that I had to possibly change my language in order to adapt to the art world. What I found was the more honest that I kept my work, and the more true to my story I remained, the more receptive the world was. That was actually a good testament to the art world at large. When you think of people who are looking for work that is engaging – culturally and politically – the more we keep true to our voice the better. Coming from the family that I had, I did not get much encouragement on my path to being an artist. So, I really truly believe that if someone – in your heart – really believes that you are meant to do something, whether an artist or whatever, you should do it with conviction and passion. The worst that can happen is you fail, which is just the first step toward learning.
Milwaukee Independent: When the Latino community of Milwaukee view your work, what message do you hope they see?
Carlos Rolón: Whether outside like with the Sculpture Milwaukee installation, in the confines of an institution – such as a museum, a private collection, or as part of an intervention, the most important thing for me is that my work is put into the public domain. I want kids, and people in general, from the Latino community to know, when they look at my work they are seeing an image of themselves reflected back. When I was younger and I walked into the Art Institute, I didn't see myself. Maybe there was a single painting done by Pablo Picasso, "The Old Guitarist," that possibly reminded me somewhat of my cultural heritage. But that was it, until I went to Spain and visited Museo Reina Sofía. But here, I did not see much art that reflected or talked about my culture. Nothing understood my identity. So, I'm on a mission to make that happen, to make my work relevant. I want other Latinos to see my art and understand what I am talking about. I want them to know we share the same culture and identity. But also, I also want people who are not Latino to look at it and hopefully have some compassion. When they view it, the creativity will help them relate to the message. If I can crossover into a pop-culture level, it means that I am able to tell a story that everyone can understand.
The original plan for Rolón's artwork was only to create an outdoor sculpture. From there, it mushroomed, condensed with refinement, and further evolved into the final installed form. Sculpture Milwaukee 2019 consists of 23 pieces, each available for purchase with a percentage of sales going toward Sculpture Milwaukee's future installations. They will remain on display until the fall.