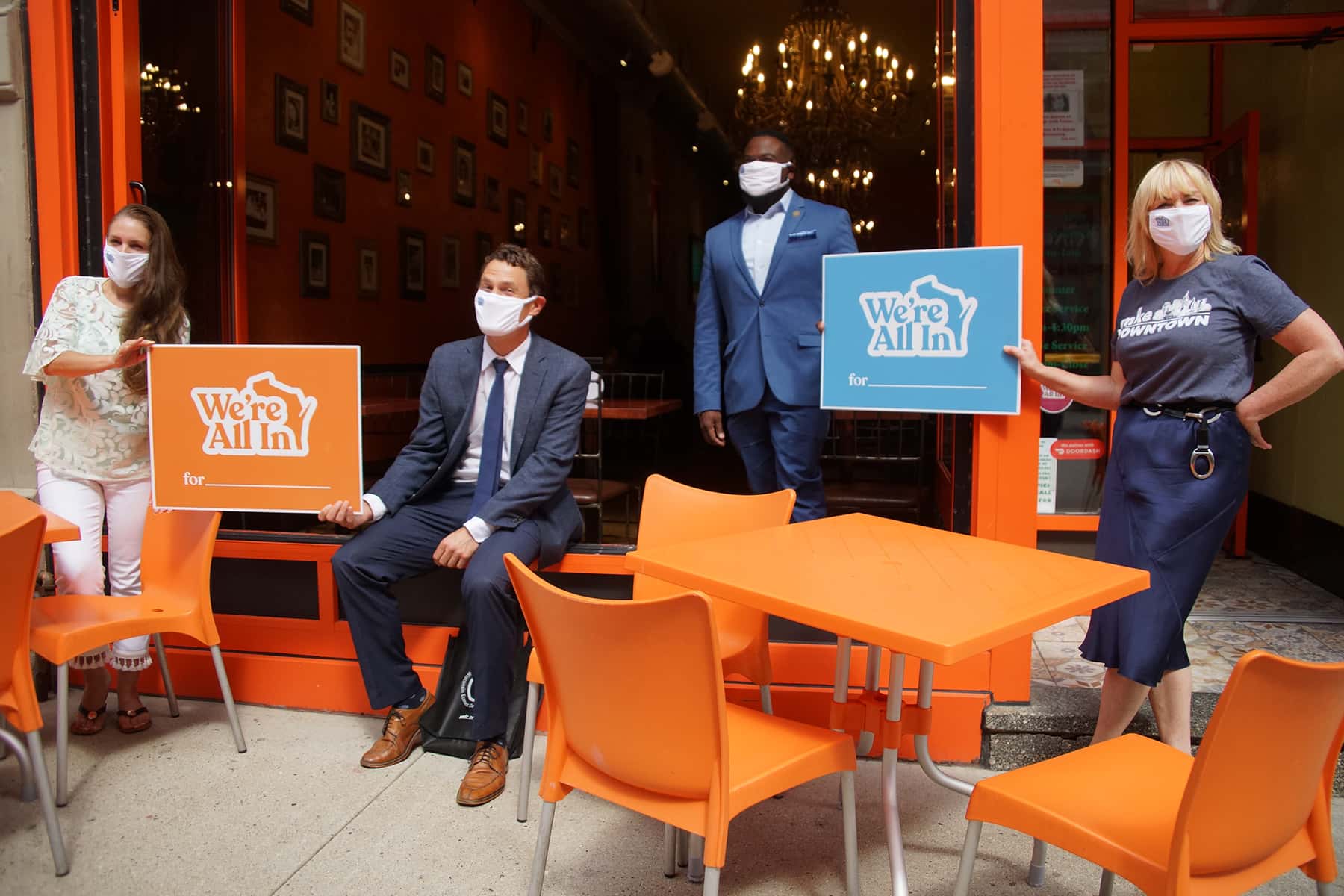 State and local officials held a news conference in downtown Milwaukee on August 5, followed by a tour to meet area small business owners participating in the Wisconsin Economic Development Corporation's (WEDC) "We're All In" economic program – which has been promoting public health and providing financial assistance during the pandemic.
A growing number of citizens from across Wisconsin — including small business owners, local leaders, and sports and entertainment figures — are declaring "We're All In" for working together to stop the spread of COVID-19.
The We're All In initiative is an effort by WEDC and its partners to create a "community of communities" in support of public health and safety measures. The initiative aims to reach every person in the state through social media, advertising, and other outreach platforms to give them opportunities for actively participating in the state's recovery effort.
"We need Wisconsinites to join our long-term economic recovery by supporting those small businesses as patrons and customers," said Governor Tony Evers in a statement. "We know that folks need to feel safe and confident as employees and consumers for this to work, so that is why we need to be all in together."
Secretary Missy Hughes and Deputy Secretary Sam Rikkers joined local officials across Wisconsin to highlight efforts by local governments and small businesses to implement best practices, such as social distancing, handwashing, cleaning surfaces, wearing masks, and staying home from work when sick.
Joining Deputy Secretary Rikkers for his Milwaukee visit were Lafayette Crump, Commissioner for the Department of City Development; Beth Weirick, Chief Executive Officer of the Milwaukee Downtown BID #21, and Matt Dorner, Economic Development Director of the Milwaukee Downtown BID #21.
"We know that for Wisconsin small businesses and the economy to thrive, we have to do a couple things. We have to get back to work. But the way we get back to work is to do so smartly. That means we have to make sure that businesses are protecting their employees and checking their customers. And so the We're All In campaign is simply spreading the message that businesses already have been. Businesses want to get back to work and they know that to do so, customers must feel safe coming back," said Deputy Secretary Rikkers. "At the end of the day, it's cool to wear a mask. It's cool because it protects your neighbors. It protects your employees. It protects your customers coming in. And so the sooner folks are doing the right things for safety, the sooner businesses can get back to what they do best, which is to really thrive."
The program was established to provide $2,500 grants to 30,000 small businesses, for a total of $75 million in funds disbursed. Funded primarily by the federal Coronavirus Aid, Relief and Economic Security (CARES) Act, it was designed to help small businesses with the costs of business interruption or health and safety improvements, wages and salaries, rent, mortgages and inventory. WEDC reviewed close to 30,500 applications for We're All In grants and so far has approved more than $50 million in funding to 22,000 small businesses.
"If there's one thing the pandemic has taught us, it's that the health of our people and the health of our economy are intertwined. That's why WEDC is encouraging Wisconsin businesses and citizens to adopt the necessary practices and behaviors for our state to continue its progress toward reopening with confidence," said Secretary Hughes. "We're All In is a collaborative initiative built upon a rallying cry that reminds us all that when it comes to the well-being of Wisconsin, We're All In this together."
The idea behind the We're All In grants was to get much needed funds into the hands of small businesses affected by the COVID-19 pandemic as quickly as possible. At the news conference, Commissioner Crump said that a similar Milwaukee-based funding program had provided $4 million to approximately 400 businesses for safety-related business restart expenses, said that another round of grants would be coming.
"What's been missing from America's response to COVID-19 is a unity of purpose. This is a crisis in which we should be pulling together – taking steps to reduce the danger. Instead, too often, individuals do not see themselves as part of the solution. They are." said Commissioner Crump. "If we have learned anything in recent weeks, it is that science should lead our decision making,There is no question that the economic challenges we are facing are enormous."
Deputy Secretary Rikkers visited with the owners of three businesses that received COVID-19 relief funding from WEDC during his stop in Milwaukee, walking to Cubanitas, 600 East Cafe, and Buckley's Restaurant & Bar and talking with their owners about the challenges and accomplishments of staying open and remaining safe during the pandemic.
State residents have also been encouraged to capture and share images of themselves social distancing with friends or family, wearing masks, and doing other things that reflect how they are keeping their communities safe from COVID-19, and to share these photos on social media with the hashtag #WeAreAllIn. Additionally, businesses were invited to take and share pictures of their safe practices designed to help customers, clients, and employees stay healthy.
"Wisconsinites have done an incredible job of banding together throughout this crisis and it's more important than ever for us to continue respecting each other, supporting each other, holding each other accountable and protecting those who are vulnerable," added Governor Evers. "We are still encouraging people to stay home as much as possible, practice physical distancing and good hygiene, and take protective measures like wearing a mask in public. But as more businesses continue to reopen around the state, we need to go all in on doing this together. Because we're all in Wisconsin."
Equally important to what We're All In participants are doing to maintain their own health and the well-being of their neighbors and communities is why they are doing it.
"I am so proud of our businesses in downtown Milwaukee that have made a path forward," said Weirick.
WeAreAllInWI.com also includes business resources, such as printable signage designed to help keep customers and employees safe by encouraging best practices for health and safety. The images and messages will be captured as a running tally of the commitment Wisconsin citizens are making to each other and to the state's economic strength. Citizens and businesses can show their support for and participate in the We're All In initiative by following the campaign on social media.
"Through conventional and digital media, online and physical business resources and social sharing, We're All In will inspire us all to show our pride in making a difference and going all in for Wisconsin" added Secretary Hughes.
The
Milwaukee Independent
began reporting on what was then referred to as the mysterious "Wuhan Virus" in January 2020. Other local media did not picked-up on the story until many weeks later. Our early features focused on the economic impact, social issues, and health concerns long before other Milwaukee news organizations even mentioned the coronavirus. Over the following year, we have published hundreds of articles about the pandemic and how it has affected the lives of Milwaukee residents. This extensive body of work can be found on our
COVID-19 Special Report
page, a chronological index of links by month. Our editorial voice remains dedicated to informing the public about this health crisis for as long as it persists.
For medical resources, please visit the
CDC's COVID-19 page
or the
Wisconsin Department of Health Services
. All editorial content published by
Milwaukee Independent
can be found at
mkeind.com/COVID19
. With a mission of transformative journalism, our staff is free from commercial bias and are not influenced by corporate interests, political affiliations, or a public preferences that rewards clicks with revenue. As an influential publication that provides Milwaukee with quality journalism, our award-winning photojournalism and features have helped to achieve a range of positive social impact that enriches our community. Please join our effort by entrusting us with your contribution. Your Support Matters -
Donate Now