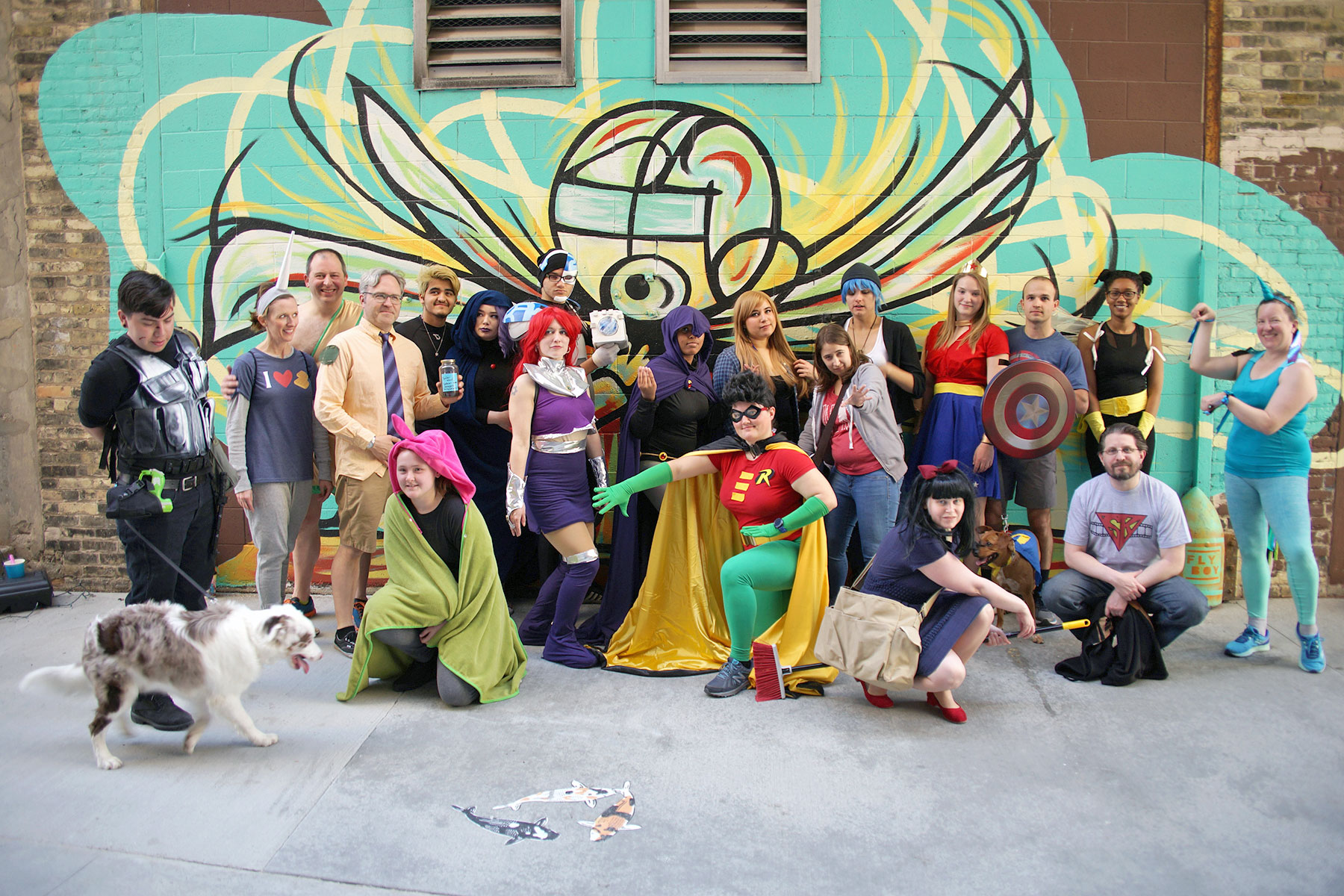 Comic book icons like Wonder Woman and Batman's Robin joined with mythical characters for a five kilometer run along the streets of Milwaukee's Eastside on May 5.
The masked avengers with colorful capes, cyborgs, unicorns, and practitioners of magic came together to participate in the 8th MKE Cosplay 5K: Cosmic Odyssey. The run and walk started from and finished at the Colectivo Coffee on Prospect Avenue. Organized by photographer and comic book enthusiast Troy Freund, the event combined two his passions.
"I'm a runner and I like being active. I also have been reading comic books since I was seven years old. So I thought this would be a good way to combine those interests, and support a charity," said Freund. "It is a great opportunity for geeks to get dressed up in their favorite costumes to be more active, and for active people to get more silly in a comfortable environment."
The Milwaukee Cosplay 5K started four years ago. The Eastside run was the group's eighth time hosting the event, which is scheduled twice a year. Because May 5 was National Free Comic Book Day, it was selected as the first 5K of the year.
Each event is open to the public and turnout has varied by location, with previous 5Ks attracting dozens of Cosplayers. There is no fee for participation, but Freund has two simple rules: runners must dress in some sort of costume, and bring an in-kind donation for the nonprofit that the run will support. For the May 5 event, Hope House of Milwaukee at 209 W Orchard Street was the beneficiary. Since it began four years ago, the Milwaukee Cosplay 5K has supported nine different nonprofits in the local area.
"Cosplay" is a contraction of the words "costume play." People can be geeks about all sorts of interests and, as Freund explained, sometimes when they are fans of superheroes they enjoy dressing up like them. The record-setting box office and popularity of the latest movie based on Marvel comic book characters, "The Avengers: Infinity War," shows how the long misunderstood art form has become a mainstream pillar and economic engine.
"I think it is really exciting how much the big blockbuster movies have brought the public an awareness of comic books. I'm not sure how that film success translates to increased comic books sales," said Freund. "But it is great seeing people know who Peter Parker is, and the real name of 'Iron Man' and all the other 'Avengers.' And the way that 'Black Panther' broke out earlier this year, that was incredible and way overdue. So I am looking forward to seeing more of the Marvel and other comic book movies."
In addition to the page-to-screen evolution, technology has influenced comic book formats. First in the 1990s with the invention of CD-ROM drives and the Internet, then a decade later with the iPad's release. But while digital comic books have grown in market share, many avid readers still prefer the tactile experience of holding paper.
Digital versions have helped previously unknown stories gain or grow a fan-base, but many still prefer the classic way of collecting their favorite titles. There is also a segment of the comic book population that thinks the artistic storytelling medium should not address social issues, and that it should stick to entertainment.
"If those people took a second to look at the legacy of comic books, activism and interest in social concerns have been an integral part of comic book history," added Freund. "I think comic books do a great job at addressing social issues. Many titles talk about how we have to make a difference and try to make a better world by own actions. So, they should have a message."
The Cosplay 5K was followed later in the afternoon by a "Let's Talk Comics" event held at Cardinal Stritch University. The comic book symposium started as an outgrowth of a monthly meet-up organized by Freund and his friend Leibold, a local English teacher. They felt that after the discussions there was always more to talk about. So the event was an opportunity for ten very different people to take the floor and express what they thought was important about comic books.
"My speech for the May 5 "Let's Talk Comics" will focus on the light in the darkness of the early 1990s," said Luke Nienow. "That era was a turning point for comic books, which became very dark and gritty. I will be focusing on the dеаth and return of Superman. A lot of people saw that storyline as a money grab, which it was not, and that is the context I will be analyzing in my discussion."
Other speakers and subjects included Javier Alaniz with the "Wakanda Revolution" that highlighted the Black Panther as tipping point for Hollywood, Andrea Thompson, organizer of the Film Girl Film Festival, and Myra Hillen. Each talked about women in comics and what comic book creators should be doing to interest young girls, who are the fast growing group of readers.
The message often expressed by comic books fans is that they not just for kids under 12 years old. Their appeal ranges from subject, to art, to how a story is written. For Nienow, his appreciation goes back to a very specific 1965 edition.
"DC Showcase Issue Number 55 is basically why I love comic books. I'm into heroes punching bad guys. That story had characters like Doctor Fate and Hourman fighting a monster named Solomon Grundy. Visually it looks like they should have nothing to do with each other, but it is just a fun book of heroes punching monsters," said Nienow. "I do like real world stories, but for my comics it always goes back to heroes."