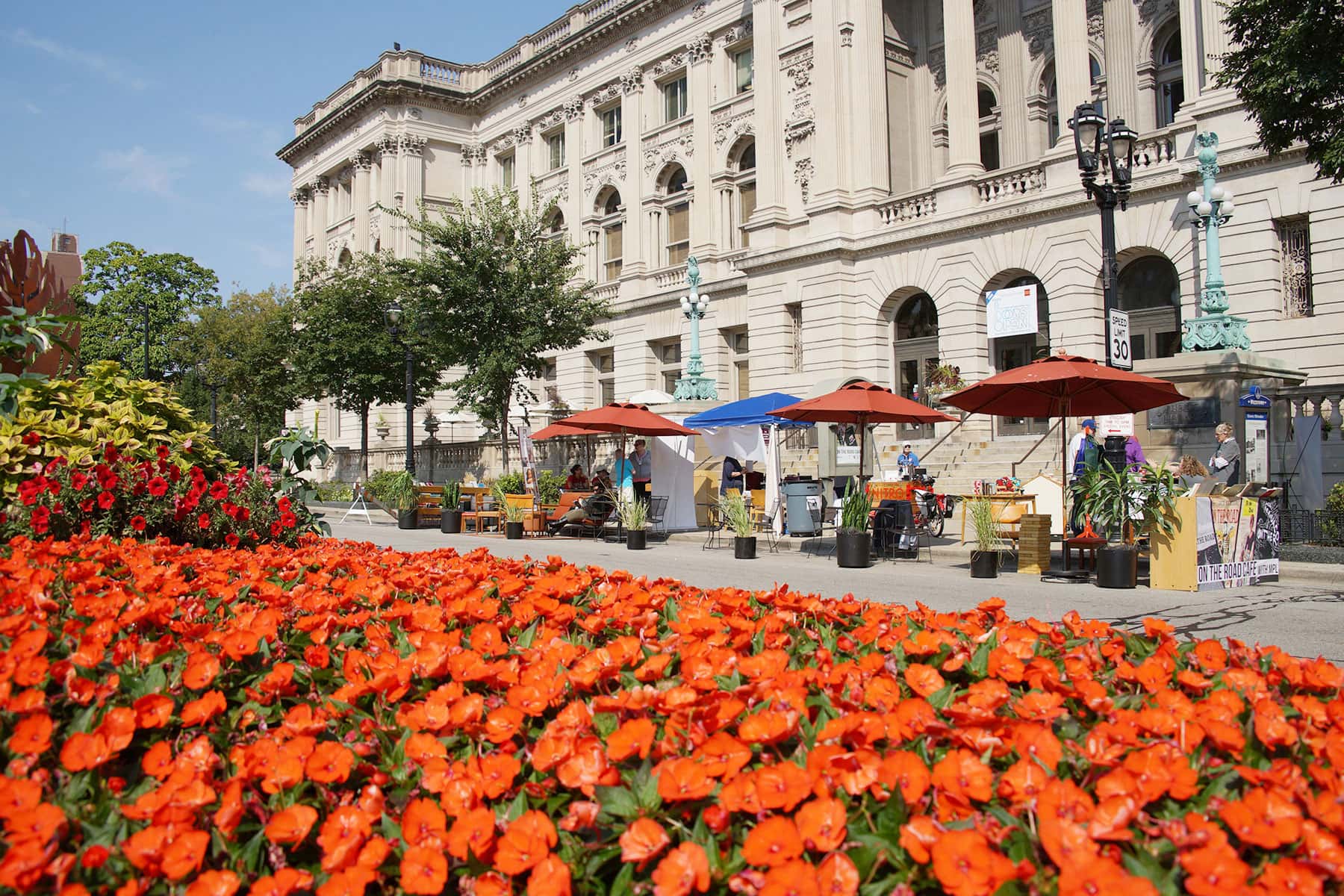 Eleven metered parking places in the city were transformed for global PARK(ing) Day on September 15.
Downtown Milwaukee reimagined almost a dozen roadway spaces, filling the territories with games, food, and live entertainment. The temporary greening and landscaping was provided by KEI Landscaping, Inc.
"We're excited to join the movement," said Beth Weirick, CEO of Milwaukee Downtown, BID #21. "PARK(ing) Day is a fun way to engage our property owners and partners in placemaking, while demonstrating that the central business district is a vibrant place to live, work and open a business."
From giant Chess to bowling, coffee to cupcakes, acoustic folk to jazz, each participating spot presented the public with various activities. For 2017 they included:
CityCenter at 735
City.Net Café
Classy Girl Cupcakes
Urban Milwaukee
Rinka Chung
Postman Square
Kahler Slater
NEWaukee
Who's On Third
Meat On The Street
Central Library
735 N. Water St.
306 E. Wisconsin Ave.
825 N. Jefferson St.
326 E. Mason St.
400 E. Mason St.
800 N. Plankinton Ave.
214 W. Wisconsin Ave.
275 W. Wisconsin Ave.
1007 N. Third St.
500 W. Wisconsin Ave.
814 W. Wisconsin Ave.
PARK(ing) Day was founded by Rebar, a San Francisco art and design studio, in 2005 to raise awareness of the need for green spaces in urban environments. The first reclaimed parking space was converted into a temporary public park in downtown San Francisco. Today, PARK(ing) Day is a global movement and has become a way to address a variety of social issues in diverse urban cities around the world.
These images feature highlights from several locations and activities during PARK(ing) Day 2017.