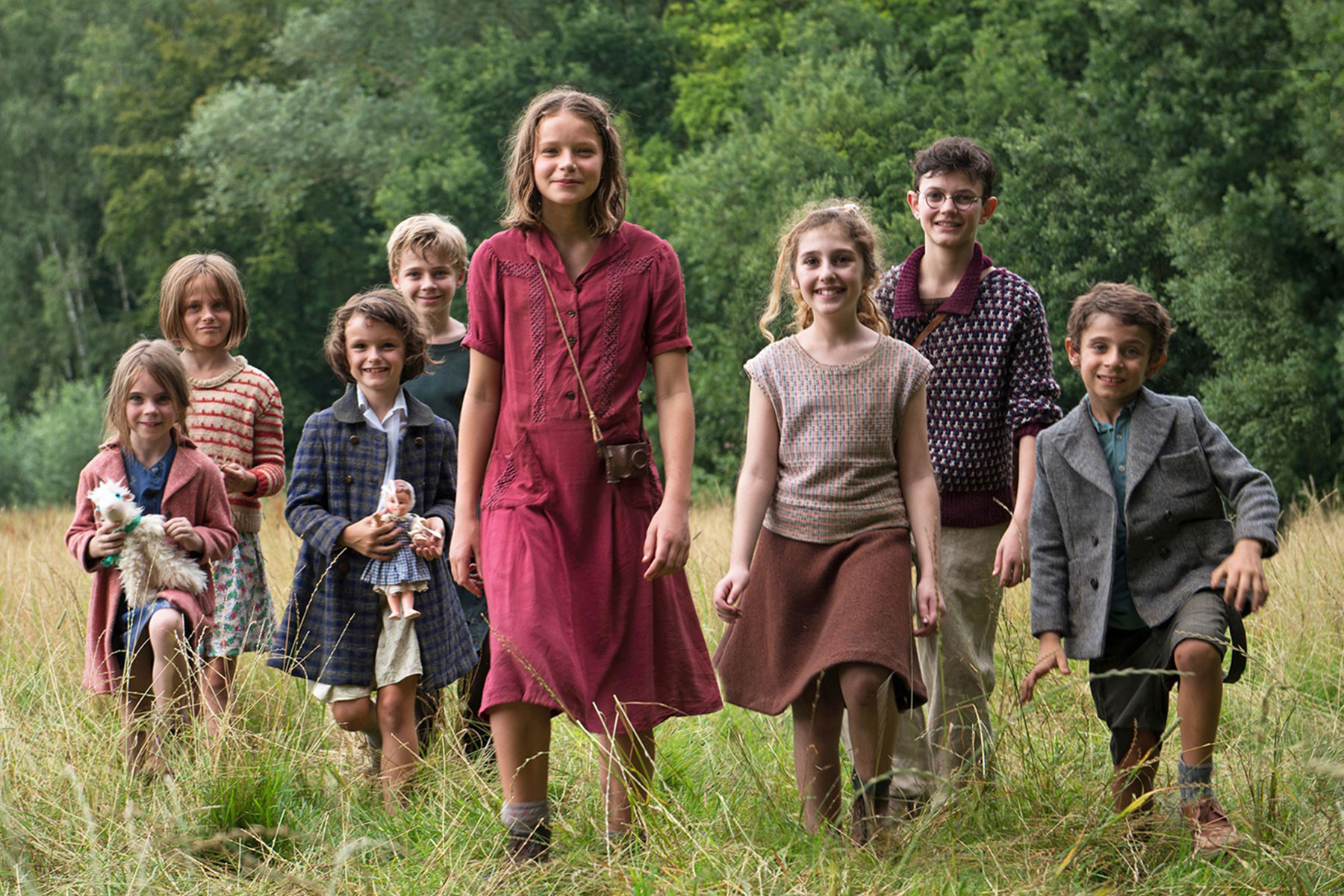 Carrying on the rich tradition of celebrating the finest in Jewish films and filmmaking, the 2017 Milwaukee Jewish Film festival features a variety of intriguing and engaging movies from around the world.
Jewish tradition, history, experiences and perspectives take center stage in a wide variety of films comprising the 20th anniversary celebration of the Milwaukee Jewish Film Festival running October 22 to October 26 at Marcus North Shore Cinema in Mequon. The Milwaukee Jewish Film Festival is a program of the Harry & Rose Samson Family Jewish Community Center (JCC), with support from Marcus Cinemas.
This year's five-day festival includes thought-provoking films from Belgium, France, Israel, United States, Germany, Hungary and Italy. Movie-goers at Marcus North Shore Cinema will delight in eight distinctly different films that boast a wide array of subjects and themes speaking to Jewish traditions, culture and history, as well as being relevant to Jewish modern day experiences. From a soccer field "war" in Israel, to the authors and creators of Curious George, to the unifying powers of hummus, the 2017 Milwaukee Jewish Film Festival celebrates the true universality of the Jewish experience.
General admission tickets for individual films are $10; various multi-film and VIP packages are also available. Tickets may be purchased through Micki Seinfeld at the JCC, 414.967.8235, at the JCC west desk, or at the JCC desk located inside the Marcus North Shore Cinema entrance one hour prior to each movie. Tickets are not available for purchase directly through the theater. For more information, visit www.jccmilwaukee.org.
Sunday, October 22 • 7:30 pm Fanny's Journey
2016, Belgium, France • French with subtitles, 94 min. • Director: Lola Doillon
A tale of bravery, leadership, strength and survival, FANNY'S JOURNEY is based on a true
but incredible story of a daring young girl who stops at nothing and fears no one. In 1943, twelve-year-old Fanny and her younger sisters are sent from home – first to France, then to an Italian foster home hiding Jewish children. When the Nazis arrive in Italy, the caretakers desperately organize the departure of the children to Switzerland. Left suddenly on their own, the eleven children do the impossible and reach the Swiss border to freedom. In cooperation with the Nathan & Esther Pelz Holocaust Education & Resource Center. The opening night film is funded by the Shel & Danni Gendelman Family JCC Endowment Fund.
Monday, October 23, 1:30 pm Hummus! The Movie
2016, Israel, U.S., Germany, Canada • English, Hebrew, Arabic with subtitles, 72 minutes •
Director: Oren Rosenfeld
Claimed by all, owned by none, hummus has the power to bring people together in the Middle East, America and around the world. Three characters – a hard working Muslim woman, an ever-smiling Jew and a young Christian Arab – are on a quest for meaning with one thing in common: their love of hummus. HUMMUS! THE MOVIE features "The World's Largest Serving of Hummus," the fiercely fought Guinness World Record title currently held by a Lebanese hummus maker – at a huge 23,042 lbs! Beyond the competition, beyond arguments over the best hummus and even beyond religious and political divides, HUMMUS! THE MOVIE tells the touching personal stories of the colorful men and women who love their hummus – the delicious, nutritious super-food. In cooperation with the Israel Center of the Milwaukee Jewish Federation
Monday, October 23, 7:30 pm Monkey Business: The Adventures of Curious George's Creators
2017, United States • English, 84 minutes • Director: Ema Ryan Yamazaki
A monkey, a man with a yellow hat, immigrants and the American Dream enliven this wonderful film honoring the legacy of Hans ("H. A.") and Margret Rey, authors and creators of CURIOUS GEORGE. From fleeing Nazi-occupied France on handmade bicycles to encounters with exotic animals in Brazil, the Reys actually lived the adventures reflected in one of the most treasured children's book series (which has sold over 75 million copies in more than 20 languages over the past 75 years). Weaving archival footage with interviews of friends, experts, and the Reys – along with charming, newly created animated sequences – this film is a beautiful tribute to the incredible couple, in a style inspired by the world of Curious George.
Tuesday, October 24, 7:30 pm 1945
2016, Hungary • Hungarian with subtitles, 91 minutes • Director: Ferenc Török
On a sweltering August day in 1945, Hungarian villagers prepare for the wedding of the town clerk's son. Two Orthodox Jews arrive at the train station with mysterious boxes labeled "fragrances." The town clerk fears these men may be heirs to the village's deported Jews and panics they will demand back property illegally acquired during World War II. Other villagers are afraid that more survivors will come, posing a threat to the property and possessions claimed illegitimately as their own. In this astonishingly haunting film, deep undercurrents of guilt and resentment run beneath the simple surface of a quaint village that is ultimately forced to face up to its ill-gotten gains. In cooperation with the Nathan & Esther Pelz Holocaust Education & Resource Center
Wednesday, October 25, 1:30 pm The 90 Minute War
2016, Germany, Israel, Portugal • Arabic, English. Hebrew, Portuguese with subtitles, 84 minutes • Director: Eyal Halfon
In the bold satire THE 90 MINUTE WAR, both sides in the Israeli-Palestinian conflict decide (after decades of strife and failed peace talks) to settle their differences with a winner-take-all soccer match. With renewed hostilities looming, leaders of Israel and the Palestinian Authority agree to end the intractable crisis once and for all. A single game will determine who will remain in the Holy Land and who will go. The stakes couldn't be higher for the chairman of the Israeli Football Association and his Palestinian counterpart. Every detail of the game becomes a potentially deal-breaking negotiation, from the choice of venue to the selection of a referee. As the fateful match draws closer, both leaders struggle with ambivalence about their place on the world stage, yet pursue every advantage to ensure victory. Tackling a serious subject as a politically incorrect mockumentary, THE 90 MINUTE WAR reveals the occasionally absurd differences dividing the Middle East.
Wednesday, October 25, 7:30 pm Women's Balcony
2016, Israel • Hebrew with subtitles, 96 minutes • Emil Ben Shimon
During a bar mitzvah celebration in Jerusalem, the women's balcony of an Orthodox synagogue collapses, leaving the rabbi's wife in a coma and the rabbi in shock. The usually cohesive congregation falls into crisis, and charismatic young Rabbi David appears at first to be a savior. But when he starts subtly pushing his fundamentalist ways, his attempt to control leads to a gender rift, which tests women's friendships. Join this rousing, good-hearted tale about women who speak truth to patriarchal power. In cooperation with the Israel Center of the Milwaukee Jewish Federation
Thursday, October 26, 1:30 pm Let Yourself Go
2017, Italy • Italian with subtitles, 98 minutes • Director: Francesco Amato
An uptight Italian psychologist lives next door to his estranged wife, with whom he's still secretly in love. When his doctor warns him that his weight is putting his health at risk, he enlists young instructor Claudia to help get in shape. He experiences more than just a physical workout, however, when he signs up for this personal training. The attractive Claudia, single mother of an undisciplined child, could use some life coaching. Together, the mismatched pair makes strides in healing both body and soul.
Thursday, October 26, 7:30 pm Bye Bye Germany
2017, Germany • German with subtitles, 102 minutes • Director: Sam Garbarski
In this Holocaust-survivor comic-drama set in Frankfurt, 1946, David Bermann and his Jewish friends in a displacement camp are dreaming of leaving for America. How will they get the money in these tough post-war times? The smooth-talking businessman focuses on what Germans now need most: fine bed linens wrapped in amusing stories. The six talented, opportunistic entertainers go from home to home, praising housewives with defiant chutzpah until the flattered ladies buy their irresistible items. Business flourishes, a bright new future shines on the horizon… but questions about Bermann's past catch up with him. Why does he have two passports? What about his visit to Hitler's mountain retreat? Could he have collaborated with the Nazis? A smart, attractive, yet uncompromising US officer, Sara Simon, refuses to close her interrogation, hoping to get to the heart of Bermann's wartime memories. Sara matches his quick wit with iron severity… but will she be able to escape his seemingly irresistible charms?
The Harry & Rose Samson Family Jewish Community Center is a non-profit, social service agency founded upon Jewish ethics and values. It is committed to meeting the ever-changing needs of the entire Jewish community for strengthening Jewish identity and for enriching the quality of Jewish life. The JCC provides the total community with a forum for open dialogue regarding matters affecting Jewish life here, in Israel, and throughout the world. It initiates diversified social, educational, recreational, and cultural programs within a Jewish setting.