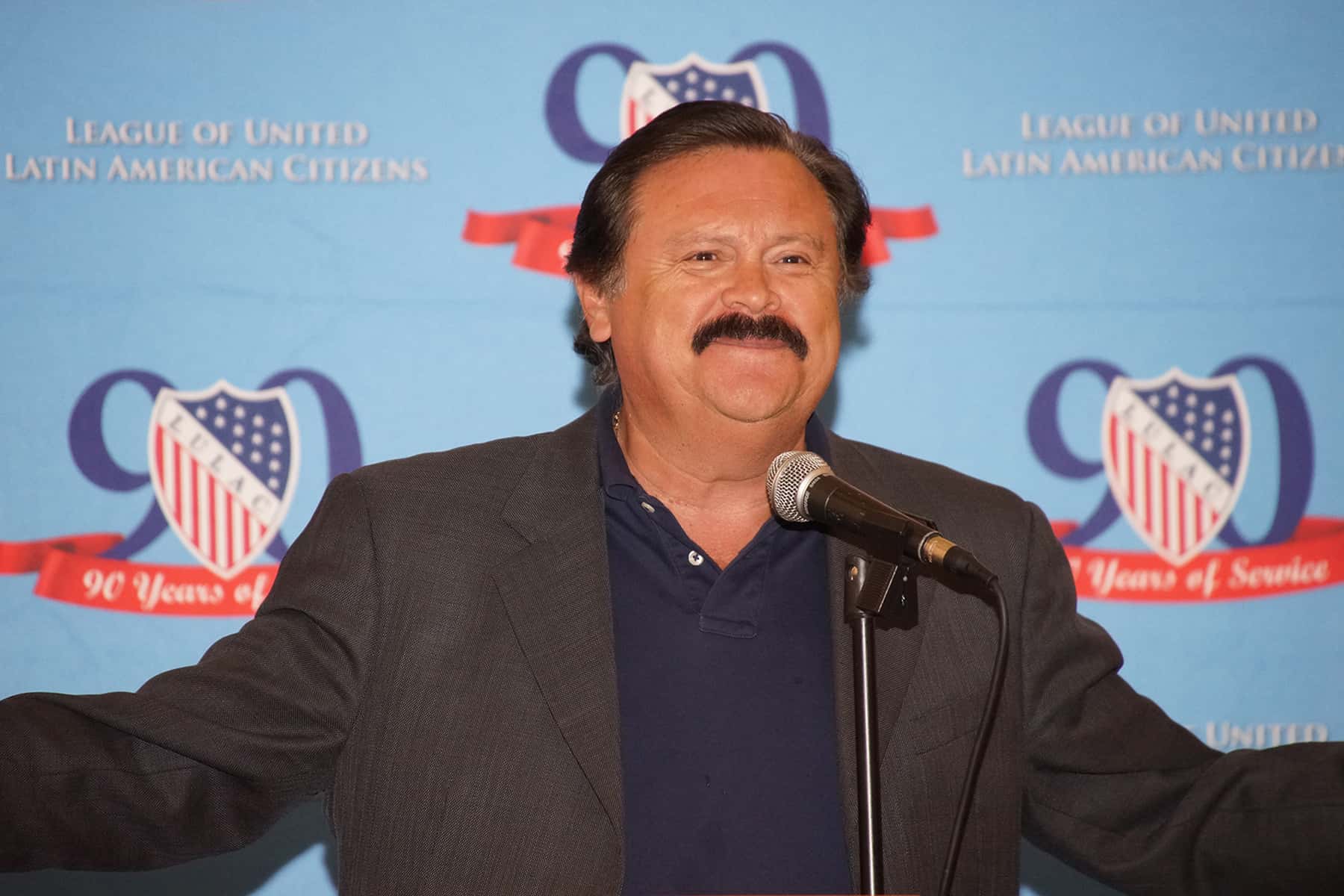 The oldest and largest Latino Civil Rights group in America formally announced, on April 25 at a reception in the rotunda of City Hall, that it was coming to Milwaukee this summer to hold its National Convention – coinciding with the organization's 90th anniversary.
The League of United Latin American Citizens (LULAC) will host their 2019 National Convention "Movimiento LULAC: 90 Years of Building Power & Transforming Communities Across America!" from July 10 to 13 at the Wisconsin Convention Center in downtown.
Members of the national leadership team and local officials spoke during the City Hall gathering, about the importance of this year's convention ahead of the 2020 general election and its economic impact on Milwaukee.
"A wise man once said that the arc of history bends towards justice. But not by itself it doesn't, or left to its own devices. This arc does not bend of its own accord or just by chance," said José Pérez, Milwaukee's 12th District Alderman. "It's been bent by the unrelenting efforts of those committed to living life in a way that's mindful, and prepares a better way for the generations that come behind them. LULAC can be rightly said to work for bending this arc. It has been on the side of justice and has a long history of doing that work in Milwaukee."
The 2019 National Convention will focus on topics like immigration, entrepreneurship, veterans affairs, education, and other issues facing the Latino community. Leaders stated that the event comes at a critical time, ahead of the 2020 census and election.
"Let me be clear why we are here. Wisconsin is a swing state. Wisconsin is a state with a growing Latino population, and a growing part of America in terms of diversity. And the state's future prosperity is connected to the health of our community," said Domingo Garcia, National President of LULAC. "So I ask the Trump Administration, when are you going to pass a comprehensive immigration reform bill that will allow DREAMers to achieve the American dream? What are you going to do about the humanitarian crisis on the border? When are you going to stop taking children from their mothers and putting them in cages?"
As a volunteer-based organization, LULAC's mission has been to empower Hispanic Americans and help build strong Latino communities, much like the NAACP does for the nation's black population. Headquartered in Washington DC with 1,000 councils around the United States and Puerto Rico, LULAC's programs, services, and advocacy address the most important issues for Latinos.
"This is an opportunity for residents to showcase our great city and build transformational national relationships. LULAC exemplifies what communities of color can accomplish for ourselves when we collaborate," said Ashanti Hamilton, President of the Milwaukee Common Council. "LULAC has shown since its inception that we achieve the change we seek when we work together. Black and brown communities have aligned priorities and we must be strong allies if we want to advance the solutions of our shared objectives, especially in Milwaukee as minority-majority city.
The 2019 National Convention co-chairs are Lupe Martinez, president and CEO of United Migrant Opportunity Services (UMOS); State Representative JoCasta Zamarripa; and Dr. Arturo Martinez, Associate Dean for MATC. Tammy L. Rivera, Executive Director of the Southside Organizing Committee, said that efforts from many local Latino-owned businesses and community groups were vital to support this year's convention.
"We are extremely excited to mark this moment in our history with this year's national convention and expo in the great city of Milwaukee, a long and dear friend of LULAC," said Sindy Benavides, CEO of LULAC. "This community reflects the strides that are being made when people are willing to come together to embrace diversity, inclusiveness and the many potential synergies these can generate for the future."
The League of United Latin American Citizens (LULAC) was founded in 1929 in Texas to serve as an advocate for the Constitutionally-guaranteed rights and freedoms of Latinos in the United States. It also encourages civic participation as a duty for Latinos in their local communities, especially in the areas of public education, job opportunities, economic advancement, and access to housing and health care. Other issues have been added to LULAC's core mission, including advocating for seniors and military veterans, seeking equity for women in the workplace, and championing the rights of the LGBTQ community.
The LULAC event is also an important economic opportunity for Milwaukee, and is seen as test for how the city will manage the DNC visit a year later. It also affords leaders the chance to show the nation what governance with integrity and shared respect looks like. The convention will also signal LULAC's official start for defensive preparations regarding the 2020 U.S. Census. Under the direction of the Trump Administration, the process has aimed to punish the Latino community by undercounting the population's representation or questioning citizenship as a method to instill fear.
"The positive increase of the Latino population in Milwaukee, since basically the 2000s, has fueled the population growth for the city. That brings an amazing group of people who love this community, and care for it, and want this community to prosper," said Mayor Tom Barrett, Mayor of the City of Milwaukee. "We want to have jobs for people so they can support their families, and that's a big part of what this convention is all about. Because LULAC understands the importance of education and good jobs, and not having a federal government that is only focused to divide us."