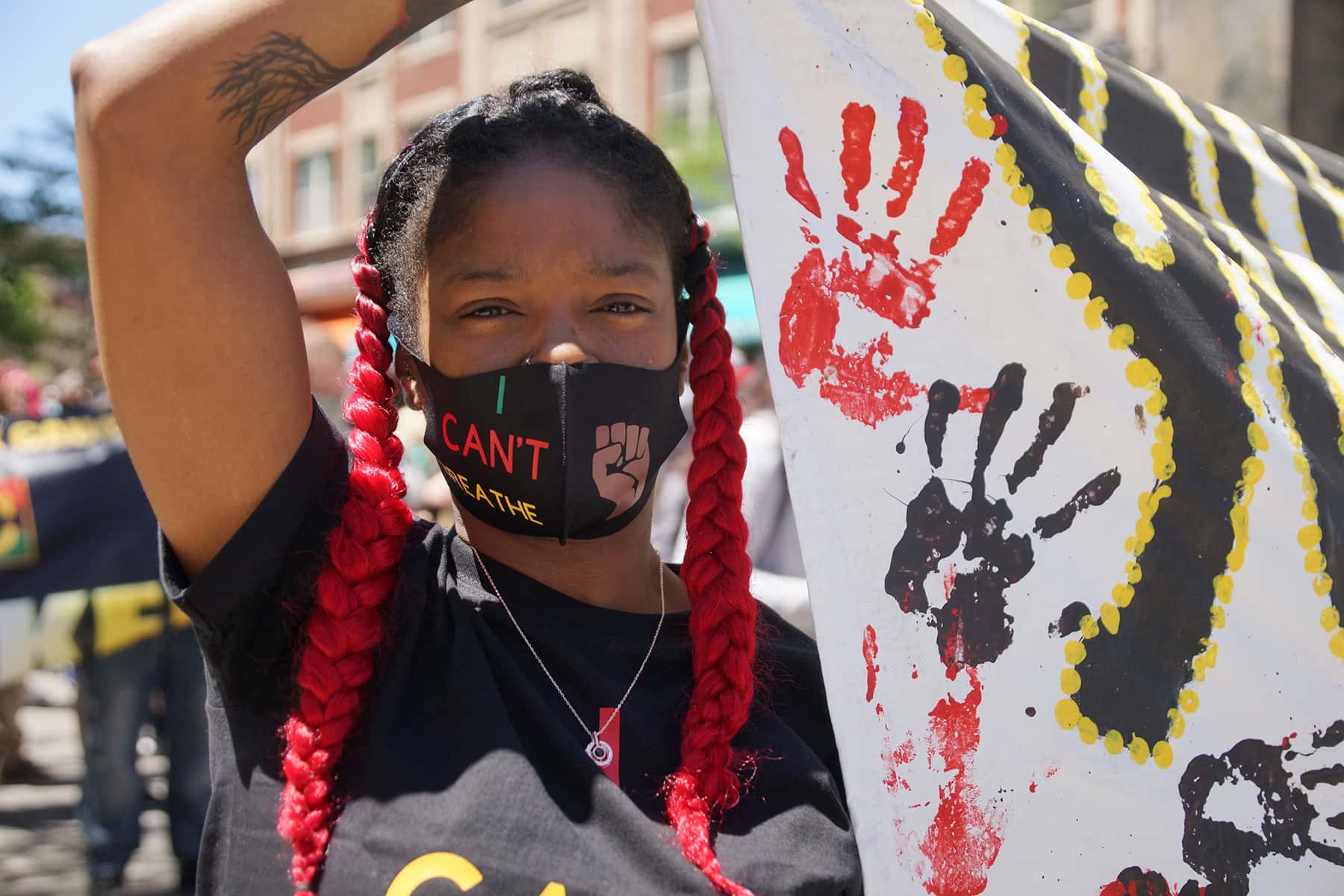 "The Milwaukee Alliance Against Racist and Political Repression" and "Youth Rising Up (YRU) North Division High School" led one of the almost dozen marches held on June 13, for the sixteenth consecutive day of citywide demonstrations to make an interracial and intergenerational demand for police accountability.
Hundreds of demonstrators marched from the south side of Milwaukee, across the historic James E. Groppi Unity Bridge on 16th Street, and down Wisconsin Avenue to City Hall. Once there, many of the demands and statements by protestors were expressed in chalk on the sidewalks and entrance area.
"We have been walking up and down these streets for days, and there is still police brutality going on. No police officers are getting arrested or convicted. So we are writing our message for everyone who enters City Hall to see, then there is no way our leaders can avoid hearing us," said Kimora Caldwell, a member of Youth Rising Up.
Marchers called for individuals to be freed from detention centers, jails, and prisons while the COVID-19 pandemic continues to spread and disproportionately impact the Black community. They also want to see direct community control of the police in the aftermath of George Floyd, Breonna Taylor, and other victims of police brutalization, as a way to stop illegal searches, forced confessions, and extrajudicial killings aimed at people of color.
We want to remember the names of local people who became victims of killer cops: Larry Jenkins, Samuel Rodriguez, Justin Fields, Wilbert Prado, Tony Bean, Derek Williams, Corey Stingley, Dontre Hamilton, Antonio Gonzales, Jay Anderson, Jr., Sylville Smith, Terry Williams, Adam Trammell, Ty'rese West, Alvin Cole, and Joel Acevedo. We also want to remember the nameless masses of Black and brown people who have been victimized by other police crimes in Milwaukee, but were fortunate enough to escape with their lives." – Statement from the march organizers on social media
The proposal would replace Milwaukee's "ineffective and unelected" Fire and Police Commission with an all-elected Civilian Police Accountability Council. CPAC would have wide-ranging control over the MPD, including the hiring, firing, and discipline of Milwaukee police officers, determine the police budget, and conduct independent investigations into police misconduct.
"Something like having community control of the police would put the power back in the hands of people who law enforcement is supposed to protect and serve – not oppress and abuse," said Lauryn Cross, a member of the Milwaukee Alliance Against Racist and Political Repression.
The belief is that such accountability would put an end to a "reign of terror" imposed on people of color by law enforcement, and make the community more safe. It would also go a long way to begin a much needed healing process after generations of social trauma.
© Photo
Lee Matz (Illustration by Ruby Jung)
These headline links feature the daily news reports published by Milwaukee Independent about the George Floyd protests, the revival of the Black Lives Matter movement that followed, and their impact on the local community in for 8 months from May to December of 2020.