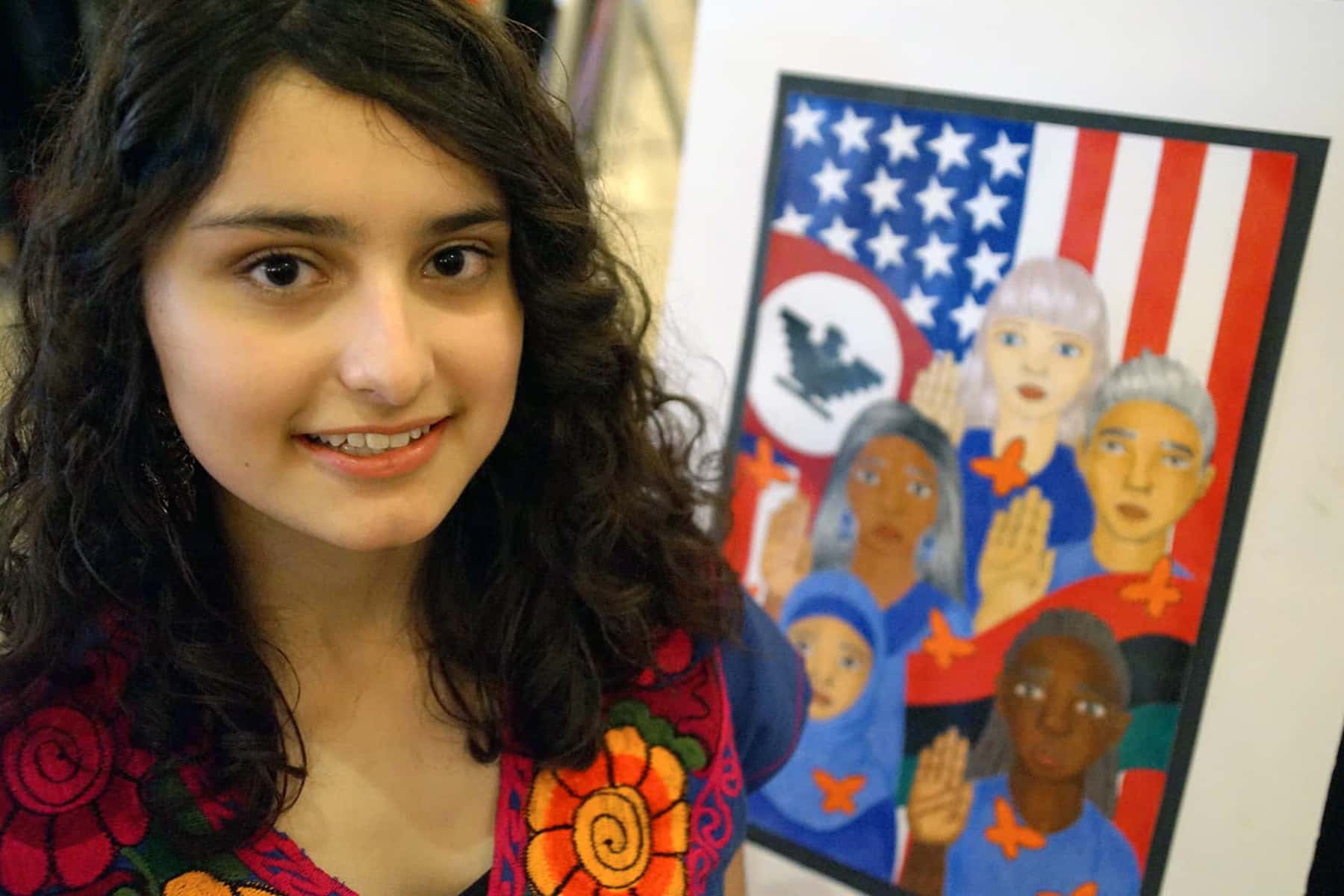 Families from various Milwaukee communities came together on March 24 at the Marcus Center's Uihlein Hall to remember the life of civil rights activist and hero, César E. Chávez, for the first art contest to honor his birthday in the city.
Milwaukee students from grades 4 to 12 participated in the Inaugural César E. Chávez Birthday Celebration Art Contest, and the winners were recognized during the special event. The artwork theme "Celebrating Communities as we Accept All People" was inspired by two values that Chávez used to guide his life and activism – acceptance of all people and the embrace of communities.
"It is important to keep César E. Chávez's legacy of social justice and respect for human dignity alive, and the contest allowed Milwaukee students to showcase their art skills while honoring the values that made Chávez an inspirational leader to millions," said Alderman José G. Pérez, for whom Chávez has been a lifelong hero.
The free event was focused on educating the Milwaukee community about the legacy of Chávez, and included speakers like Salvador Sanchez who marched with civil rights leader when he visited Milwaukee.
"César Chávez came to Wisconsin and he walked our streets. He helped farmworkers throughout the state, and developed an independent labor union. He fought for the American farmworker and led the American labor movement to bring attention to the conditions in the agricultural industry. César Chávez used peaceful tactics, and he put his own body on the line for what he believed," said Congresswoman Gwen S. Moore. "Without a doubt, the influence of César Chávez extends far beyond agricultural workers, and far beyond the labor movement. His example provides inspiration for all of us to work hard for civil rights, not only in the United States but throughout the world."
Building on the success of the Marcus Center's Dr. King Birthday event, the Chávez program engaged local youth through artistic, written, and spoken word expressions. Born César Estrada Chávez on March 31 in Yuma, Arizona, he was an American labor leader and civil rights activist who, with Dolores Huerta, co-founded the United Farm Workers union (UFW) in 1962.
"The legacy of César Chávez is about civil engagement, civil rights, equality, and fairness," said Representative JoCasta Zamarripa. "All the things he represented and fought for his whole life inspired me to continue that work in the state legislature."
Throughout her life, contest winner Yolanda Pérez grew up mostly on the Southside of Milwaukee. When she was younger, her family would drive through different areas of the city and the experience made her wonder why the houses in some areas were nicer than where she lived.
"Being a Latina is hard sometimes, because of the way I look. Where I come from has also been hard, making it difficult for Mom to provide for our family – which she works hard to do," said Pérez. "César Chávez has inspired me to stand up for what I believe in, even when it seems like it's impossible to make a difference. Learning about him really connected me to my Mexican roots. It helped me realize that if I want things to change, I can make them change in a way positive way and without violence."
Individual student winners included Rafael A. Cervantes, Emilio S. Ramirez, Kyla Fischer, Yael Martinez-Morales, Dayanara Sanchez, Greta Garcia Jalil Melendez, Dalia Chairez, Breanna R. Martinez, Yeiska Calderon Ayala, and Alaniss J. Viera. Participating educational institutions included A.E. Burdick School, Bruce Guadalupe Community and Middle Schools, Carmen High School of Science and Technology: Southeast Campus, Milwaukee School of Languages, South Division High School, St. Anthony School of Milwaukee Upper Elementary, Tamarack Waldorf School, and UCC Acosta Middle School.
"I think César Chávez was a humble leader, and a wonderful symbol of servant leadership," said Gladys Manzanet, a member of the Marcus Center's board of directors. "He was willing to do whatever it took in order to improve the human condition."
Emcee for the event was Pari Cruz, a bilingual multimedia reporter for CBS 58 Milwaukee and Telemundo Wisconsin. Dance and musical entertainment was performed by the Latino Arts Strings Program's Student Orchesta and Mariachi Juvenil, and the Dance Academy of Mexico.
"It moves me to see so many honoring his memory and legacy. It's humbling and also a great privilege to be with together in honor of his life," added Alderman Pérez. "But what we celebrate and honor today doesn't end here and cannot and stay here. I think César would be displeased if we only come together to remember and commemorate his words and example like some relic from the past, and to memorialize that past without committing ourselves to take action and make a better future."
"From the depth of need and despair, people can work together, can organize themselves to solve their own problems and fill their own needs with dignity and strength." – César E. Chávez