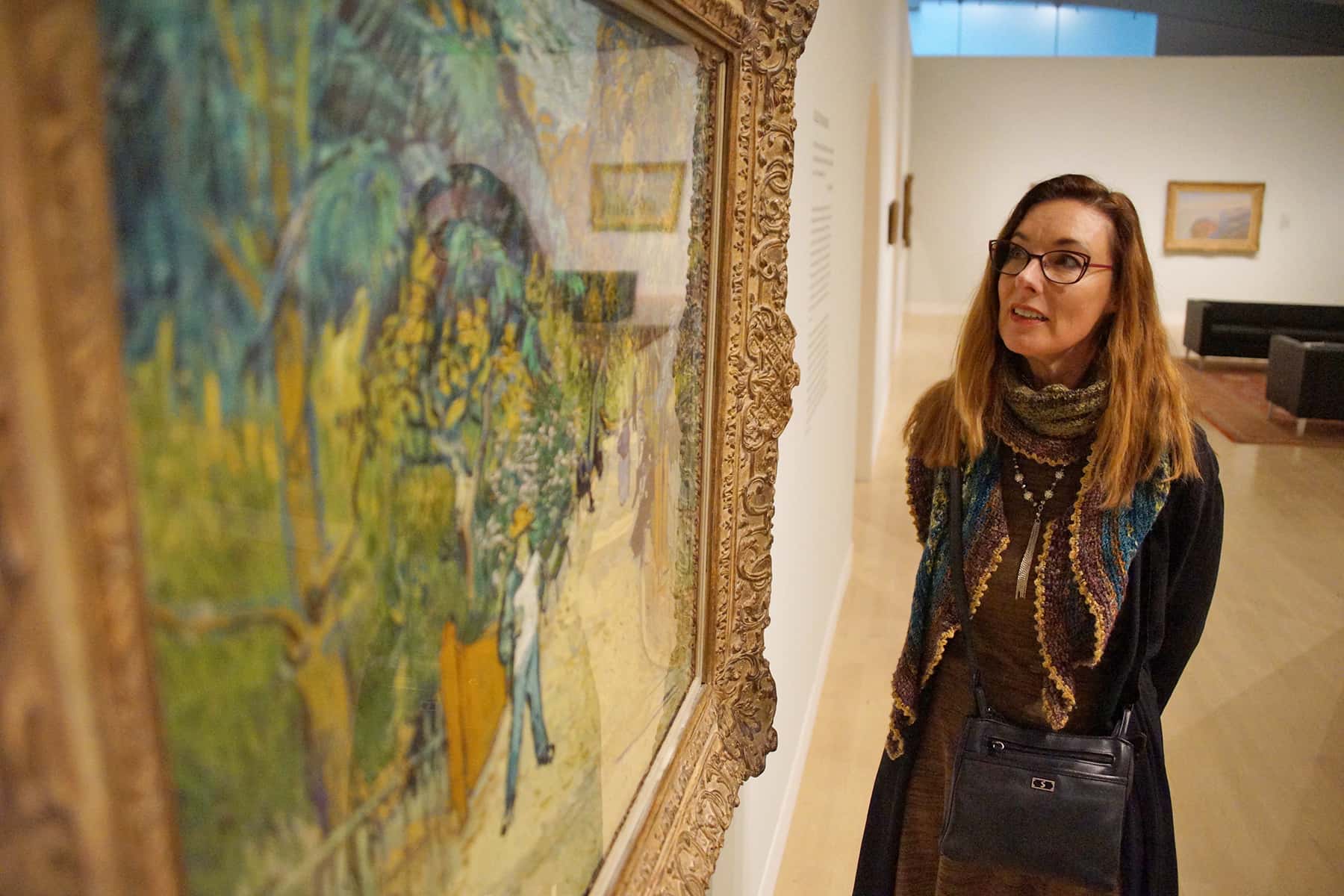 The Milwaukee Art Museum hosted a preview exhibit tour for the local media on November 13 for their blockbuster exhibit "A Modern Vision: European Masterworks from the Phillips Collection" which runs until March 22, 2020.
"A Modern Vision" presents a selection of the most iconic works from The Phillips Collection, America's first museum of modern art, which opened in Washington DC, in 1921, in a gallery added to his family's Georgian Revival home. The exhibition features 50 masterworks by towering figures of European modernism, including Edouard Manet, Gustave Caillebotte, Claude Monet, Berthe Morisot, Vincent van Gogh, Paul Cézanne, Edgar Degas, Pierre Bonnard, Wassily Kandinsky, Amedeo Modigliani, and Pablo Picasso. The exhibition is supported by an indemnity from the Federal Council on the Arts and Humanities.
"Duncan Phillips was best known for collecting artists in depth, rather than a having a smattering of work by each artist," said Tanya Paul, Isabel and Alfred Bader Curator of European Art for the Milwaukee Art Museum. "There were certain artists with whom he developed a very strong relationship, and who he really supported over the course of their lifetime by purchasing numerous works. And that makes him truly a visionary, and a touchstone for collectors ever since."
Ranging from the early nineteenth century to the mid-twentieth century, the paintings in the exhibition reflect the vision and influence of collector Duncan Phillips (1886–1966), who viewed art as "a universal language" and brought together, in his words, "congenial spirits among the artists from different parts of the world and from different periods of time."
"To collect works of art is good, to collect only what one particularly likes is better, and to collect only such works as mingle agreeably together is to make the best kind of collection." – Duncan Phillips
Phillips was driven to define modern art and its origins and, starting with nineteenth-century sources, collected across its developments through the years. He grouped works by their aesthetic temperament, bringing artists together from different places and eras to trace their relationships to, in his words, "the old masters who anticipated modern ideas." Through unexpected juxtapositions, he created exciting, new visual exchanges that demonstrated the universal language of art.
The iconic works by Impressionist, Post-Impressionist, Expressionist, and Cubist artists in "A Modern Vision" show the effort by Phillips to bring European modernism to a larger audience. Phillips saw his museum as an "experiment station," a place to test new ideas. Enthusiastic about the art of his time, he promoted independent, varied voices, including those outside the mainstream, whom he encouraged by collecting their work in depth.
He revered artists who achieved mastery of color, intensity of emotion, and a balance of representation and abstraction. A patron of free spirits, Phillips shared a passionate and personal dialogue with many artists and was motivated by the "joy-giving and life-enhancing" power of beauty.
"Our very personal collection of [Bonnard's] work is in itself a recognized memorial to his genius… With us, Bonnard is at home." – Duncan Phillips
Duncan Phillips took seriously his role as not only a collector of modernism but also a supporter of talented living artists. His efforts served living artists in two key ways. First, the paintings he grouped together, which he regarded as seminal art historical works, helped inform and inspire young artists. Second, he acquired and exhibited the work of talented living painters and sculptors, both assisting them financially and promoting their work to others.
No artist seemed to appeal to Phillips more than Pierre Bonnard. Phillips and his wife, Marjorie, herself and artist, were immediately drawn to his work, his deep sensitivity to color and devotion to the quiet joys of domestic life moved the couple profoundly. They invited him to heir home in Washington DC and became fast friends with the artist.
After his first visit, Bonnard wrote to them. "I am touched by the interest you take in my painting despite its great flaws – I am always striving to improve my style, and I am not indifferent to the fact that the like-minded support my efforts." The couple gave the artist his first solo exhibition in the United States, in 1930, and between 1925 and 1954, they assembled the largest collection of Bonnard's paintings in the country.
"Artists were increasingly using still life not for merely for imitation of objects but also as a vehicle of personal expression." – Duncan Phillips
Still-life painting is an area of focus that can be traced across the collection of Duncan Phillips. The Chardin still life at the beginning of the exhibition was an early work that Phillips acquired, and in 1927, he mounted an exhibition at The Phillips Collection focused solely on the genre.
In the gallery are modernist still life paintings by Pablo Picasso, Giorgio Morandi, and Ben Nicholson. These paintings demonstrate the quality that drew Phillips to the genre: the relatively neutral subject matter – a depiction of objects, often on a table – freed artists to give more attention to expressing their particular style or vision.
For instance, Morandi reduced the objects in his paintings to simplified forms, in a limited tonal palette. Nicholson also employed simplified shapes but, by contrast, used his own distinctive language of abstraction, which includes thin veils of color. Both artists had their first solo exhibitions in the United States at The Phillips Collection.
"One of the things that we're most proud of, in terms of welcoming this extraordinary body of work, is that it allows us to celebrate tremendous icons," added Paul. "We're very pleased to channel The Phillips Collection, when thinking about one of our own founding collectors – Peggy Bradley, who gave her iconic collection to the Milwaukee Art Museum in the 1970s."
"Art offers two great gifts of emotion, the emotion of recognition and the emotion of escape. Both take us out of the boundaries of self." – Duncan Phillips