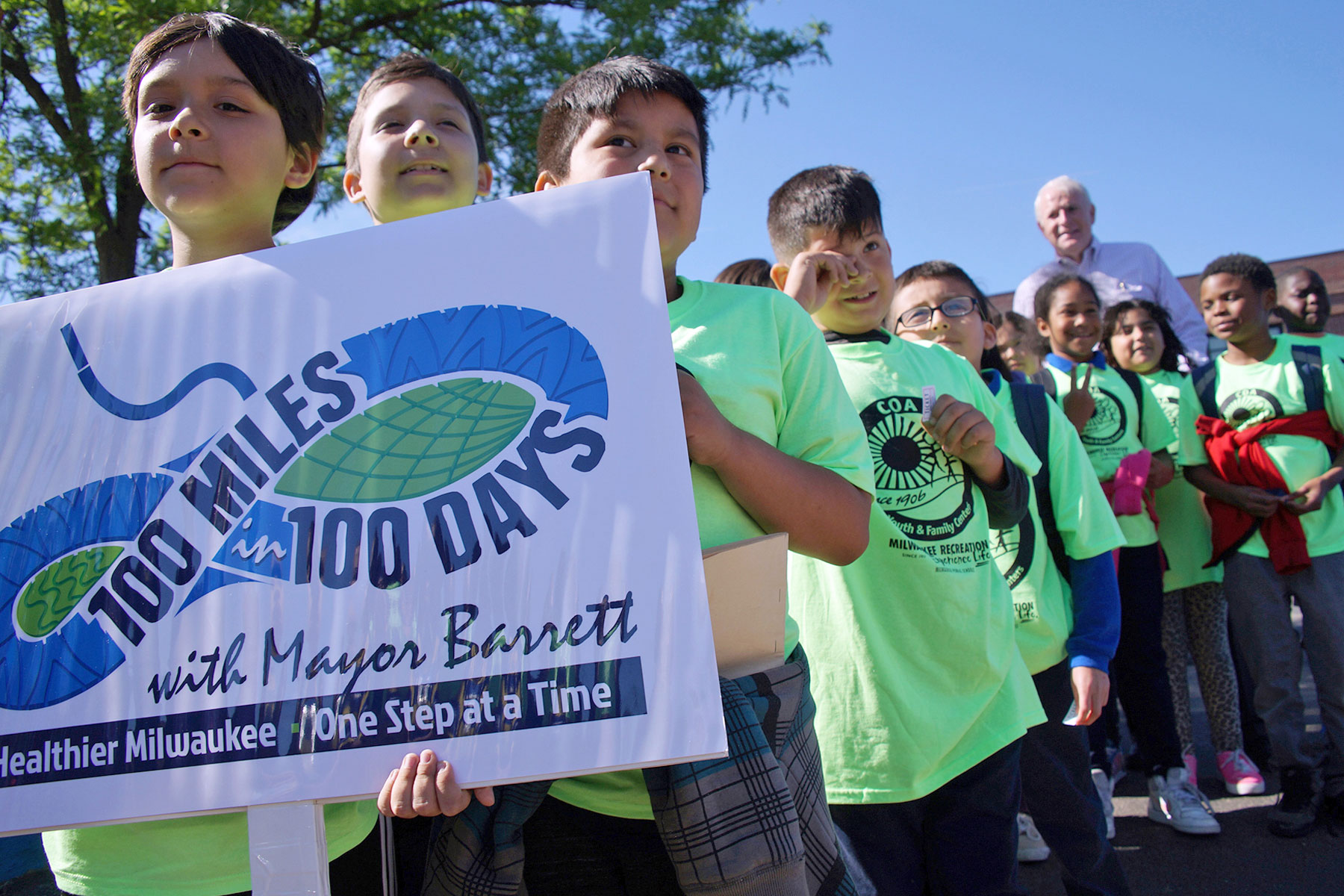 Mayor Tom Barrett hosted the first of his community walk series for the summer of 2018 with Artists Working in Education (AWE) on June 5 along the Silver City neighborhood.
The one mile trek from 30th and Scott Street to Arlington Heights Park on 35th and Pierce Street was part of Mayor Barrett's Walk 100 Miles in 100 Days Challenge. It explored artwork created and installed in the community by Artists Working in Education (AWE).
The art walk featured a variety of murals created by students at Doerfler Elementary School and Escuela Verde High School. Also highlighted along the visually stunning route were new murals recently designed by students at El Puente High School.
John Kowalczyk, Director for AWE's Artist-in-Residence (AIR) program, explained along the way that the projects were created to beautify neighborhood blocks, display artwork for everyone to enjoy, promote youth investment in the local community, and give children and families a sense of belonging to the neighborhood with a vibrant cultural connection.
"AWE is proud to highlight the public artworks we have done in Silver City with youth and community members. We believe the power art has to give a neighborhood an identity and display the pride of it's residents," said Kowalczyk. "It was also amazing to see the three neighborhood schools, and all our community partners together celebrating our work."
Kowalczyk is a celebrated Milwaukee artist with experience working in diverse community-based projects. His murals can be found across the city, including Black Cat Alley on the East Side. Walk participants also included AWE's Executive Director LaShawndra Vernon, members from the Layton Boulevard West Neighbors (LBWN) association, students from several schools in the area, and State Representative Josh Zepnick.
"The Mayor's Walk 100 initiative is a clear demonstration of strength in numbers and what collaboration can do. These walks, many led by neighborhood organizations show the beautiful work being done day in and day out from a vantage point that we often miss," said said Raina Johnson, Donor Stewardship and Storytelling Manager for AWE. "The one-mile walk allowed us to slow down, have conversations, and take a close look at what is around us. None of these public art pieces were in the neighborhood three years ago."
The excursion through Silver City finished at the Arlington Heights Park Mosaic Staircase under the 35th Street Viaduct, a recent 2018 Mayor's Design Award winner. A celebration immediately followed the walk to pay tribute to Artist Working in Education's 20 years of service to Milwaukee.
New this year for the Walk 100 Miles in 100 Days initiative is a photo challenge that encourages residents to photograph faces, community spaces, objects, and moments during the walk experience. Images submitted via social media using the hashtag #Walk100 have a chance to be featured on the Mayor's social media page, ZIP MKE website, and also win an annual Bublr Bike pass and other prizes.
Participants can see the full summer calendar of neighborhood walks from the city's website, and track mileage progress online.
Artists Working in Education is a non-profit organization that sponsors professional artists to nurture the imaginations of Milwaukee youth by bringing creative visual arts experiences directly to schools, community centers and informal settings such as parks, playgrounds, libraries and community events.