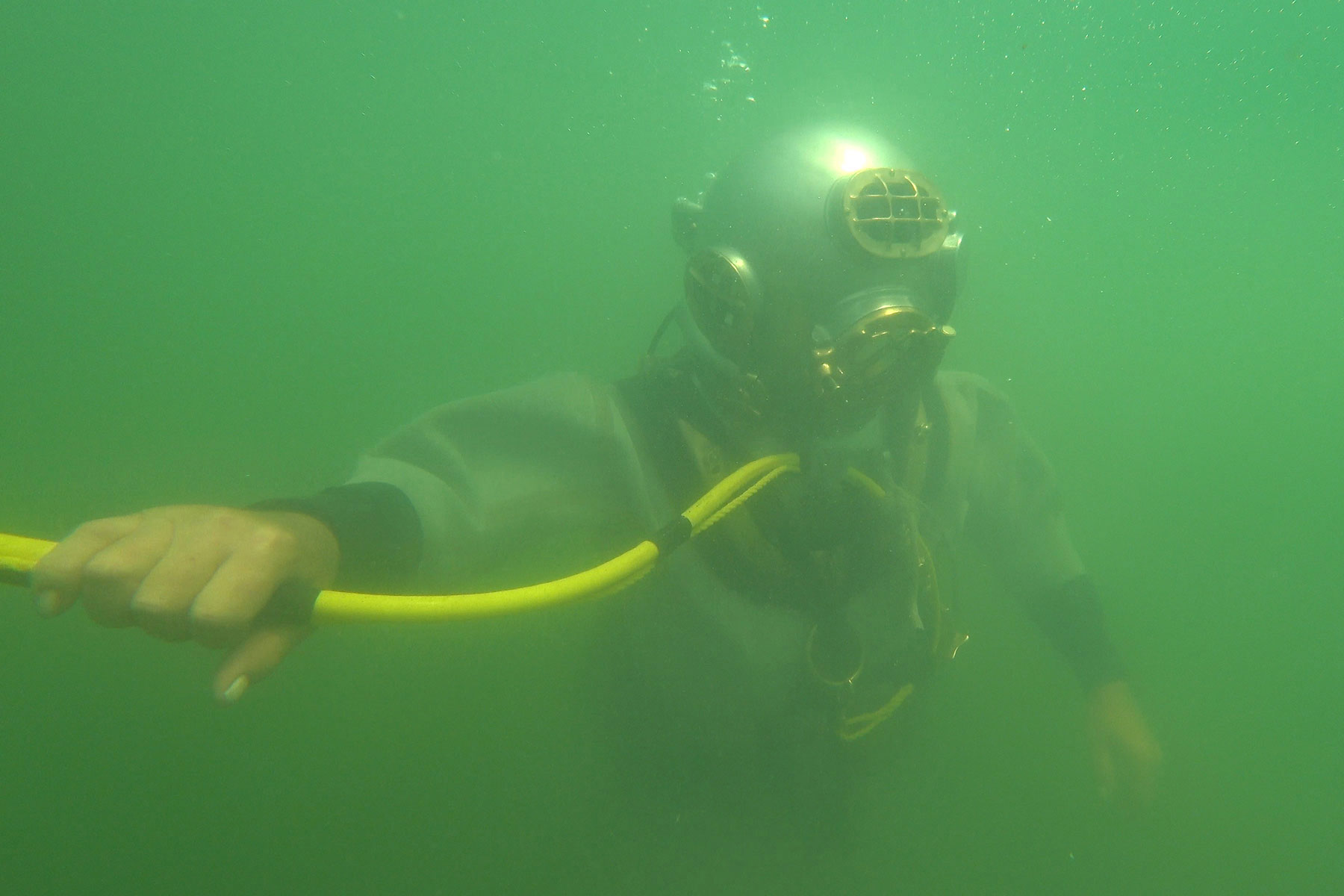 The Lake Michigan Classic Diving Organization (LMCDO) hosted Wisconsin's first Classic Diving Event on Milwaukee's lakefront from July 13 to 15, between the South Dock of Discovery World and Lakeshore Park.
Participating divers had to be PADI (Professional Association of Diving Instructors) or NAUI (National Association of Underwater Instructors) certified in order to suit up and go underwater. Each was fitted with vintage-style, hard-helmet diving suit that weighed more than 160 pounds.
Portions of the three-day dive event were open to the general public, allowing area residents the opportunity to wear and dive into Lake Michigan with the classic equipment, under close supervision of NAUI certified diving instructors.
"Underwater diving has a long history and direct tie to Milwaukee. We are proud to honor this history and participate in giving the greater Milwaukee community an opportunity to experience it firsthand," said Christine Koellner, general manager of Diving Equipment and Supply Company (DESCO) Corporation. "The experience of being in the old gear is something that's completely unique. It's one of the most simplistic types of diving. You don't really have to think about your breathing like you do with scuba."
Several groups presented educational and interactive displays for visitors to enjoy, including the U.S. Coast Guard, Wisconsin Marine Historical Society, Mark V Monument Project (associated with the U.S. Navy Dive School out of Panama City), and the dive rescue teams from the City of Milwaukee and Elk Grove Village Fire Departments. In addition, close to 500 divers traveled to Milwaukee from across the United States and internationally to attend the conference portion of event, which was be held at Discovery World.
The inaugural event was rooted in Milwaukee's history of marine innovation. Underwater diving suits using helium-oxygen breathing mixtures were pioneered locally by Max Gene Nohl, a Milwaukee native and graduate of the Massachusetts Institute of Technology (MIT) and Dr. Edgar End of the Marquette School of Medicine in the 1930s. Using this newly developed DESCO diving technology, Max Nohl made history on December 1, 1937, when he dove to a record-breaking depth of 420 feet in Lake Michigan off the shores of Milwaukee. The dive was covered live coast-to-coast on NBC radio, bringing Max Nohl instant fame for his accomplishment.
"The helmets are hooked directly to an air supply, so you're constantly tethered to that air supply. There are no air tanks involved like scuba, it's surface supplied air diving," added Koellner.
During World War II, Milwaukee's DESCO played a major role in supporting the war effort by manufacturing a majority of the hardhat diving gear and oxygen rebreathers for the U.S. Navy. Divers used the gear during rescue and salvage operations of the fleet at Pearl Harbor. Hardhat dive helmets from that era are known as Mark V, which were identical to those used during the Dive Rally.