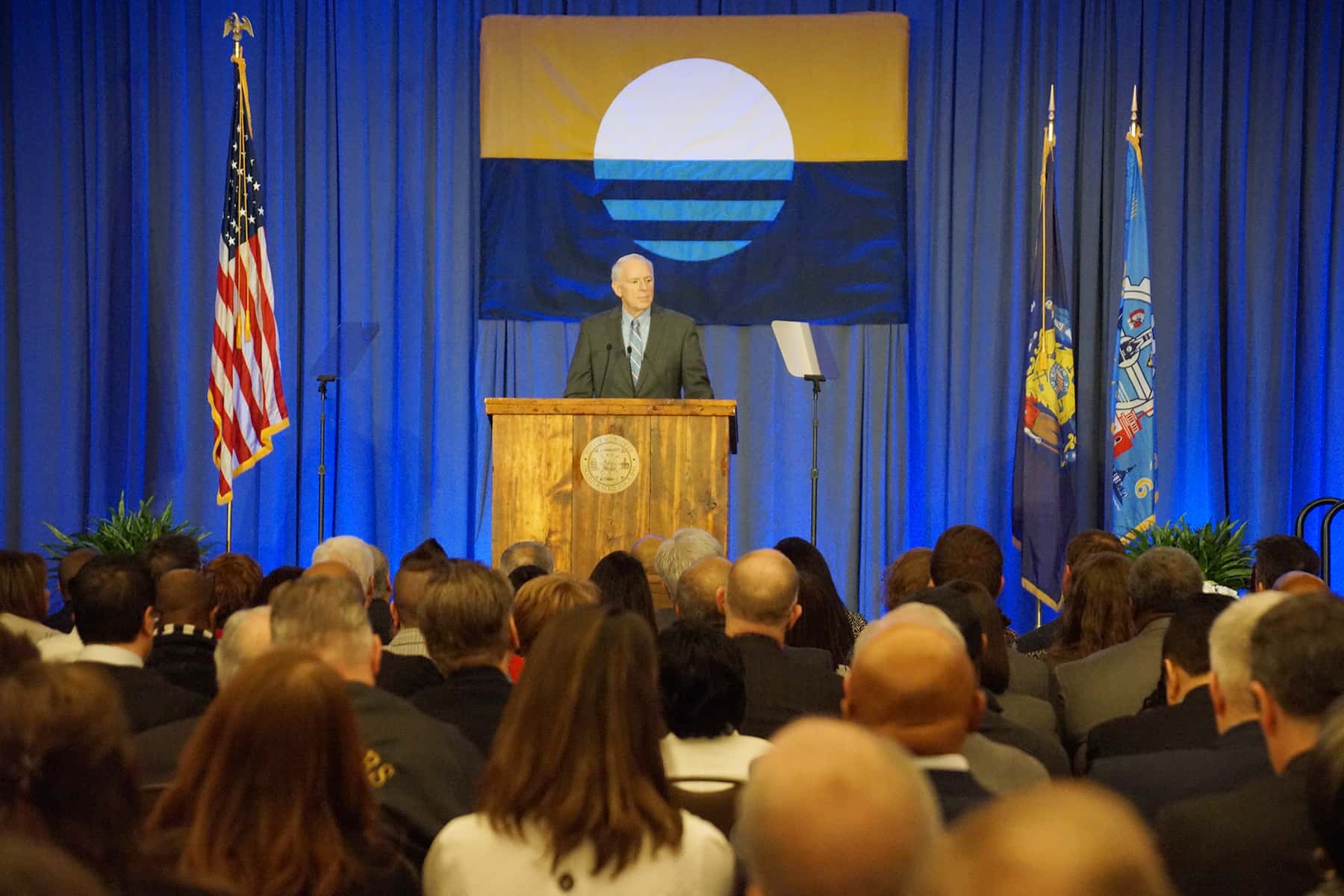 Mayor Tom Barrett delivered a positive outlook for his annual State of the City address on February 10 at the Potawatomi Hotel & Casino, highlighting Milwaukee's accompaniments and a roadmap for 2020.
From education, to health care, to the Democratic National Convention in July, Mayor Barrett's upbeat speech covered a range of topics and issues that the city needed to address over the year ahead.
"We're starting to get the attention we deserve because special things are happening in Milwaukee," said Mayor Barrett, after reading a list of news headlines that all touted the city's renaissance.
In some ways it was an anti-climactic follow-up to his 2019 address at the Fiserv Forum. Within minutes of that conclusion, the Mayor was on the way to a side press conference when he received a phone call with the news that the DNC selected Milwaukee as its host city.
This audio segment was recorded live during Mayor Barrett's address, and presented along with the text of his State of the City speech as it was delivered. The photo collection shares visual highlights from the event.
Mayor Tom Barrett's 2020 State of the City Speech
Potawatomi Hotel Casino, February 10, 2020
It was just a year ago at my state of the city presentation, when I asked: "Wouldn't Milwaukee be a great place for a national political convention?"
Moments later I received a call from Democratic National Committee Chairman Tom Perez who made it official. For the first time in the history of the state of Wisconsin, we are hosting a major national political convention.
Now obviously, Wisconsin is a swing state, but there is another reason they are coming here. There is something special going on in Milwaukee and we have the opportunity to tell the world our story.
The people of Milwaukee will be great convention ambassadors. I know that.
You can see that with the enthusiastic response so far – volunteers are signing up; small Milwaukee businesses are offering their services; restaurants, hotels, and tourism destinations are gearing up.
I want everyone to feel a positive connection to this historic event. With that in mind, I'm pleased to announce a special opportunity for people who live here. I've arranged for convention planners, in the days leading up to the convention, to open the Fiserv Forum at specific times for public tours.
I want as many people as possible to have an opportunity to see, first hand, the convention space, the construction that will be underway, and the location that the nation's attention will be focused on that third week in July.
My hope is that thousands of people will seize this opportunity, walk through the arena and become a part of this convention and a part of American history.
To facilitate the convention's public open house, I've asked our friends at Historic Milwaukee to lend a hand. They bring the experience of managing Milwaukee's annual Doors Open events, and they will make sure that there is the widest possible opportunity for people to see the convention space.
Thank you Historic Milwaukee.
The convention gives us a chance to tell our story and we're eager to do so. A story of hard- working, resilient people, innovative companies, great natural beauty, and cultural and entertainment assets galore.
Yes, last year I asked, "Wouldn't the Fiserv Forum be a great place for a convention?"
This year I ask, "Wouldn't this hotel be a great place for hundreds of delegates ready to experience all Milwaukee has to offer?" The Forest County Potawatomi and the Potawatomi Hotel & Casino have made a spectacular investment here.
As the Potawatomi built this hotel, they partnered with diverse vendors setting goals to be inclusive. They achieved their goals. They set a standard that Milwaukee businesses can and should meet.
Potawatomi is a fantastic community partner. At the launch of the streetcar, The HOP, they stepped forward to be our presenting sponsor with a $10 million dollar commitment. And, as we made our pitch for the Democratic Convention, they were alongside us every step of the way.
Potawatomi has touched so many small community groups and not-for-profits through its Heart of Canal Street campaign and the tribe's foundation which have shared more than $80 million dollars in our community.
Beyond all this, it's their employment story that is so remarkable because the economic benefits spread throughout Milwaukee's neighborhoods.
The people who work here embody the diversity of our city. Of the nearly 2,700 team members, 65 percent are people of color and 53 percent are female. Nearly two-thirds reside in the City of Milwaukee. Now that's an impressive commitment!
Thank you Chairman Ned Daniels, Jr. and General Manager Rodney Ferguson.
Good things are happening in our city, and our positive momentum is going to continue.
Milwaukee is safer, our economy is stronger, and the city is more inclusive. We are working to increase economic opportunity, opportunity that's fully and fairly shared.
We are committed to making our neighborhoods safer and healthier. We are committed to improving neighborhood housing. We are committed to attracting and investing in family supporting jobs.
Milwaukee is moving forward, heading toward a city in which everyone has a higher quality of life, a brighter future, and a strong sense of pride.
Safe neighborhoods make for a strong city. In recent years, we have been on the right track on crime. The crime numbers are going down.
All major crime categories from homicides to non-fatal shootings to carjackings are down. Our police officers continue to do outstanding work and their efforts are paying off. Let's give our men and women of the Milwaukee Police Department a round of applause.
Everyone knows the City has seen an unacceptable level of reckless driving resulting in loss of life and damage to our neighborhoods. The City-County Reckless Driving Task Force produced a comprehensive report of recommendations to address this problem.
At my direction, the city will take a lead role in implementing recommendations to eliminate this behavior and make our streets safer to travel.
But, it takes more than police to make our neighborhoods safer. It takes the active engagement of citizens and community groups. And that's exactly what we've done through our Blueprint For Peace; our plan to engage communities and bring peace to our neighborhoods.
We have expanded the Office of Violence Prevention by adding resources with the goal of addressing violence as a public health issue. Thank you to everyone who has contributed to the Blueprint for Peace and 414 Life.
Let me tell you why this is so important: For decades Milwaukee relied solely on the police to fight crime. Now we are prioritizing prevention, working with the community, and expanding our approach to making Milwaukee safer.
Since this comprehensive approach began, Milwaukee has experienced a decline in non-fatal shootings and homicides. Compared to other similar cities, we've had one of the most significant drops in homicides from a peak in 2015 and we have seen declines in homicides every single year since then.
Last year, the numbers were 33 percent lower from where they were in 2015.
Clearly, every one of these victims who died brings sadness and a sense of loss. We still have work ahead of us to drive homicide down, and all crime numbers down even more. Although we are making progress, every violent crime harms not only the victim, but also this city.
As we reduce crime, we improve Milwaukee's quality of life and we make our neighborhoods stronger. That's important because Milwaukee's strength lies in its neighborhoods.
There is no question that the fallout from the recession impacted some Milwaukee neighborhoods more than others. That's why in 2018 I launched the "10,000 Household" initiative, an effort to provide 10,000 affordable housing units through new construction, rehabilitation and new homeowner counseling all within 10 years.
This morning I can report the 10,000 Household effort is on track.
As positive development trends continue in the neighborhoods adjacent to downtown, long-time residents have expressed concerns that the rising property values can result in unaffordable tax increases.
This does create a dilemma. I'm very pleased property values are increasing, but we don't want people to be forced out of their homes. We heard loud and clear about these concerns and worked with community partners to come up with an innovative solution that offers assistance to residents who fear that their rising property values will hurt them.
Using funds from generous private donors, the MKE United Anti-Displacement Fund was created to help eligible homeowners in the Halyard Park, Harambee, Brewer's Hill, and Walker's Point neighborhoods by providing resources to offset the impact of property tax increases.
The goal is to help people stay in the neighborhoods they have called home for so long. Today I can report more than 110 homeowners have qualified for this innovative program. These homeowners have lived in their home for an average of 18 years. Not surprisingly, the majority are elderly homeowners, who are the strength of their neighborhoods and may be most vulnerable to displacement.
I want to stress this is a private sector team leading the charge. I want to especially thank the Greater Milwaukee Committee, the Greater Milwaukee Foundation, and the Urban League for their leadership.
A number of generous donations were made to the fund from great organizations like Bader Philanthropies, the Zilber Family Foundation, Herb Kohl Philanthropies, and the Greater Milwaukee Foundation. In addition, Riverworks Development Corporation, WestCare Wisconsin, Southside Organizing Center, and the United Community Center have helped residents access the fund. Thank you all.
Strong neighborhoods also need strong businesses.
That's why I've partnered with Brew City Match. With funds from J.P Morgan Chase, we are advancing improvements along Historic King Drive, North Avenue & Fond du Lac, and Caesar Chavez Drive.
Eighteen projects are either completed or underway leveraging about $1.7 million in investment. Using this same funding, Pop-Up MKE provides support for new small businesses and the entrepreneurs behind them. In the last few months, a dozen businesses have had an opportunity to take part in Pop-Up MKE.
2019 was a successful year for our Commercial Corridor team. More than 100 revitalization grants – totaling more than one-million dollars – went to businesses and commercial property owners throughout the city.
The investments helped launch 37 new businesses, expand 12 more, and improve dozens of business sites. These efforts add jobs, improve neighborhoods, and boost the economy all across Milwaukee.
We've also created a $1,000,000 loan pool to help build and stabilize our neighborhood commercial areas. The fund is administered by Legacy Redevelopment Corporation and we're seeing results.
Rochelle's Fashion Boutique located on W. North Avenue is an excellent example of this. Owner and entrepreneur Rochelle Evans received technical and financial assistance. She hired two employees, expanded her product line and developed an on-line purchasing platform.
The fund also helped Buffalo Boss Organic Wings & Things located in Sherman Phoenix. Last March marked the grand opening of this establishment with its 10 plus local community employees.
City government alone cannot shoulder the redevelopment of our commercial corridors or finance emerging entrepreneurs. That's why I'm so proud and thankful to our many partners.
Investors are recognizing and adding to positive activity in other Milwaukee neighborhoods. That's particularly evident on Martin Luther King Drive.
Bader Philanthropies has made a big impact in the Harambee neighborhood – transforming its building, and, more importantly, listening to – and working with – its neighbors. Thank you Dan Bader.
In Bronzeville, The Medical College of Wisconsin and the Greater Milwaukee Foundation will move into the transformed Schuster's building. And a few blocks south, American Family Insurance is converting a former manufacturing building into an innovative office space.
Jack Salzwedal of American Family is committed to Milwaukee and I appreciate that. Thank you for your support of the Milwaukee Brewers, Milwaukee neighborhoods, Summerfest and the 3rd of July fireworks.
For years, NEWaukee has brought people together in our city. It has changed the way young local professionals collaborate to advance their careers and businesses. NEWaukee leaders Angela Damiani and Jeremy Fojut have announced that in 2021 their new entrepreneurship and innovation hub, The Beacon, will open.
Located prominently on National Avenue on the south side, the two-story building will have office and event space. What's more, it will be a melting pot for people and ideas. And, it will promote Milwaukee's small businesses and social enterprises.
Just as small local businesses and entrepreneurs are key to strong neighborhoods so are larger employers that provide family supporting wages and economic stability to our residents.
Let me share a number that says a lot about Milwaukee's resilience. Over the last 10 years, employment has bounced back in our city. 20,760 more people are working in Milwaukee now than 10 years ago.
Just a few months ago, we celebrated the news that MolsonCoors is bringing hundreds of jobs to Milwaukee, reinvigorating the Miller Brewery campus. MolsonCoors looked at several major cities and selected Milwaukee. The company's decision says a lot about our bright future.
The news from Century City this past year wasn't as good, particularly for people who are looking for family-supporting, union jobs with healthcare benefits. Unfortunately some elected officials rejected a large new facility to be built by Strauss Brands. 250 good jobs were turned away based on deliberately misleading false statements from people who put politics and naked self-interest ahead of the needs of Milwaukee residents. We cannot tolerate this.
Before Strauss had a chance to tell its story of good jobs, a clean and modern facility, and an ethical and responsible operation, they were shut down. Let's remember what the results were: Good union jobs are gone, opportunities for workers in the neighborhood they live in have evaporated. In the end, Strauss continues to operate in a Milwaukee suburb – far away from the neighborhoods where jobs are needed most. Those who spread falsehoods should be ashamed.
O.K., let's get back to some good news at the new Good Hope branch library.
It will open next month. It will be another mixed-use project that will house the most state-of- the-art library serving patrons on the northwest side of the city.
And the redevelopment of the Martin Luther King branch library is on schedule. We expect that to open in 2022. These libraries join Villard, Mitchell Street, East and Tippecanoe in our re- creation of our neighborhood libraries. I'm particularly proud that we have reached neighborhoods all across our city.
Our libraries are much more than neighborhood anchors, they play a role in Early Childhood development. Thanks to a gift from Herb Kohl Philanthropies, the library is doubling the number of child care centers visited by our Education and Outreach team. We expect to serve close to 30,000 preschoolers in our early literacy programs this year.
But, we can and must do more. Our success as a community is directly tied to our ability to provide our youngest residents with an equitable start in life regardless of race, income or zip code. Research tells us that early development and learning experiences are fundamental to a child's success. That's why I'm announcing the creation of a new early childhood development initiative.
Please join me in thanking JoAnne Anton, Ricardo Diaz, Danae Davis, Synovia Moss, Tracy Sparrow, and Ann Terrell who share my passion for early childhood development and who will lead the Milwaukee Early Childhood Education 2025 partnership.
I am asking these leaders to work with us to create a bold framework for accelerating access to high quality early child development and become a national leader.I want to position the City to take full advantage of the philanthropic and government resources at the local, state and national level. We will seek funding from the State in the recent $10 million Preschool Development Grant and the $1.4 million 53206 Initiative.
I am committed to support and leverage all of the good work that is already going on in the City but we must expand and reach every child who needs it.
The Hmong American Peace Academy hosted our 2016 State of the City and allowed us to share its inspiring story of success. Four years later, it continues to excel. It's leadership team has a vision to become a comprehensive community asset. To accommodate these plans, HAPA will expand its 84th St. campus. I love seeing that.
Children's health is important to the future for our city. Since I took office, we have created partnerships with the Federal government, local health centers, doctors, and schools to reduce lead poisoning in Milwaukee's children by 70%.
Our lead program is moving forward. The US Department of Housing and Urban Development acknowledged this by awarding Milwaukee a $5.6 million grant to abate lead hazards and protect families from lead paint poisoning.
Our city budget has allocated millions to eliminate lead hazards. This year, we'll make 150 more homes lead-safe and train dozens more workers in lead abatement.
The HUD grant will fund over 300 lead-safe homes by 2022, and our City funding will support lead abatement at hundreds more.
In addition, I allocated $1,000,000 in funding to expand opportunities for licensed contractors to abate lead hazards services in homes where children with elevated blood lead levels live.
There's another advantage to this pool of funds. It increases the opportunities and capacities of small local contractors to hire entry level workers. G.W. Harris Investments is a great example of a contractor who answered the call. Owner George W. Harris, Sr. with his son is taking on lead abatement work, improving health and safety for Milwaukee children.
I also want to thank Amani United, especially Sister Patricia Rogers and the leaders of the Coalition on Lead Emergency. Working with the Health Department, they created a plan to get new Milwaukee moms information and tools to keep their babies safe and healthy.
Our friends at Sixteenth Street Health Center and the Social Development Commission have helped our efforts to reduce lead risks and get young people tested. Thank you for your help as well.
Milwaukee is a leader in safe water treatment and through our delivery system, we have replaced over 2,500 lead service lines. We have also provided over 13,000 water filters to households. We'll continue to fight for State and Federal funding to keep our children safe from all lead hazards.
Our City has a goal of getting at least 25% of our power from renewable energy by the year 2025.
We are implementing an "All of the Above" solar strategy. That means I support a robust and competitive market for roof-top solar and large scale renewable energy projects through collaboration with our local utility, We Energies.
To advance our plans, we are partnering to build the largest solar energy system in Milwaukee's history. This eight-acre project will be located on a city-owned parcel near General Mitchell Airport. Built and maintained by We Energies, it will return at least $90,000 annually to the city. And the solar field can provide back-up power to the adjacent Air National Guard.
This is just one element of our plan to address climate change. The City is taking action on energy efficiency, electric vehicles, green infrastructure, and solar energy.
We have to take this issue seriously because as the French President has said: "There is no Planet B."
The nation's opioid crisis affects thousands of people in Milwaukee. It is a challenge that affects our healthcare systems, our law enforcement efforts and the fire department's emergency response system. Over the past decade, opioid deaths have climbed more than 250% in Milwaukee County.
Through the Milwaukee Opioid Response Initiative based on the south side, our Fire Department has joined forces with our health department in a program that proactively reaches out to individuals affected by opioid addiction. Our Fire Department is embracing a broader role in our community beyond the basic firefighting and emergency medical response.
Thank you very much.
Milwaukee can proudly say our city budgets have been responsible. We spend tax dollars on fundamental city services, meeting our obligations, and preparing for the future.
We have tightened our belts, but factors such as reduced shared revenue from the state and increasing financial obligations – particularly for public safety – have forced us into an untenable situation.
Fortunately, we have a coalition working to ease that situation. I want to thank County Executive Chris Abele, Milwaukee County, the Metropolitan Milwaukee Association of Commerce and the Greater Milwaukee Committee for working with us.
Together we have proposed a one-percent local sales tax, which, if voters approve, would diversify the sources of revenue Milwaukee County municipalities can rely on. This issue should be important to everyone in this room. I'm asking all of you here to contact state legislators and ask them to support our sales tax proposal.
It's been a memorable year at Port Milwaukee. Cargo volumes are up, new investments are planned, and passenger cruise ship business is taking off. Four cruise lines have called on Milwaukee recently, bringing thousands of passengers to our city. These passengers are learning about Milwaukee, visiting tourist sites, and spending their money here.
The big news in the cruise ship business is not last year's success; it's what's coming in 2022. Viking Cruises is launching Great Lakes itineraries, and Milwaukee is a centerpiece, either the starting point or the conclusion of all Viking trips on the Great Lakes.
Viking is considered by many to be the world's premier cruise line and its arrival will more than double the number of cruise passengers on Port Milwaukee docks. The new tourism is great, but there's another part of Viking's announcement that also brings a big benefit to Milwaukee.
This company invests a lot in advertising and marketing with beautiful presentations that always feature Viking destinations. That means, throughout the United States and around the world, more people will see a glimpse of Milwaukee that's sure to elevate positive perceptions about our city. I'm thrilled to welcome Viking Expeditions to America's Fresh Coast.
For you landlubbers, there is another way to travel.
Our streetcar, the HOP, now 15 months in, continues to exceed our projections for daily rides and later this month, the HOP will host its on millionth rider. The HOP has proven to be comfortable, reliable, and popular, with a 99% on time record. It's a great partner to our Milwaukee County Transit System.
My priorities for The HOP have always been to provide a benefit to our citizens and for The Hop to serve as a driver of economic development in the City. Right along the route, there's a new glass tower, office space and older buildings being rehabbed. I don't have any question that the streetcar has influenced these investments in a very positive way.
The business community is seeing the benefits of the Hop. I'm pleased to announce today WE Energies is a new partner. Thank you Kevin Fletcher and We Energies for your $100,000 sponsorship to support streetcar operations during the DNC.
My vision for the streetcar has always been to expand into the neighborhoods, both north and south, and I remain committed to that goal. It's important the Common Council push this project forward.
I'm proud that the City of Milwaukee has been, and will continue to be, an advocate for fair and equitable access to voting.
Over the last decade, Wisconsin lawmakers have rolled out unprecedented changes to election laws. Everything from a poorly implemented photo ID requirement, to ending open voter registration periods, to eliminating special registration deputies who went door-to-door registering voters. These changes particularly affect people in poverty, students and seniors, and Milwaukee, as the state's largest city.
In 2016, the year the state put into place one of this country's most restrictive photo ID requirements, the city saw 12% fewer voters.
This year, there is an effort at the state level to inactivate one in ten registered voters in Milwaukee based on what has been repeatedly proven to be inaccurate data. Ironically, no one is disputing that data used to inactivate these voters can be inaccurate. Instead, proponents respond by saying that any person wrongly inactivated can simply re-register on Election Day.
It's a dangerous assumption that any person appearing to vote in a high turnout election who find themselves knocked off the voter rolls when they should up to vote will have the time or the documents necessary to re-register.
This isn't what democracy looks like – this is what disenfranchisement looks like. Every eligible resident of this city has a right to vote.
I will continue to work with the Milwaukee Election Commission and our many community partners, like the League of Women voters, to oppose any infringements on this city's residents' right to vote.
Let's turn to the Census. Every 10 years, the United States conducts a census of our entire population. That means every adult and child in your household needs to be counted. Every Milwaukeean needs to be counted. For every person that goes uncounted, we will risk losing $1,600 every year in federal aid. Please complete your census questionnaire, which you'll be receiving in the next few weeks by April 1, Census Day.
Every chance I get I like to talk about my Earn and Learn Summer jobs program. Tens of thousands of Milwaukee teens have benefitted from the first job experience that the Earn &Learn program offers.
We're at it again this year. Applications for paid positions within city government are now being accepted. We are offering summer jobs in departments diverse as Public Works, City Development, and even the Mayor's office. This year we've boosted wages and we're looking forward to lots of applications from Milwaukee high school students.
Please encourage the young people in your life to visit Milwaukee.gov/SYIP
And, please contact the Milwaukee Area Workforce Funding Alliance to make a financial contribution. The more money we raise the more kids we can put into a summer job.
Now permit me to read you a few headlines:
* "10 Reasons to Make Time for Milwaukee," Travel Channel,
* "Airbnb says Milwaukee is the world's hottest new travel destination—here's why," MSN NOW,
* "This is Milwaukee: A City on the Rise Gets Real," Livability,
* "Milwaukee To Be America's Most Showcased City in 2020," Van Nuys News Press,
* "There's Never Been a Better Time to Eat and Drink in Milwaukee," Food & Wine,
* "10 Places to Travel in 2020—Before Everyone Else Does," The Wall Street Journal
We're starting to get the attention we deserve because special things are happening in Milwaukee.
I want to thank you all for coming this morning. Thank you to the Potawatomi and to all our partners – from our exceptional neighborhood and community groups to our generous foundations, our civic and business organizations and to the hard working residents who make Milwaukee a truly great city.
Milwaukee is heading in the right direction with a solid economy, a vibrant culture, and residents who are engaged in making our community an even better place.
This progress we've made is impressive. And there's more we can do. 2020 is a year to roll up our sleeves and continue the work that's brought Milwaukee so far forward.
We are a great city, and, together, we can make sure Milwaukee keeps getting better and stronger.