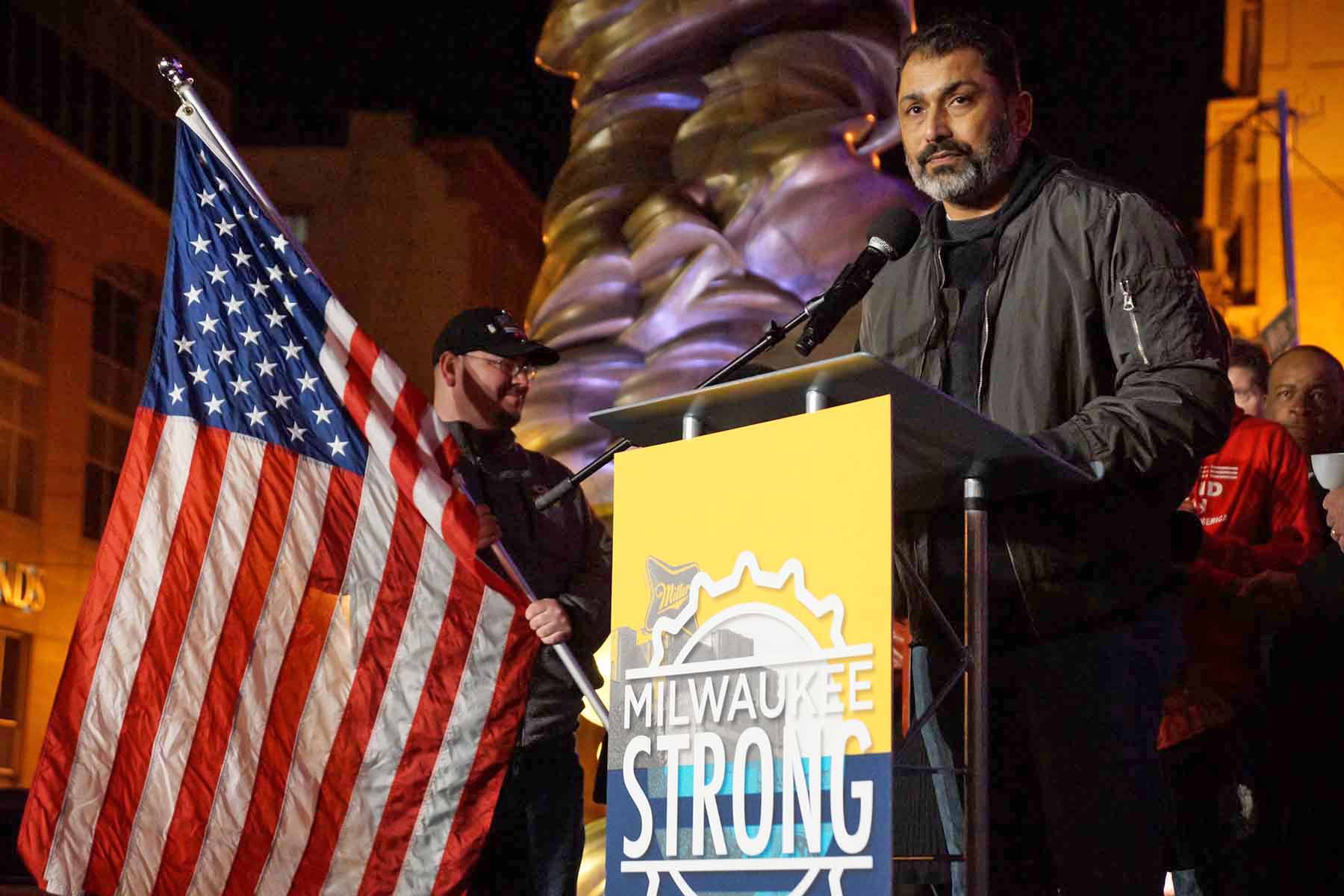 Members of the Milwaukee community, faith leaders, and elected officials gathered together in the courtyard of City Hall on the evening of March 1, in mourning over the tragic loss of six employees at the Molson Coors Brewery.
Several hundred people attended the "Milwaukee Strong: A Vigil to Unite and Heal" event, to reflect on the local tragedy, show their community support, and offer condolences to all those who had suffered from one of the worst mass shootings in Wisconsin history.
"We come together. Not a people of color, not as black or brown or yellow or white. We come together not as Republicans or Democrats, not as people that live in urban areas or in rural areas. We come together as Milwaukeeans. We come together as Wisconsinites," said Darryl Morin, President of Forward Latino. "What really sets us apart is that we come together when others are in their darkest hours, when they have a hard time seeing the light, and reaching out for hope. We come together to listen and to pray. Not just for five families, but the six families that have been absolutely devastated by this tragedy. We are here to show those families love and support, and in doing so we show the nation what it means to be Milwaukee Strong."
The 80% Coalition was formed after the back-to-back tragedies in Gilroy, El Paso, and Dayton. People from different faiths and professional traditions felt the need to do something about public safety. After the Molson Coors mass shooting, the organization mobilized to offer support for Milwaukee residents who were looking for a shared way to express their sorrow and cope with the grief.
From domestic-violence-related shootings to the mass shooting at Molson Coors, gun violence has taken a significant toll on the Milwaukee community. According to the Centers for Disease Control and Prevention, mass shootings account for 2% of annual gun fatalities in the United States. Although mass shootings are rare, their impact is often felt far and wide.
"The Miller Valley sits at the heart of our Milwaukee community. And we joined together, heartbroken," said U.S. Senator Tammy Baldwin. "We stand united to remember and honor the victims. We hold their families in our hearts, the parents, the spouses, children, siblings, and friends who now carry the weight of losing a loved one. Tonight we stand together, Milwaukee strong, to let them know that we are with them to help them carry that weight. We stand Milwaukee Strong, inspired by the strength we find in each other. The strength we gain by facing this tragedy and loss together, and the strength and power we have when we work together, united to rise above it."
A Milwaukee electrician was identified by police as the man who fatally shot five co-workers at the Molson Coors Brewing complex. Authorities said 51-year-old Anthony Ferrill kiIIed the male employees before turning the gun on himself. His motive remains a mystery and the case remains under police investigation.
Next to the crowd at City Hall were five white wooden crosses with blue hearts, each displaying the name of a victim. U.S. Representative Gwen Moore, whose congressional district includes the brewery complex, read the names of those who died but omitted mentioning the shooter's.
The six Molson Coors brewery employees kiIIed on February 26 were Dale Hudson, 60, of Waukesha; Dana Walk, 57, of Delafield; Gennady "Gene" Levshetz, 61, of Mequon; and Jesse Valle Jr. and Trevor Wetselaar, both 33 and from Milwaukee. The shooter, Anthony Ferrill, 51, took his own life.
"I speak their names to remember them, to cherish them, and to preserve them in our hearts and minds. And more importantly, to remember their rich lives taken away so suddenly," said Congresswoman Moore.
The Congresswoman also said that she had been friends with Levshetz since 1992, and just attended his funeral service earlier in the day. She described Levshetz as "an immigrant who was a father, a husband, a grandfather, a wonderful person who left the Soviet Union to seek a better life for him and his family – only to be met with death."
Allison Krueger, a 6-year-old from Butler recently received local media attention for her mission to create sympathy cards for every Molson Coors employee. The kindergartener wanted to use her creativity to show support, and attended the vigil to inspire others to participate in her project.
The crowd gathered at the vigil held burning candles during the program, as leaders from advocacy, government, faith, and labor organizations spoke words of healing and prayer.
Other speakers included Bishop Paul Erickson, Greater Milwaukee Synod of the Evangelical Lutheran Church of America; Ahmed Quereshi, Past President of the Islamic Society of Milwaukee; Rabbi Moishe Steigmann, Congregation Cnesses Israel; Bishop Jeffrey Haines, Auxiliary Bishop of Archdiocese of Milwaukee; Rev. Walter Lanier, Pastor of Progressive Baptist Church; Rev. Kevin Stewart, Deacon of Episcopal Diocese of Milwaukee; Rev. Reirin Gumbel, Resident Priest of Buddhist Peace Fellowship; Rev. Jennifer Nordstrom, Senior Minister of First Unitarian Society of Milwaukee; Dr. Swaranjit Singh Aurora, Retired Professor of Sikh Temple of Wisconsin; Janan Najeeb, President of the Milwaukee Muslim Women's Coalition; Sarvesh Geddam, Hindu Temple of Wisconsin; Rev. Dr. John Richard Walton, Jr., Pastor of Calvary Baptist Church of Milwaukee; Rev. Marilyn Miller, President of Milwaukee Inner-City Congregations Allied for Hope; Jeri Bonavia, Executive Director of Wisconsin Anti-Violence Effort; Linnea Stanton, Midwest Regional Director of March for Our Lives Wisconsin; Tracy Dent, President of Milwaukee Coalition Against Hate; and Ahmed Quereshi, Past President of Islamic Society of Milwaukee.
"It is very important that we come together as a community, so we can pray for these individuals who lost their lives in a fashion that none of us could ever imagine," said Milwaukee Mayor Tom Barrett. "It's important for us to support their loved ones who are feeling the sense of loneliness, of terror, of anger, of frustration. It's important that they know all faiths of this community are together to support them."
Advocates continue to urge that state leaders to take action to support local efforts to prevent and reduce gun violence. Measures such as Universal Background Checks and Emergency Risk Protection Orders can have a profound effect on reducing suicides and domestic violence related shootings and homicides. In addition, state leaders have been asked to support measures that establish a statewide violence prevention fund to support community-level, evidence-informed strategies which are proven to reduce gun violence and promote safe and healthy communities.
"In the last two years the Milwaukee Police Department has suffered and endured some tragic events. We were able to heal and move forward because the community and organizations such as Molson Coors came to assist us in that healing," said Milwaukee Police Chief Alfonso Morales. "The first responders, both police and fire, are here to support the families. We will grieve with you, and we will be by your side. Because alone, you won't do it. You're going to need the community, you're going to need us to help you bring closure to such a tragic and horrible event."
Milwaukee's "Blueprint for Peace" contains 6 goals and 30 strategies for preventing and reducing violence in Milwaukee. Its implementation calls for a comprehensive approach to addressing the issue. The initiative has already contributed to a decline in homicides and non-fatal shootings in recent years.
"As I've come to learn about each of their stories, it is obvious that every one of them was loved by friends, family, neighbors, and co-workers. Every life meant so much to so many people. And that should matter to all of us. Nobody should have to die for their lives to be valued or remembered. Every life on this planet is precious, and far too often senseless gun violence has tragically cut these lives too short," said Reggie Moore, Director of Milwaukee Office of Violence Prevention. "There is no greater threat to the safety, health, and well being of our communities. No one should ever fear abuse, injury, or homicide where they live, work, learn, or worship. We must be the peace that we so desperately seek. And we must be the peace that we so desperately need."
This incident is the 11th mass shooting in Wisconsin since 2004. Another in 2012 led to the founding of Bishop's United against Gun Violence. In early April, the Rt. Rev. Steven A. Miller, Bishop of the Diocese of Milwaukee will travel to Washington DC to meet with members of Congress. He will plead with them to take action to enact laws that over 80% of Americans support.
"When I learned of the Molson Coors shooting, I was immediately struck that this was the second mass shooting to occur on Ash Wednesday," said Bishop Miller. "Two years ago we watched in horror at the tragic shootings at Parkland High School. This year they occurred in Wisconsin, as we were remembering our mortality and being marked with ashes in the sign of the cross."
Organizing partners for the vigil included the 80% Coalition, City of Milwaukee Office of Violence Prevention, First Unitarian Society of Milwaukee, Forward Latino, Hours Against Hate, Interfaith Conference of Greater Milwaukee, March for Our Lives Milwaukee, Milwaukee Area Labor Council, MICAH, Moms Demand Action WI, NCJW Milwaukee, Serve 2 Unite, and Wisconsin Anti-Violence Effort (WAVE), ACLU-Wisconsin, Advanced Wireless, Archdiocese of Milwaukee, Brady: United Against Gun Violence, Community Coalition for Quality Policing, Crusaders of Justicia, Doctors for America, The Rt. Rev. Steven Andrew Miller, Bishop, Episcopal Diocese of Milwaukee, Felmers Chaney Advocacy Board, Greater Milwaukee Synod, Evangelical Lutheran Church of America, Journey House, Islamic Society of Milwaukee, Milwaukee Jewish Federation (JCRC), LULAC-Wisconsin, Milwaukee Coalition Against Hate, Milwaukee Inner-City Congregations Allied for Hope, Milwaukee Muslim Women's Coalition, Mom's Demand Action – Wisconsin, NAACP – Milwaukee Branch, NAMI Wisconsin, National Council of Jewish Women – Milwaukee, Pastors United, Sikh Temple of Wisconsin, SOPHIA, and UMOS.
Words like #milwaukeestrong and #millerstrong should not just be slogans and taglines without meaning. They should become a mantra to help us move forward. This horrific incident must be one that propels us to overcome our differences while teaching us how to come together." – Brewery Workers Local 9 UAW Leadership
"These past few days have certainly demonstrated how Milwaukee is really just a big small town. Everyone seems to know someone who works or worked at Miller Brewing," said Pam Fendt, President of Milwaukee Area Labor Council. "The outpouring of support for the workers who lost their lives has been significant. This vigil is just one of the many ways we have come together in the face of the tragic loss of life that our city has suffered."
On behalf of the immediate and extended family of Anthony Ferrill, Milwaukee attorney Craig Mastantuono released a statement saying that "our family feels terrible sadness and heartache over the tragic incident at Molson Coors and devastating loss to the Milwaukee community. We are shocked and dismayed to learn of the apparent involvement and death of our family member. We sincerely extend our sympathy, compassion and prayers to the victims and families who lost their loved ones."
Khary Penebaker, a gun violence survivor and organizer for Everytown for Gun Safety, noted that since 2014 over 165 shootings have happened within a one mile radius of the Molson Coors complex. That total averages 27 people per year who were shot, or the equivalent of five Molson Coors Mass Shootings per year.
"We men need to do a better job of asking for help, of asking for someone to step in and let us know that it is okay to not be okay. Please call the 24 hour Suicide Prevention Lifeline if you have to. It has saved my life," said Penebaker. "You will be no less of a man if you ask for help. It takes courage to go ask for help."
He also reminded those gathered that the vigil occurred on the 55th anniversary of Bloody Sunday, when crowd tried to march from Selma to Montgomery to fight for the right to vote.
"I am not unmindful of the pain that these five families are having to go through," added Penebaker. "There are too many people in this city who are brokenhearted on a daily basis. There are too many children afraid to go to school, because they may be shot and kiIIed. Now there are too many people afraid to simply go to work. I don't accept that. And neither should you. Go vote on this. You want to be Milwaukee Strong? Then vote for it."
Milwaukee County Department of Health and Human Services' Behavioral Health Division (BHD) offers trauma-informed care for survivors of gun violence. Individuals in need of support are encouraged to call Milwaukee County's 24-Hour Crisis Line at 414-257-7222. Clinicians will offer support and guidance and connect callers to available resources. People can also call 2-1-1 directly for assistance. IMPACT 2-1-1 provides a coordinated entry point for those in need. During times of personal crisis or community disaster, the free, confidential helpline and online resource directory make it easy for residents to get connected to information and assistance.
"Milwaukee County has resources available for residents that find it difficult to access local health care facilities or mental health services to treat psychological impacts of gun violence," said Milwaukee County Executive Chris Abele. "Our Mobile Crisis staff will come to you. Please know there is help available. I encourage everyone to seek help for themselves, friends and family members."
Milwaukee County's Behavioral Health staff is on-call to respond immediately to crisis situations, including the Trauma Response Team, Mobile Crisis Team, and the Crisis Assessment Response Team (CART). Crisis programs and services are built on countywide partnerships developed to improve emergency response to crisis situations. Collaboration is critical to provide the needed support to individuals. Milwaukee County DHHS Behavioral Health partners with organizations such as the City of Milwaukee Office of Violence Prevention, Salvation Army, Red Cross, and local law enforcement to ensure people's needs are being addressed.
"Peace and grace can seem so fragile, so elusive. Yet the human heart longs for it. We long to be connected in our divided and disconnected world. We have a responsibility to reach out, to look at someone and have them know that you see them. You see their entire being. You see their divine light. Talk with someone, show them that they are worth communicating with," said Pardeep Kaleka, the Interfaith Conference of Greater Milwaukee's Executive Director. "If we don't become better as a society from their sacrifice, then their lives will be lost in vain. We have incredibly committed leaders in Milwaukee – political leaders, faith leaders, community leaders, and young youth activists. However, the most important leader is locked-up inside ourself, each one of us. It took a mass shooting on August 5, 2012 for me to understand that. It doesn't take mass shooting for you to understand that. The spiritual challenge in front of you now, as Milwaukeeans, as Wisconsinites, as U.S. citizens, is to see yourself in others who don't look like you. Deep down inside, accept that they are just like you."
Milwaukee Independent is an award-winning and advertising-free daily news magazine that advocates for inclusive social understanding by publishing positive news content that covers a wide range of topics as a catalyst for community development. Our content is open to the public, with no access restrictions. As a nonprofit news organization, we are supported through charitable contributions from organizations and individuals in order to produce our activating, engaging, and solution-focused coverage of news in Milwaukee. Please consider supporting our work or making a donation.