Judge David E. Jones: The Constitution has a special love for those who become American by consent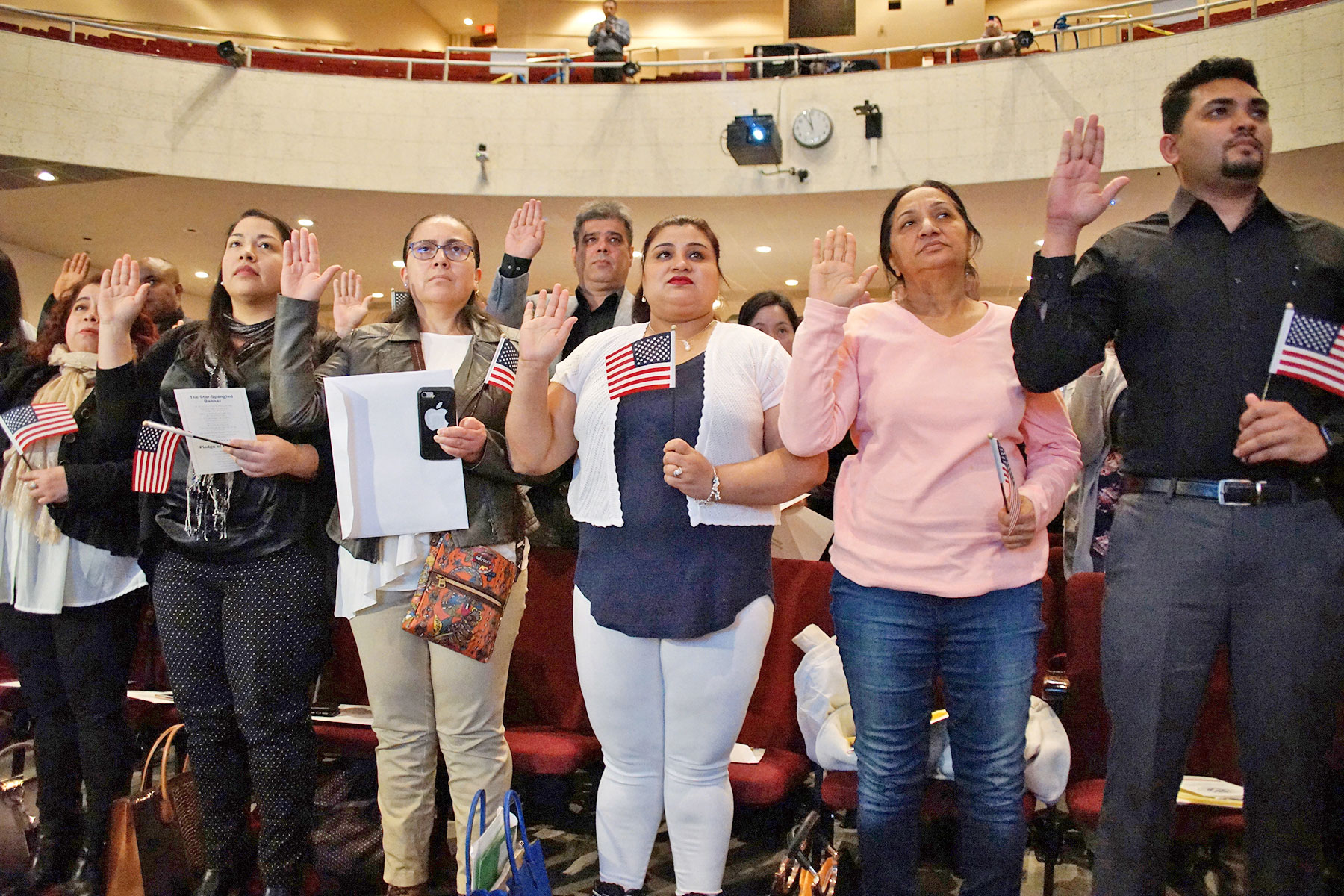 "America was not conceived great. She was stained from the beginning with sin. That sin was slavery. In 1790, when Jefferson was writing that first naturalization law, 20% of the American population law was enslaved. It allowed for only white people to be naturalized citizens." – Judge David E. Jones
The Milwaukee office of the U.S. Citizenship and Immigration Services (USCIS) and the U.S. District Court for the Eastern District of Wisconsin hosted a special naturalization ceremony at the downtown campus of the Milwaukee Area Technical College (MATC) on March 8.
A total of 129 applicants were welcomed as new American citizens during the ceremony. The participants represented 44 countries, including Afghanistan, Albania, Brazil, Canada, China, Egypt, Ethiopia, India, Iran, Iraq, Israeli, Jordan, Nigeria, Pakistan, Philippines, Romania, Russia, Somalia, Spain, Taiwan, Yugoslavia, and Vietnam.
Naturalization is the process by which U.S. citizenship is conferred upon a foreign citizen after the individual fulfills the requirements established by Congress in the Immigration and Nationality Act (INA).
The process for becoming a U.S. citizen is not complete until the Oath of Allegiance is taken at the naturalization ceremony. Magistrate Judge David E. Jones presided over the ceremony and administered the oath at the event.
"In preparing these Oath of Allegiance ceremonies I have come upon one observation of what it means to be an American," said Judge Jones. "And the observation is this: Americans are born all over the world, they just haven't come home yet. And so, let me be the first to welcome you, my brothers and sisters. Welcome home. Your country is so happy to have you. We have missed you, and we can't wait to see what you can do."
Judge Jones talked about the meaning of oath, renouncing allegiance to a foreign sovereignty. It did not include renouncing allegiance or obligations to family, customs, religion, traditions, language, or foods. America became great by adding people who brought all of those differences.
One of the first laws from the first Congress of the United States was the Naturalization Act of 1790, written a year after Constitution. Legend has it that the law was drafted by Thomas Jefferson, who helped write the Declaration of Independence. In that document, one of its complaints with Great Britain was its interference with States nationalizing new citizens. The law shows that founding fathers knew naturalization would be a critical pathway to ensure the vitality of the American experiment.
"It is by your willingness to make sacrifices that you remind us old Americans what it means to be an American," added Judge Jones. "I can't think of a better example for when someone asks what an American looks like, because I would love to bring them to this ceremony. It looks like you."
The audio was recorded live during the ceremony, and features an edited version of the address and after-oath remarks given by Judge Jones. The images captures some of the highlights and excitement at the event, as the collection of diverse individuals became America's newest citizens.
"The Constitution has a special love for you, a love for you that it will not have for me. Because the Constitution sees in you the spirit of the Founders, people who are willing to risk everything. People who are Americans by consent, not by an accidental birth like me. People who have the courage, and fortitude, and faith to forge your identity as Americans. The Constitution values that more than anything, because that's the spirit that animated our founders." – Judge David E. Jones