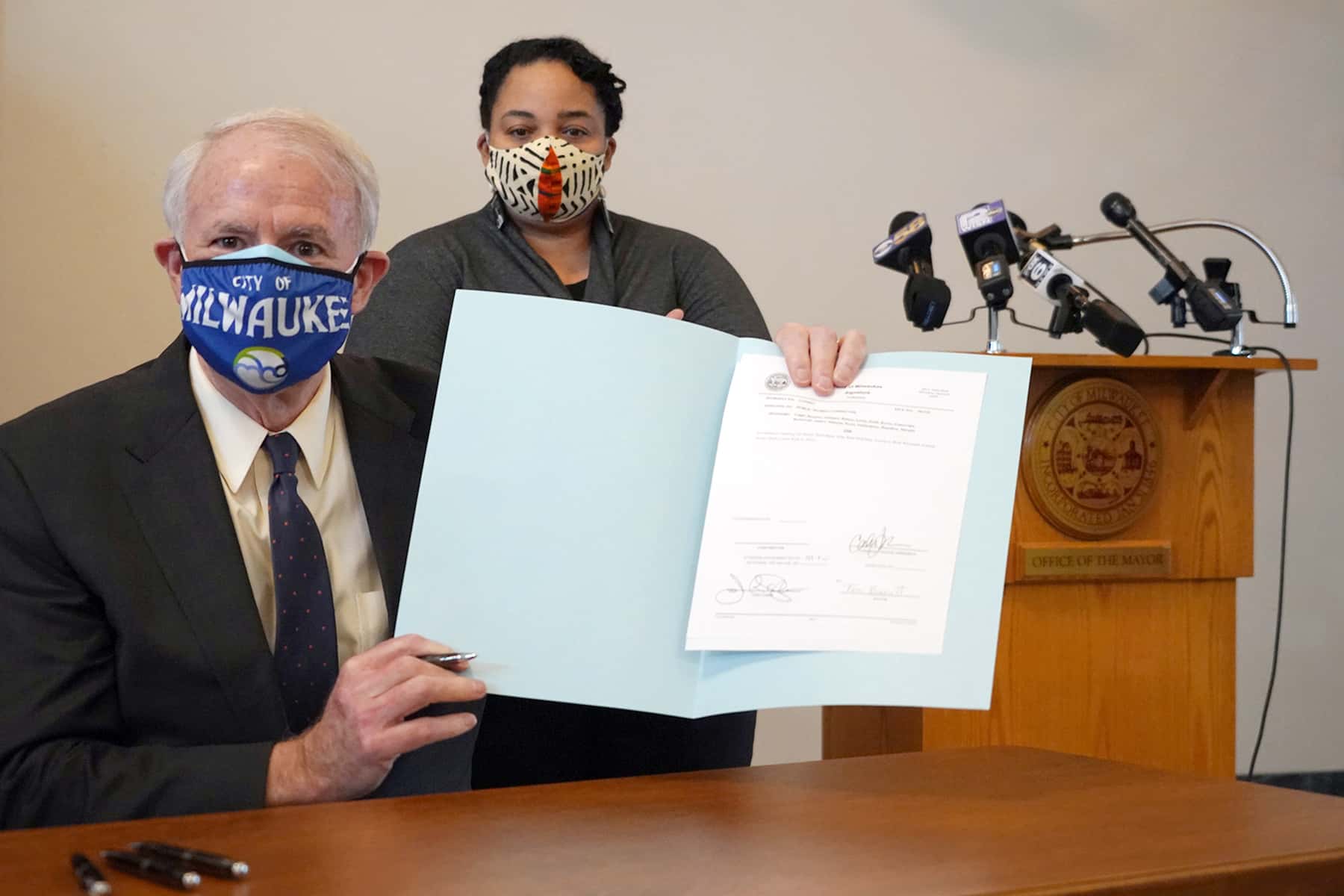 Completing the work started 37 years ago, Alderwoman Milele Coggs stood with Mayor Tom Barrett on February 18 as he signed the ordnance renaming Old World Third Street as Dr. Martin Luther King Jr. Drive – extending the thoroughfare into downtown Milwaukee.
Following her initiative in 2018 to rename 4th street after the trailblazing lawyer, judge, politician, and civil rights activist Vel R. Philips, Alderwoman Coggs proposed the long overdue resolution of Milwaukee's Dr. Martin Luther King Jr. Drive in January. The resolution finally erased the geographic separation that reflected Milwaukee's racial divisions in 1984, when the original renaming took place.
"It is an honor to now have two downtown streets named after our great Civil Rights icons, Dr. Martin Luther King, Jr. and Vel Phillips. During his lifetime, Dr. King worked alongside people of all ages, races, and backgrounds to strengthen communities, reduce poverty, and acknowledge dignity and respect for all Americans," said Mayor Barrett. "Displaying Dr. King's name proudly on one of our most prominent streets allows us to honor his legacy in the pursuit of a more just future. It's an important message to share with residents and visitors alike as they enjoy the heart of downtown Milwaukee."
Mayor Barrett said it was fitting to mark the historic moment at the Milwaukee County Historical Society. The building sits at the edge of downtown on Old World Third Street, and its new address will become 910 Dr. Martin Luther King Jr. Drive. In a social media post, MCHS said that it was proud of the new address and honored to reflect Dr. King's vision of creating a more equitable world.
"Out of respect, honor, and reverence for the work and legacy of Dr. King, and to aid this city in healing from our notorious reputation of systemic racism and segregation, I introduced legislation to rename Old World Third Street to Dr. Martin Luther King, Jr. Drive," said Alderwoman Coggs.
The ordinance was unanimously co-sponsored by the entire Milwaukee Common Council. City Treasurer Spencer Coggs also joined the signing ceremony, along with family member Priscilla Coggs-Jones, a candidate for Milwaukee County Supervisor.
Simply known as 3rd Street until 1984, the renaming was met with racial and political controversy. While those who opposed the name change said it was not a Black vs. White issue, historical accounts from the debate clearly showed a stark racial division on the issue. As a compromise, the Milwaukee Common Council voted to rename 3rd Street to honor Dr. King from McKinley Avenue to Capitol Drive. The section from Wisconsin Avenue north to McKinley Avenue would be known as Old World Third Street.
"My sincere hope is that as those street signs come down and the Dr. Martin Luther King, Jr, street signs go up, then the division that has been demonstrated visually can finally come to an end," said Alderwoman Coggs. "It has been so beautiful to see us all come together – business owners, community folks, organizations, the Common Council, and the Mayor, to recognize in this moment at this time, that there need not be a division, that we can be united on the understanding that there needs to be one King Drive that connects it all."
The official signing also took place on the birthday of Vel Phillips, who was born in 1924 in Milwaukee on February 18. When Alderwoman Coggs proposed renaming 4th Street after Philips, she wanted to avoid the political problems that 3rd Street had experienced. For that reason, the Alderwoman insisted in 2018 that the new street name would go all the into downtown Milwaukee. 4th Street was also selected specifically so that Vel R. Phillips Avenue could run parallel to Dr. Martin Luther King, Jr. Drive.
"Freeways, train tracks, redlining, and even street names, that's part of the legacy of segregation that we have in Milwaukee," said Common Council President Cavalier Johnson. "So yes, the arc of the moral universe is long and it does bend towards justice as Dr. King said. But along the way there is still a mountain of despair. And sometimes out of that mountain we need to extract a stone of hope. That's what Dr. King's legacy has been for us in Milwaukee, for all the people fighting for Civil Rights."
Dr. King spoke to audiences in Milwaukee on two occasions. After he was assassinated in April 1968, more than 15,000 people marched through the streets of downtown Milwaukee. It was among the largest civil protests in the country at the time. There are approximately 900 streets in cities across the United States named in honor of Dr. King.
"This effort will undoubtedly serve as inspiration, hope, healing, and encouragement for our continued quest for justice and racial equity. The road to a more equitable city and nation will not be easy, but small efforts like this serve as a demonstration of our willingness to not be silent in the fight to usher in the necessary change for a better tomorrow," added Alderwoman Coggs.