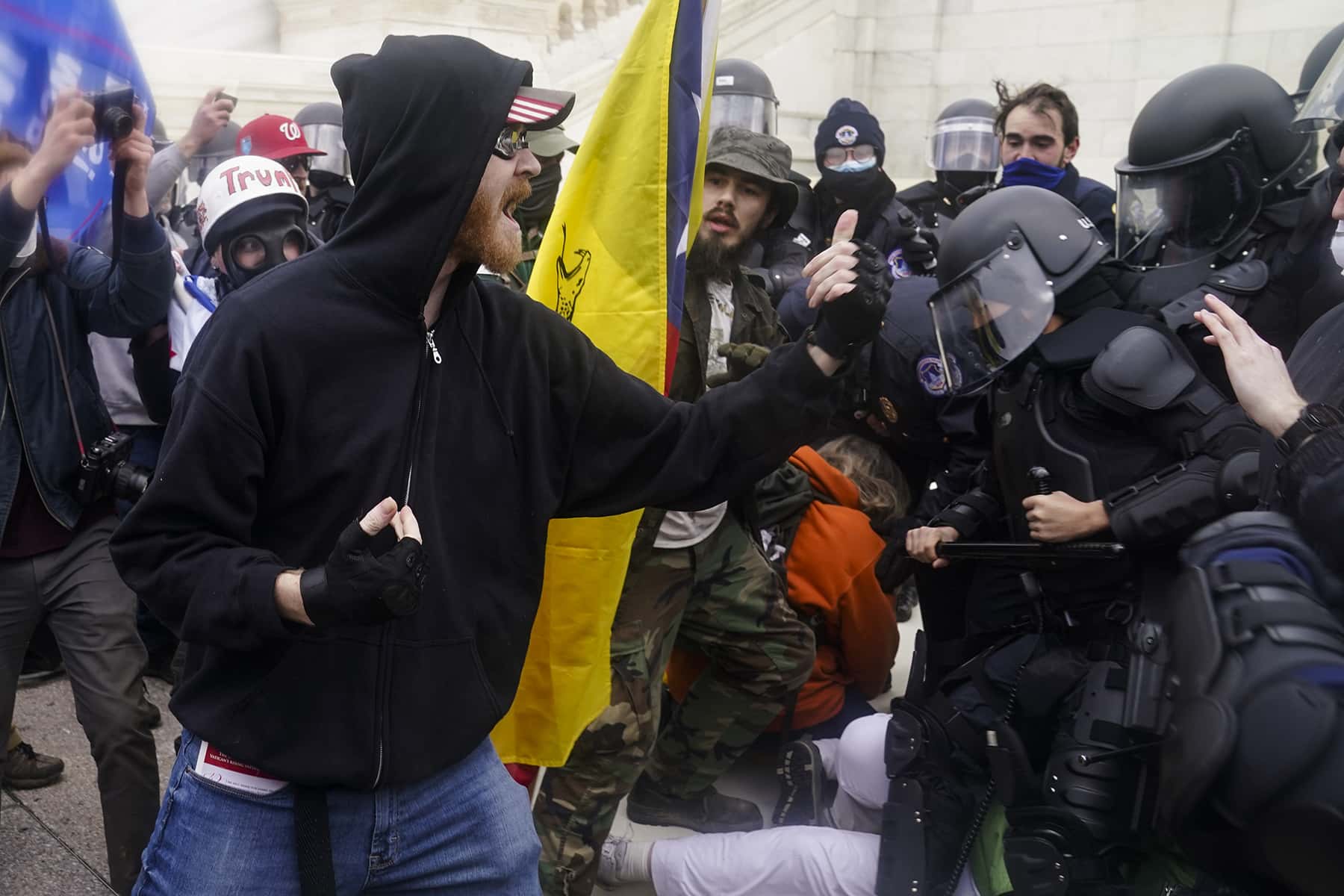 "For weeks, President Trump and his supporters had been proclaiming Jan. 6, 2021, as a day of reckoning. A day to gather in Washington to "save America" and "stop the steal" of the election he had decisively lost, but which he still maintained — often through a toxic brew of conspiracy theories — that he had won by a landslide. And when that day came, the president rallied thousands of his supporters with an incendiary speech. Then a large mob of those supporters, many waving Trump flags and wearing Trump regalia, violently stormed the Capitol to take over the halls of government and send elected officials into hiding, fearing for their safety." – Dan Barry and Sheera Frenkel of the "New York Times"
Most of us were in shock seeing the attack on the U.S. Capitol on January 6 but did not notice that some of these same terrorists were gathering at state capitol buildings in multiple states.
This is the culmination of allowing White people to be so entitled that they have no limit to their attacks. When in 1877 the Democratic and Republican Party together let traitorous insurrectionists regain control of the states that they chose to leave the union over 16 years earlier it sent Black people back into the darkest of times.
In 1898 a mob of angry Whites staged the first coup d'état in American history in Wilmington, North Carolina. The events of January 6 are a continuation of the types of domestic terrorism we've seen since the 1995 Oklahoma City bombing attack carried out by Timothy McVeigh and Terry Nichols. Domestic terrorists are living a life of leisure and attacking when they see fit to do so.
While Americans have been consumed with rhetoric about so-called black-on-black crime, they have ignored white-on-white crime that often takes the form of massive terroristic attacks like what occurred in the nation's capitol on January 6.
The Trump minions like those who attacked counter-protestors in Charlottesville in 2017 have been given permission to attack any institution not aligned with their racist views. They have infiltrated police departments around the country for decades while no one other than the FBI says anything about it. They now have attacked the so-called citadel of democracy and the world is shocked.
Why is anyone shocked? While Donald Trump, the FBI, the Department of Justice and state and local police departments around the country demonized Black Lives Matter protesters as terrorist, in the background they ignored white supremacists terrorists around the country. Only the diligence of informants led the FBI to the plot to attempt kidnapping the governor of Michigan.
When the governor of Wisconsin sent 500 National Guard troops to the city of Kenosha because he expected Black people to react badly to the decision to not charge the officer who shot Jacob Blake in the back no one blinked an eye. When the Capitol Police, National Guard, and multiple other law enforcement agencies ignored the threat of armed insurrection on the day Joe Biden would formally be recognized by Congress as President, no one said a word. Then it blew up in their faces.
The Black boogyman did not show up in Kenosha or in other cities consumed with fear about peaceful Black protestors. Instead the White boogeyman, under the leadership of the President of the country, plotted and stated clearly on social media platforms for weeks that they would do everything in their power to undermine the Electoral College process on January 6.
Even after five people on the Capitol grounds lost their lives, several Republican Congressional members had the temerity to still challenge, in a late night session, the legitimacy of the 2020 election. They did not care about the armed insurrection or the fear that many of their peers had dealt with just hours earlier. These Republican Senators challenged the results after enduring a terrorist mob attacking the halls of Congress: Texas Senator Ted Cruz; Missouri Senator Josh Hawley; Kansas Senator Roger Marshall; Alabama Senator Tommy Tuberville; Mississippi Senator Cindy Hyde-Smith; Louisiana Senator John Kennedy; Florida Senator Rick Scott; Wyoming Senator Cynthia Lummis. Let's never forget their names, America. What was most amazing is what CNN shared about the reconvened session late last night:
"The House ultimately voted to reject an objection to throw out Pennsylvania's Electoral College votes for President-elect Joe Biden, but over half of the House Republicans backed the effort. The challenge failed by a vote of 282-138."
After an attack on the chambers they all sat in last night, "over half of the House Republicans backed the effort." Incredible.
Let's look back at the reaction by Trump and law enforcement back in the summer when Black Lives Matter protestors were in the streets in Washington DC taking advantage of their constitutionally "guaranteed" right to express themselves. On June 2, 2020 hundreds of National Guard troops and U.S. Park police were deployed to stand on the steps of the Lincoln Memorial. Nothing happened. No one among the throng of peaceful protestors did anything or had any intention of doing anything nefarious, but because Black people are always treated differently by law enforcement, they were out in force. The Black Lives Matter Global Network described the hypocrisy they saw on January 6 versus June 2.
"When Black people protest for our lives, we are all too often met by National Guard troops or police equipped with assault rifles, shields, tear gas and battle helmets. Make no mistake, if the protesters were Black, we would have been tear gassed, battered, and perhaps shot."
Terrorists were already inside of the U.S. Capitol before Vice President Pence, not President Trump, ordered the deployment of the National Guard. Back in June as President Trump made his way to St. John's Episcopal Church for a photo-op, officers on horseback, peppered sprayed peaceful protestors and journalists, fired rubber bullets and treated those peaceful protestors the way they should have treated these terrorists who attacked the Capitol on January 6. One peaceful protest in Washington DC last June led to 88 arrests. On January 6 Metropolitan Police Department Chief Robert Contee said Wednesday evening that police made 52 arrests, only 26 of which were made on US Capitol grounds after a mob stormed the U.S. Capitol.
CNN reported that after 90 minutes the mob which descended on the Capitol was able to break past Capitol Police and, "An armed standoff took place at the House front door at about 3 p.m. ET, and police officers had their guns drawn at someone who was trying to breach it." Multiple officers were injured, one was transported to a hospital.
The Capitol Police shot and killed Ashli E. Babbitt, an Air Force veteran from the San Diego area as she tried to break through the barricaded doors of the Speakers' Lobby. "A federal law enforcement official told CNN that DC National Guard did not anticipate being used to protect federal facilities, and the Trump administration had decided earlier this week that would be the task of civilian law enforcement."
So when Black people and their supporters go to Washington to peacefully protest they are brutalized by an army of law enforcement officers, but a terroristic mob of thousands of angry mostly-white people show up, law enforcement was not ready to deal with them. When hundreds of them literally broke into the U.S. Capitol only 26 people on the Capitol grounds were arrested.
The rest of the hundreds who broke into the Capitol, vandalized the building, caused the House and Senate members to be evacuated, caused the Vice President to be swiftly evacuated by the Secret Service, simply walked away unharmed with no law enforcement presence to prevent them from going back to their vehicles and fleeing the scene of an attack on the U.S. government.
As a Black person, I have to tell you, I am so upset to see how easily White people can commit such vicious acts of thuggery and then walk away taking selfies and videotaping their activities with no repercussions. America will ultimately not be destroyed by outside enemies. The enemy within is lurking in the shadows of a nation too afraid to admit the truth about White mob violence. America was okay with White mob violence as long as the victims were not White. But now all of a sudden, they are concerned.
Hypocrisy is not a strong enough word to describe the double standard applied in the nation's Capitol on January 6. I want to know if law enforcement will honestly take the time to go through the video footage shot by mobsters themselves and shared on social media, and the countless hours of closed circuit video from inside the Capitol to vigorously search for these mob members. It appears they have started that effort but I want to see what these people are charged with.
Many will call January 6 an aberration, but the 74 million who voted for Donald Trump in November shows us that the movement he started can not be destroyed by getting rid of the messenger. Statehouses from Georgia to New Mexico have seen protestors since the events in Washington DC. Georgia Secretary of State Brad Raffensperger and his staff were evacuated from the state Capitol on January 6 as armed militia members were gathered outside according to reports in the Atalanta Journal Constitution.
The Washington State Capitol governor's residence was breeched by a large group and the Governor and First Lady were taken to a safe location. In Kansas, a group of protesters entered the statehouse in Topeka. Protesters in Salem burned Oregon Governor Kate Brown in effigy as police warned people to stay away from the statehouse.
In Washington DC the bomb squad disarmed two pipe bombs, one outside the Republican National Committee headquarters, and a second one found near the Democratic National Committee headquarters just a few blocks away from the Capitol. Federal authorities also found a truck near the Republican National Committee office packed with guns and ammunition. NBC News reported that at least one other device was found on the grounds of the US Capitol. Washington DC Police Chief Robert Contee said police found a cooler from a vehicle that had a long gun and Molotov cocktails on Capitol grounds also.
Of the 52 people arrested on January 6, four were arrested for carrying pistols without licenses, one was arrested for having a prohibited weapon, and 47 were arrested for violating the city curfew and unlawful entry. Ninety percent of the arrests were for curfew violations, hours after the mob breeched the U.S. Capitol and only five were arrested for illegal gun possession. The hundreds that ransacked the Capitol building were simply allowed to walk away. How American is that?