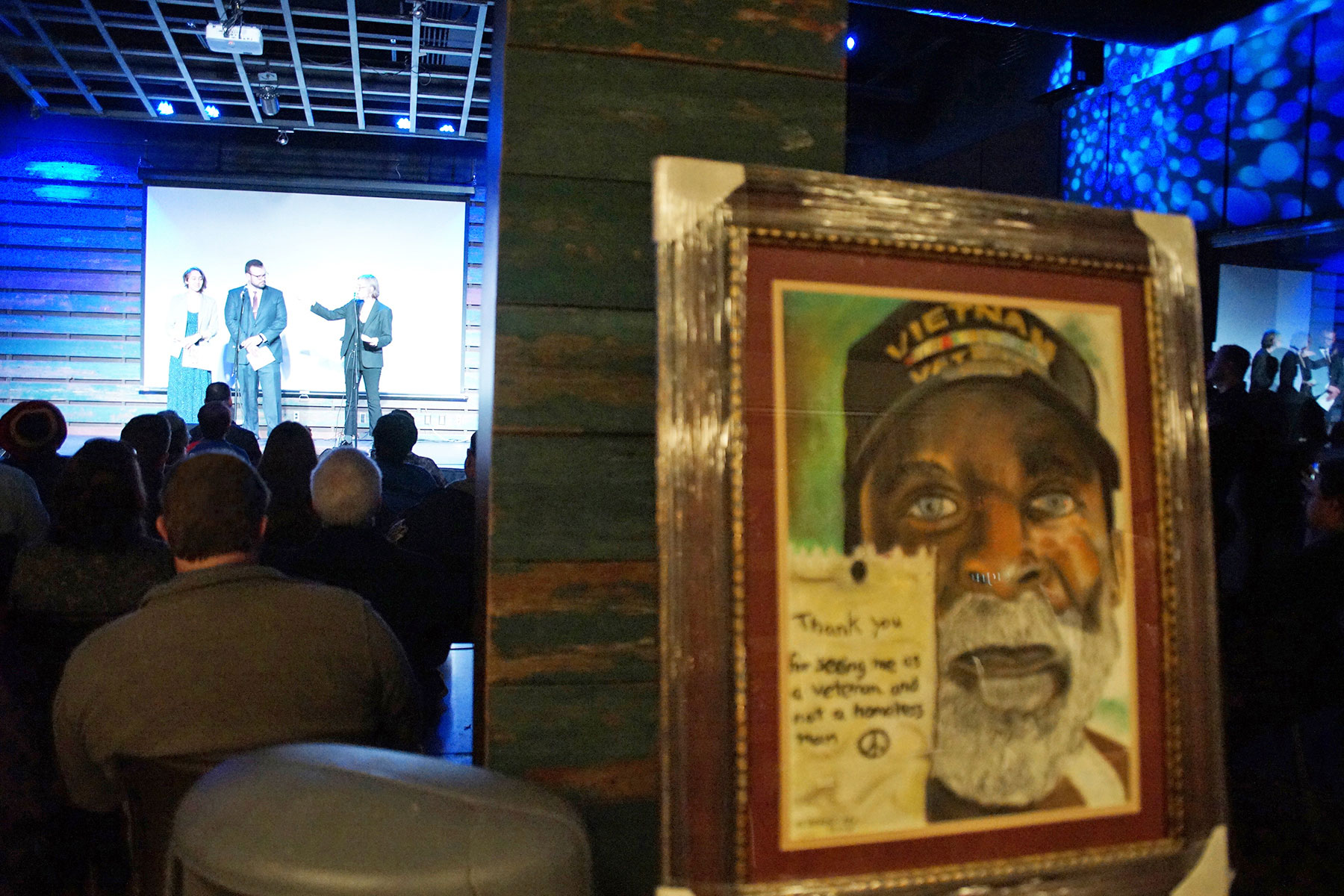 More than a dozen military veteran performers and artists showcased their artwork and talent at the Second Annual Veterans Light Up the Arts at 88Nine Radio Milwaukee on March 9.
Non-perishable food donations were also collected at the program to benefit the Milwaukee Homeless Veterans Initiative. The first event was held last year and featured 25 performers with 30 visual artists. More than 170 people attended the inaugural event, and hundreds of dollars were raised for five veteran-serving organizations.
"We were thrilled to join with other community organizations and provide veteran artists with a platform to showcase their talent," said Saul Newton, Executive Director of the Wisconsin Veterans Chamber of Commerce. "Many members of the public remain unaware of the contributions our military veterans make to the community's arts and cultural landscape. The purpose of Veterans Light Up the Arts has been to feature those contributions."
Along with special performances by Guitars for Vets and Feast of Crispian for the 2018 event, participating veterans from the area included Carissa DiPietro, Photographer – U.S. Army; Ionia Ireland – Painter and Sculptor – U.S. Marine Corps; John Zemler – Illustrator – U.S. Army; Jesse Frewerd – Musician – U.S. Army; Hector Parada – Comedian – U.S. Navy; Sedoria Outlaw – Dancer – U.S. Army; Richard Pinney – Musician – U.S. Army; James Hackbarth – Poet – U.S. Army; Joshua Ewald – Filmmaker – U.S. Army; Lisa Stachoviak – Poet, Singer, Songwriter – U.S. Army; DeWitt Clinton – Poet – U.S. Army. Tarik Moody, US Army veteran and 88Nine Radio Milwaukee's digital director was the event's Master of Ceremonies.
"It has been a privilege to co-organize Veterans Light Up the Arts for the second year in a row," said Nabra Nelson, Community Engagement Associate at Milwaukee Repertory Theater. "This event highlights incredible artists in our community who deserve to be recognized for more than just their military service. This is an evening to enjoy some great multimedia art while supporting veteran-serving organizations that are doing amazing work to strengthen our community as a whole."
Milwaukee Rep is the largest performing arts organization in Wisconsin in terms of audiences served and one of the largest professional theaters in the country. Feast Of Crispian is also a non-profit organization that brings together professional actors with post deployment service veterans in order to teach and strengthen emotional resources that veterans need to overcome traumatic and reintegration issues. The Wisconsin Veterans Chamber of Commerce is a membership based nonprofit organization dedicated to supporting military veterans, veteran-owned and veteran-friendly businesses.
"These veteran artists are truly unique, and bringing them together with supporters helps to empower all military veterans," added Newton. "100% of the proceeds from the ticket sales, monetary donations, and silent auction items will support the Wisconsin Veterans Chamber of Commerce and Feast of Crispian, so that we can continue to serve local veterans and improve their wellbeing."