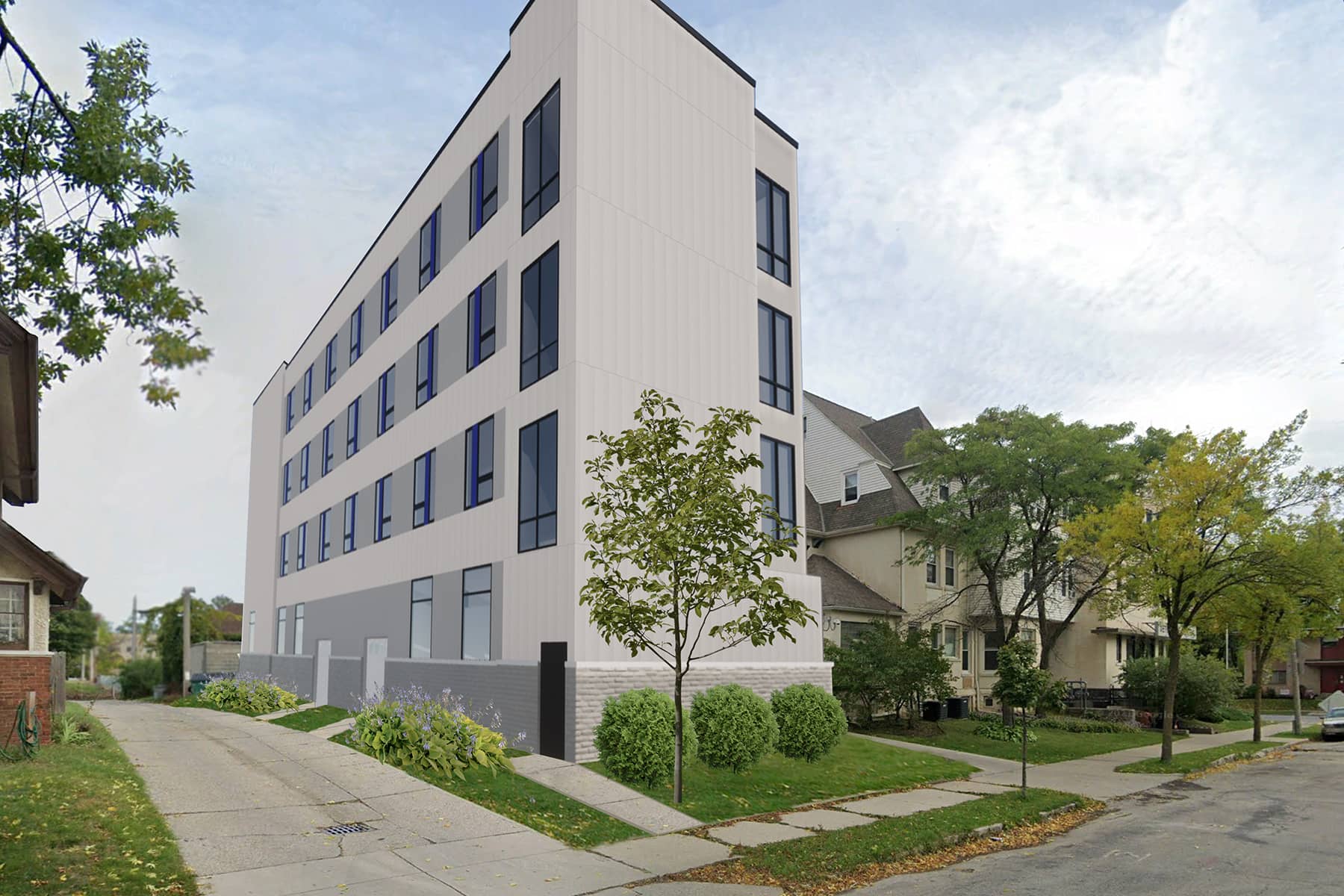 Center for Veterans Issues (CVI) and The Alexander Company have partnered to rehabilitate and expand Vets Place Central, a longstanding, supportive, veterans housing facility in Milwaukee.
Located at 3330 W. Wells Street in Milwaukee, the project aims to enhance the living conditions and services provided to veterans in need, addressing the challenges of homelessness. To help move development forward, Vets Place Central was recently awarded Low-Income Housing Tax Credits by the Wisconsin Housing and Economic Development Authority.
"We are beyond excited about the opportunity to improve Vets Place Central for our Veterans and community," said Eduardo Garza, Jr., President of CVI. "We could not have accomplished this project without our friends at The Alexander Company. Their expertise and leadership were key in guiding us through this process and we look forward to many more opportunities with them in serving the Veteran Community."
Currently accommodating 74 veterans in shared rooms designed for single occupancy, Vets Place Central has been a vital resource for the community for nearly three decades. With the proposed redevelopment plans, the facility will undergo extensive renovations and a four-story addition, granting each veteran their own private room while creating improved community spaces for receiving comprehensive support services.
Out of the 81 newly renovated single-room occupancy units, 68 will be dedicated to supportive housing for up to two years, while the remaining 13 rooms will provide long-term housing solutions for veterans.
The partnership marks the second collaborative effort between the CVI and The Alexander Company in service to veterans. CVI currently manages 101 supportive housing units for veterans at the Milwaukee Soldiers Home District, where six historic buildings were meticulously restored and rehabilitated.
"We are proud to play a part in enhancing the lives of those who have served our country," said Joe Alexander, President of The Alexander Company. "By combining our expertise in affordable housing solutions with Center for Veterans Issues' dedication to supporting veterans, we are taking significant strides in addressing the challenges of homelessness within the veteran community."
Key features of the Vets Place Central rehabilitation include the rehabilitation and expansion of the existing veteran housing facility, the increase in single-room occupancy units from 32 to 81 – providing improved privacy and comfort for veterans, wrap-around supportive services to address a range of needs, and indoor and outdoor community spaces for socialization and engagement.
The estimated cost of the project is $19.5 million, with construction set to commence in the third quarter of 2023 and target completion in the fourth quarter of 2024.
The facility's supportive services will be extensive and tailored to meet the unique needs of veterans, including case management, education and employment services, addiction therapy, counseling, life skills training, access to healthcare services, veterans benefits and entitlement counseling, transportation assistance, and more.
Vets Place Central will also offer three hot meals per day and a volunteer program called Veterans United for Community Service.
To be eligible for supportive housing at Vets Place Central, individuals must be a veteran, have a disability or be 55+ years of age, have a minimum of 180 days of documented sobriety, be committed to maintaining a substance-free lifestyle, and have stable income from sources such as employment, SSDI, SSI, or veterans' benefits.