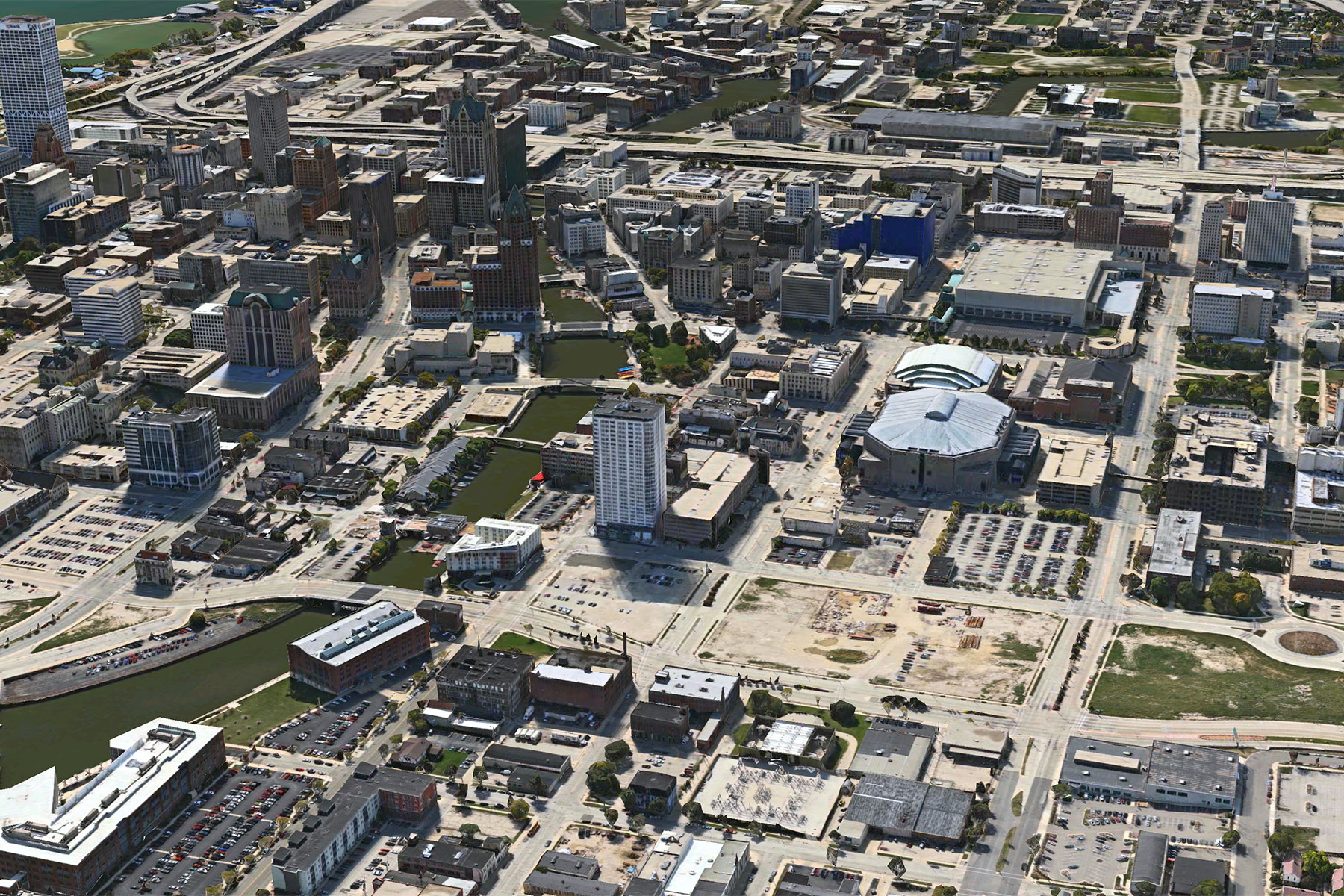 The Downtown Neighbors Association of Milwaukee recently launched an effort to begin a public discussion about the future of the site where the Bradley Center will eventually be torn down.
DNA MKE is asking members of the public to read a "Top 10" list and sign an online petition asking the Wisconsin Center District, the City of Milwaukee, and the Milwaukee Bucks to conduct a serious, complete and public examination of this concept. The Top 10 reasons:
The tax-paying public—especially those who aren't basketball fans—deserve a new, fun and free amenity at this site, in exchange for contributing more than $250 million to the new Bucks' arena and associated developments.
The Bradley family deserves a permanent and public reminder of the generosity demonstrated by Jane Bradley Pettit 30 years ago when she financed the then-new arena—Bradley Park at this same location would be a very appropriate honor.
Urban Park on the lakefront, just north of Henry Maier Festival Park, now provides a great model for a parcel of publicly-owned land that has been adopted by its much larger entertainment venue neighbor, Summerfest, which will improve and maintain this complimentary public space in 2018—Bradley Park could likewise be built, operated and maintained as an open and free public space by the Wisconsin Center District and the Bucks.
A park at this location will attract daytime users during the basketball season, as well as day and evening users during the summer—this will activate the area at times when there are no events at the neighboring sports and entertainment venues, preventing the "dead zone" typically associated with these sites when not in use.
Aside from the lakefront, there is very little green space downtown and very few publicly controlled large parcels of land suitable for park space—until the Bradley Center comes down.
Downtown is growing into a desirable residential center—to keep the momentum rolling, dog parks, playgrounds for children and other public space are all needed to provide a well-rounded set of amenities for downtown residents, as well as downtown workers and visitors.
For all these reasons, the Bradley Center site will be a tough site to develop and may sit vacant for years—instead of another surface parking lot (like 4th & Wisconsin has been for 30+ years), let's create a true public amenity now that compliments the arenas and other nearby uses.
There is ample and far more attractive development space available nearby, just north of Juneau Avenue between 3rd and 5th Streets, which is now controlled by the Bucks and can support the TIF district created to help finance the Bucks' arena and associated development—a dog park, playground and other outdoor public space nearby at the Bradley Center site would only enhance the development prospects of this former freeway corridor.
The site is also not attractive for office development because it is not near a cluster of other office buildings—retail uses seem even less likely in today's on-line world and no further restaurant, tavern or other hospitality uses are needed with nearby Live Block, Pabst Brewery, Old World Third Street, Water Street and other venues already competing for a piece of the pie.
The Bradley Center site is located between the new Bucks' arena to the north, the UWM Panther arena to the south and Turner Hall and the new Live Block entertainment district to the east (with 4th Street closed from Highland to Juneau)—it is not a site conducive for residential or hotel development due to the traffic, noise and crowds these venues will generate during evenings on 250 or more dates each year.
Downtown Neighbors Association