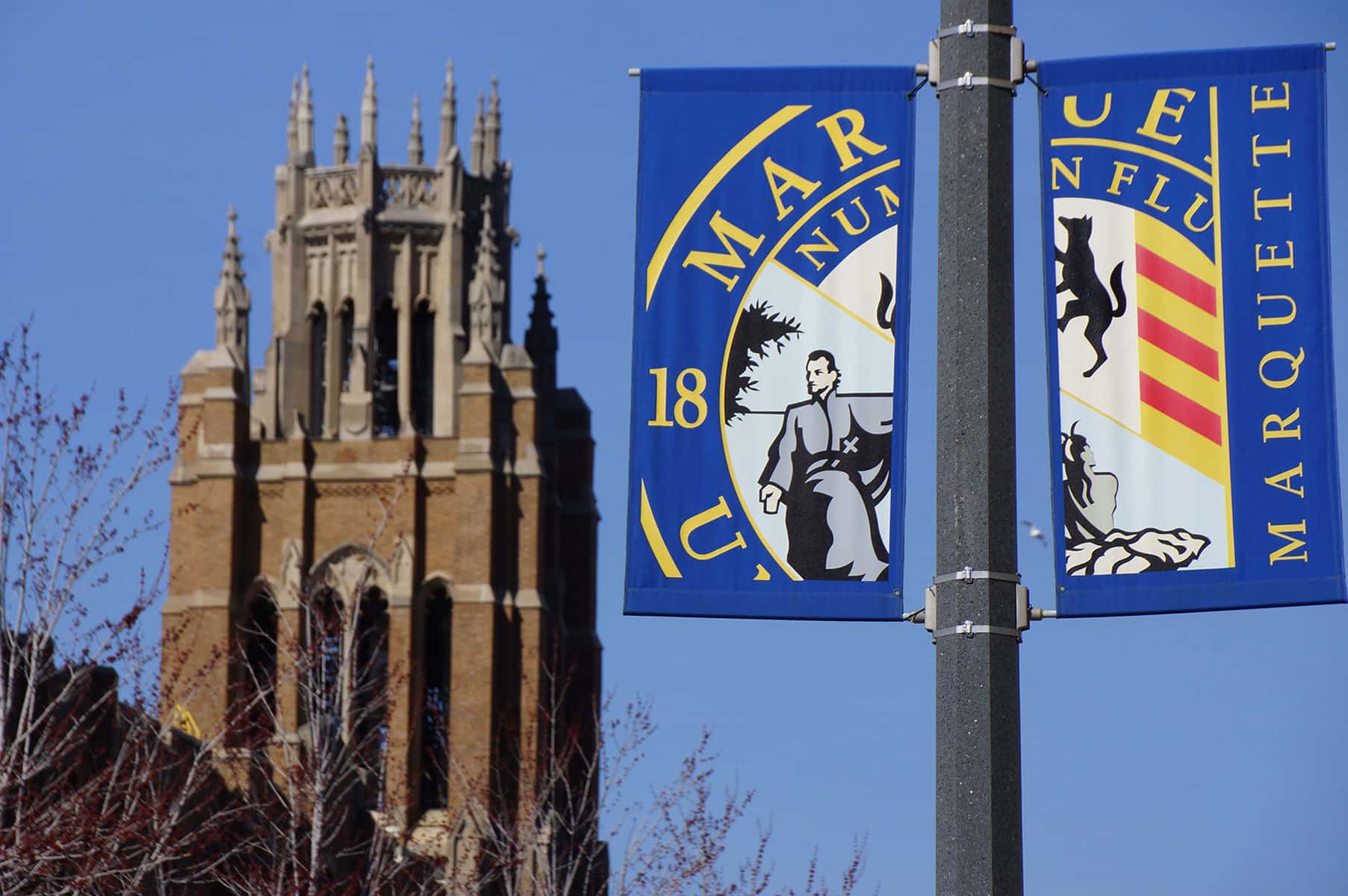 University President Lovell announces $96 million project for development of two new residence halls on the Marquette campus.
President Michael R. Lovell announced on May 2 that the Board of Trustees has approved construction of a new residence hall development on campus estimated at $96 million.
The project, which is part of the university's campus master planning process, will include two connected residence halls and will be located on the northwest part of campus, south of Wells Street between 17th and 18th Streets.
"For Marquette University to be among the top Catholic and Jesuit institutions in the world, it all must start with the student experience," President Lovell said. "We have to think and act differently and embrace new ways of living and learning for our community."
Since Marquette's master planning process began spring 2015, faculty, staff and students have taken part in interactive planning workshops and events on campus to provide important input in shaping the plan.
University architect Lora Strigens said the co-ed residence halls will have approximately 375 beds each and be connected through the ground floor by dining and campus community space. The 750-bed project is designed to accommodate freshman and sophomore undergraduate students.
The site, which is directly north of the existing Humphrey Hall, is already cleared and available. The university's goal is to break ground in late 2016 and to open the residence halls in fall 2018, in time for the 2018-19 academic year.
In the nearly two years President Lovell has led Marquette, he has spoken often about how the university must be bold and innovative, saying "It is a new day at Marquette University" during his Inauguration ceremony in September 2014.
This is the second major development under Lovell, who previously announced plans to build a state-of-the-art athletic performance research center with Aurora Health Care.
Reimagining residence halls
The new residence halls will feature pod and suite-like settings as opposed to the traditional model of large buildings with small double rooms. It will be designed to meet LEED (Leadership in Energy and Environmental Design) certification standards and will strive to incorporate innovative sustainable practices in the design.
"This significant development will position Marquette as a leader in reimagining residence halls to better meet the needs of today's students," Strigens said.
Once the new facilities are fully operational, the university plans to raze McCormick Hall. McCormick Hall, which currently houses 725 beds, is more than 50 years old.
The overall project will primarily be funded through cash reserves, funds from the university's capital budget and debt financing. The future space where McCormick Hall currently resides will be further evaluated through the campus master planning process.
Strigens also shared that the university will consolidate dining spaces to enhance community building across campus and to improve operational efficiencies. The larger dining facilities will feature more variety in food choices and will increase seating capacity, and will also be open for extended hours to meet the expectations of students, faculty and staff. The new residence halls present a future opportunity for the university to host additional conferences in the summer.
With the addition of this new residential development, Marquette will have nine open residence halls. Marquette has approximately 3,700 beds for undergraduate students.