New map of Milwaukee's Urban Water Trail links Ozaukee County Rivers to the downtown Lakefront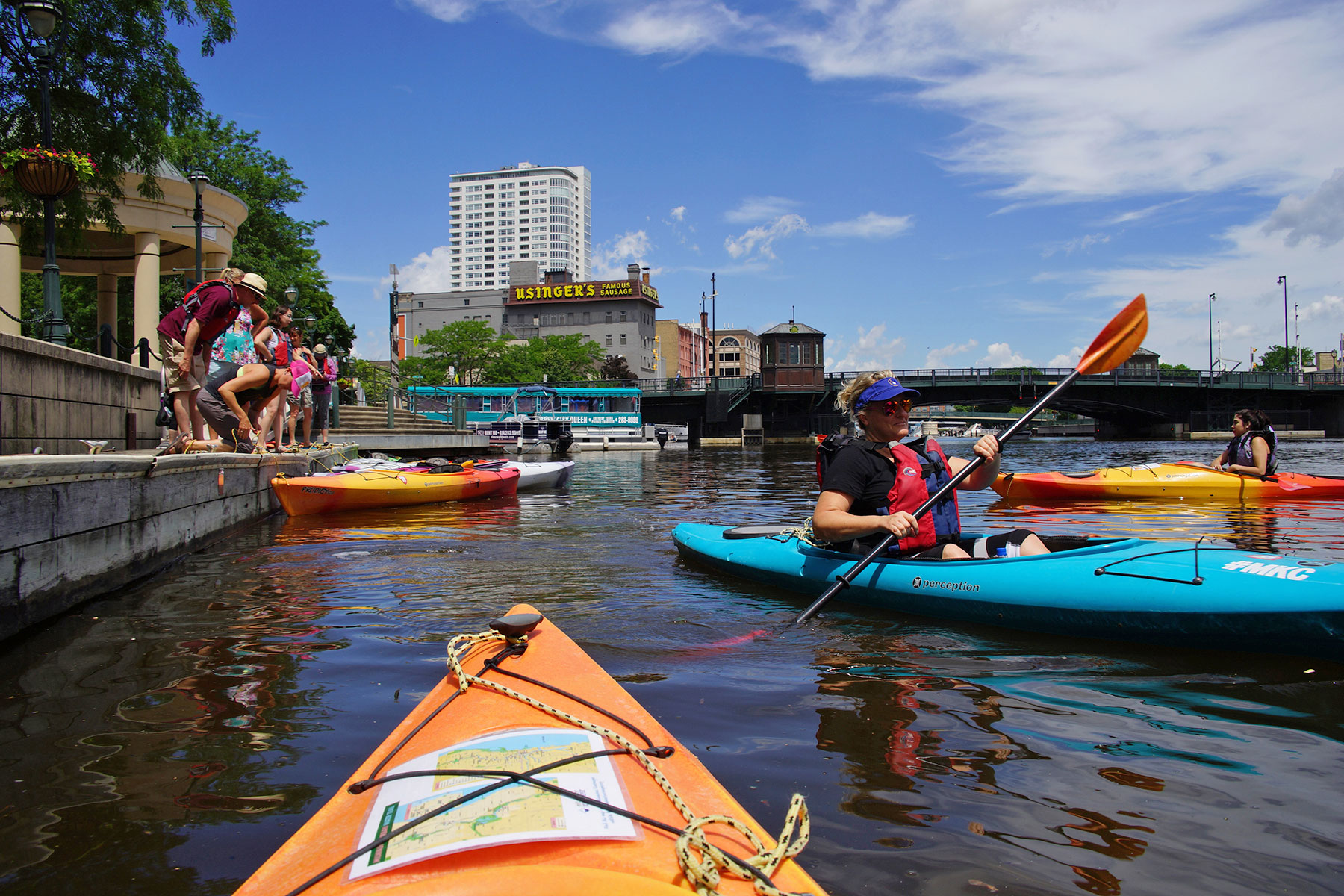 Milwaukee Riverkeeper will launch the second edition of the Milwaukee Urban Water Trail map with expanded coverage that includes all of Ozaukee County—extending this water trail by 35 miles of river.
The Milwaukee Urban Water Trail is a canoe and kayak route through urban and interurban portions of the Milwaukee, Menomonee, and Kinnickinnic Rivers as well as Cedar Creek—providing more than 60 miles of paddling opportunities in portions of Milwaukee and Ozaukee Counties.
"We hope that the water trail helps connect more people to the amazing rivers in their own backyards and inspires residents and tourists alike to become stewards of our rivers," said Cheryl Nenn, Riverkeeper. "Water trail signs will be installed in the next few weeks to months, and recommendations for improving river access for non-motorized craft along Milwaukee's rivers, creeks and lakefront will be included in an upcoming gap analysis report."
The second edition of the map also includes public access locations for paddlers along Lake Michigan, stretching along 60 miles of shoreline extending from Bender Park Beach in Milwaukee County to Harrington Beach State Park in Ozaukee County. These lakeshore access points incorporate those included in the Wisconsin portion of the Lake Michigan Water Trail as well as new County Parks added in Ozaukee County in recent years. The Milwaukee Urban Water Trail was designated as a National Recreation Trail and American Canoe Association "Recommended Trail" in 2006.
The Milwaukee Urban Water Trail connects area residents to our rivers, creeks and Lake, enhances public recreational opportunities, promotes safe and legal river access, and encourages stewardship of our natural resources.
This map edition provides more information on the type of river access—natural streambank, paddler friendly, high pier, as well as amenities such as restrooms, parking, potable water, picnic areas, nearby restaurants etc., as well as nearby cultural, historical, and natural points of interest. The maps also identify hazards including rapids, dams, natural falls, or other areas of concern that may need to be portaged under certain water conditions.
"We are very excited that the new Water Trail map expands coverage to Ozaukee County, the Ozaukee County Park System and the lakefront. Paddling our rivers, creeks and Lake is a great way to explore many of Ozaukee Counties' beautiful parks, natural areas and beaches," said Andrew Struck, Director of Planning and Parks for Ozaukee County. The rivers are also a great way to explore the Milwaukee County Parks system and other municipal parks, which provide a scenic backdrop along much of the water trail. "We are proud to promote this new edition of the Milwaukee Urban Water Trail, and this is another great way for residents and visitors to enjoy our Milwaukee County Park System," said Milwaukee County Parks Director Guy Smith.
The Milwaukee Urban Water Trail was first created in 2006, in response to a gap between increased interest in river recreation and limited information available on how to safely and legally access Milwaukee's rivers and creeks. Since then, there has been a resurgence of interest in recreation on our local rivers, creeks and along Lake Michigan.
"One of the project goals is to create environmentally sensitive, fun, and interesting outdoor recreational opportunities, which foster vibrant communities, large and small. On the 50th Anniversary of the National Wild and Scenic Rivers Act, it's important to highlight free-flowing river segments and our connections to them in urban and rural 'wilderness' settings in Southeast Wisconsin. This water trail gives quick and easy access to Greater Milwaukee's three rivers, creeks and lakefront, and making river access so readily available will encourage people who don't have means or desire to make more remote river trips grab a paddle and go," said Angie Tornes of the National Park Service.