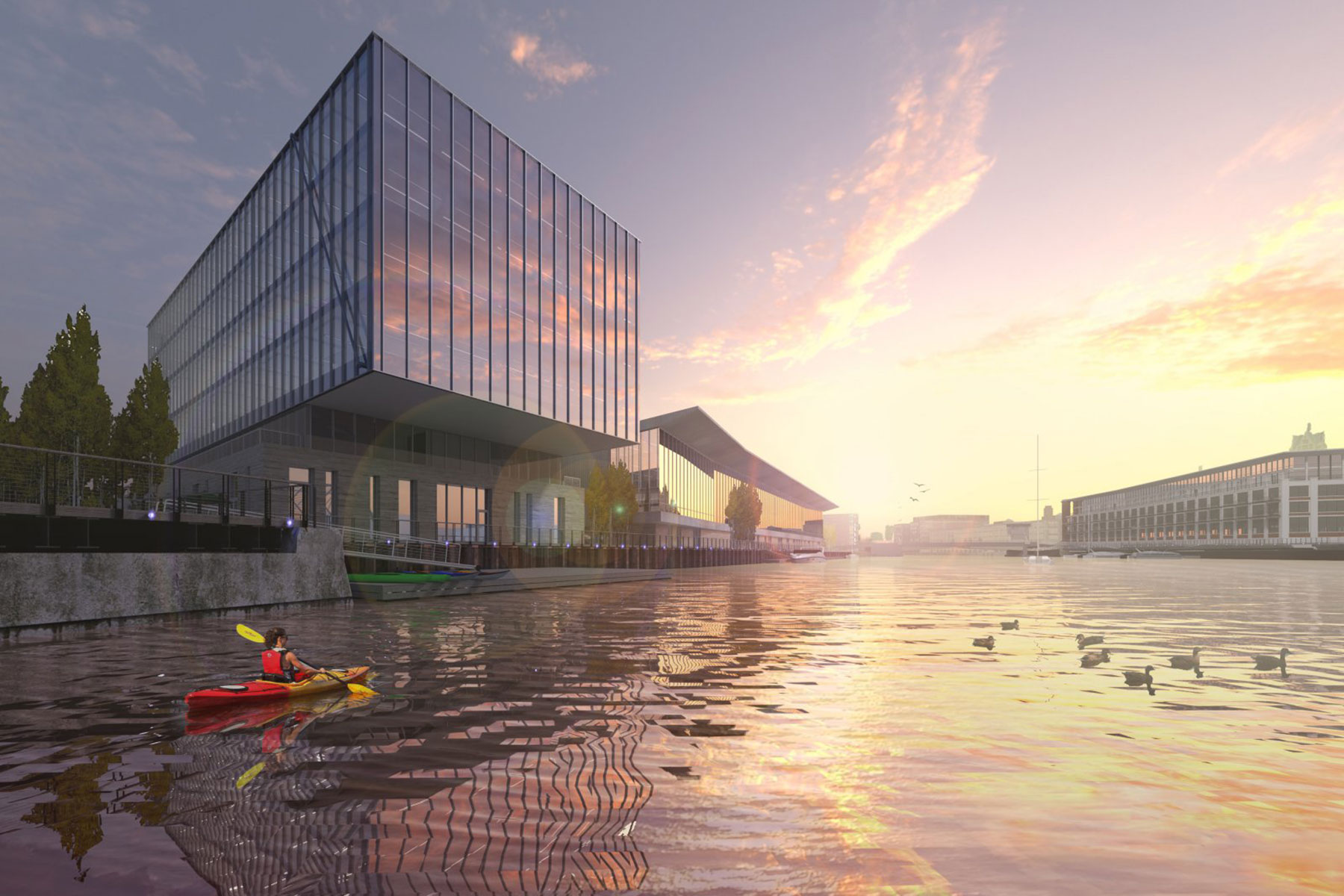 Milwaukee‐based developer Mandel Group, Inc. today released conceptual plans for a major office development in the Walker's Point neighborhood fronting on the Milwaukee River.
The overall concentration of new and repurposed office space could total 200,000‐275,000 square feet when completed. While stressing that the plans were preliminary at this time, Mandel Group representatives indicated that the concept is based on extensive market analysis conducted over the past twelve months, together with detailed input from real estate brokers and tenant representatives who are actively engaged in the downtown office market.
The multi‐property development site incorporates Mandel's current Wisconsin Cold Storage properties on East Florida Street together with river‐fronting parcels owned by Kurth Corporation, a Delaware based entity. Mandel has secured the Kurth properties under an accepted offer to purchase and has been reviewing development alternatives for the properties since early 2016. The overall development plan comprises over 7 acres of land area.
The project has been planned to conform with the recently adopted Walker's Point Strategic Action Plan, released in mid‐2015. Reflecting that plan, a major public pedestrian park node is proposed on lands previously used as the south approach serving the CNW Railroad's river‐spanning swing bridge. Mandel's proposal would further activate the landside trestle area and adjoining vacant land with both seasonal and year‐round commercial and recreational businesses, including the Milwaukee Kayak
Company.
Redevelopment of the property will require demolition of the 12‐story dormant grain elevator that is a conspicuous riverfront edifice at the southern end of the development site. The grain elevator has been out of service and vacant for many years. A public Riverwalk would connect the development with future development both north and south of the site. Public boat landings, a kayak rental concession and other river‐oriented businesses will be encouraged to remain at the property to activate the waterfront.
The riverfront development is comprised of two structures. A long, gallery‐like structure named "Vista" contains 100,000 SF of office space, organized as a main floor 65,000 square‐foot "gallery" space and a 35,000 square‐foot second floor mezzanine. The space is characterized by expansive views of the Milwaukee River and downtown skyline through its dramatic, 400‐foot long glazed façade that faces toward the river.
The gallery floor's ceiling heights, as conceived in preliminary design studies, soar to nearly 40 feet. The building is serviced with a 150‐car dedicated indoor parking facility contained in an above‐ground podium that elevates the office space above the river. Additional overflow parking is available on the adjoining Cold Storage property. The buildings' construction and operational details would incorporate extensive green and sustainable materials, technologies and construction practices to achieve operating expenses substantially below those typical of Class A office space.
A second riverfront structure is proposed in the location of the existing grain elevator. Named "Overlook," the proposed 7‐story mixed‐use structure would contain 60 stalls of internal parking, a 6,500 square‐foot commercial first floor facing onto the adjoining public park space and four office floors each containing 15,000 square feet. A third‐floor green roof and commons area will provide in-building amenities for office tenants.
The office floors are contained in a glass‐encased form that appears to float above its heavy masonry base. The building's name is derived from a dramatic 30‐foot cantilever that extends over the Riverwalk and up to the water's edge. The cantilever is visually pronounced with large exposed steel tension supports on the outside of the building's enclosure, intended to reference a riverfront industrial aesthetic incorporated into an otherwise modern office design.
William H. Bonifas, Executive Vice President of CBRE, has been working with Mandel Group and the project architect, Jim Shields, FAIA, of award‐winning HGA Architects and Engineers, to refine the concepts for each building. Bonifas believes that each building can attract unique users looking to make a memorable, competitive brand statement through its office environment.
"Technology and professional service companies are well aware of the changes occurring in the workplace," Bonifas explained. "The latest generation of employees is keenly dialed into the quality of their work environment, with the best talent attracted to companies that show specific interest in providing creative, collaborative work settings for their associates."
Bonifas specifically identified the opportunity for a large single‐user to house its workforce on a single, dramatic office floor on the first floor of Vista.
"The 65,000 square‐foot floorplate of Vista's gallery level is unique in metro Milwaukee," Bonifas emphasized. "There are a lot of companies that could realize operational efficiencies in this setting, being able to accommodate their workforce on a single floor overlooking the river. You'll love your work environment so much you won't want to leave."
A third mixed‐use building is planned on the adjoining Cold Storage property, combining repurposed portions of the existing historic buildings with new construction. The Cold Storage site is also envisioned to accommodate a low‐rise parking structure and additional surface parking to support the overall development concept.
A key consideration for downtown office tenants is the ability to access convenient, dedicated parking facilities for their workforce. In‐town redevelopments such as Summit Place and Schlitz Park succeeded in part due to the cost‐effective parking solutions each redevelopment offered their tenants.
"While we're seeing much more reliance on walk‐to‐work and bike‐to‐work options, especially in younger generations, immediately proximate dedicated parking remains a top priority for downtown office tenants," Bonifas added.
A unique aspect of the proposal's urban design concept is the incorporation of large groves of trees that distinguish the streetscape and primary public amenity spaces. Design architect Jim Shields' concept for the redevelopment area references historic landscape characteristics that existed prior to urbanization of the river's frontage.
"We have the benefit of not having to work around sidewalk vaults, utility tunnels and other impediments that have prevented extensive landscape development in our central business district," Shields observed. "This river‐fronting district within the Walker's Point neighborhood can be replanted with the species of trees that grew here 200 years ago, and become a pedestrian paradise through this nuanced adjustment to our thinking of how urban business districts should be conceived."
Shields has done extensive research of historic documentation of the early Milwaukee River environs to identify appropriate landscape themes and tree species for the reimagined river‐fronting business district. Shields referenced US urban centers such as Portland and Seattle where extensive tree canopies develop a compelling environment for business districts within the cities' central business districts.
Mandel continues to work on refinements and has not yet fixed a timeframe for undertaking the work necessary to proceed. "These types of developments are user‐driven," explained Robert B. Monnat, Chief Operating Officer for Mandel Group.
"As you're seeing with any major downtown undertaking, the gestation period can be as little as twelve months or as long as several years. We will continue to flexibly refine this opportunity and be responsive to inquiries as they arise," Monnat added. "We're very excited with the potential for this site and believe that it adds an appealing level of texture and excitement to the river frontage. The office experience and urban setting will be unlike any other opportunity in Milwaukee, much more akin to what you see in redeveloped European port cities."