Governor Tony Evers issues new mask mandate following GOP repeal of previous health safety order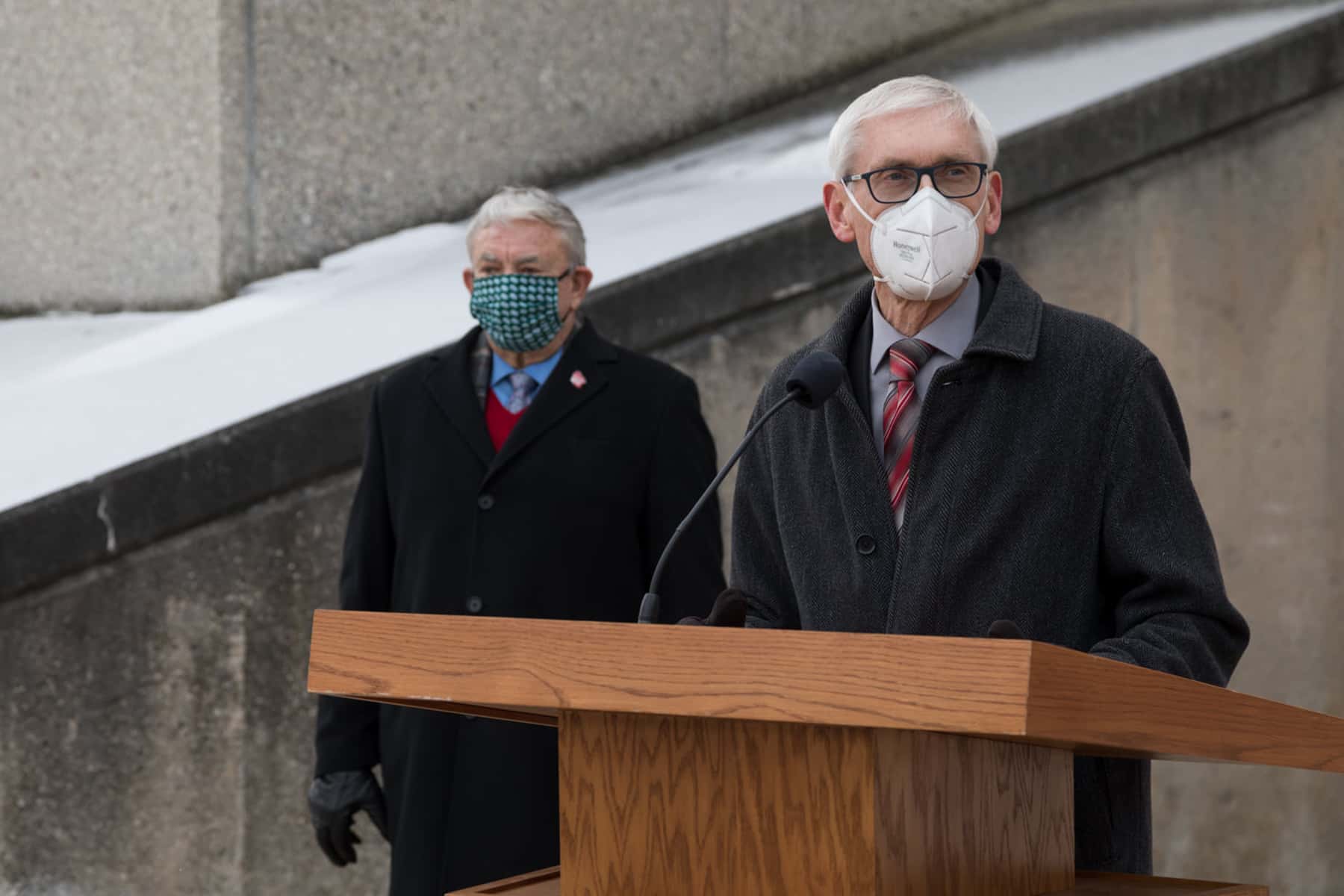 Governor Tony Evers issued a new statewide mask order on February 4, an hour after the Republican-controlled Legislature voted to repeal his previous mandate.
In October, a Marquette University Law Poll found 72% of Wisconsinites agreed that masks should be required in public places, and that support for a mask requirement exceeded 60% in all regions of the state at that time.
"If the Legislature keeps playing politics and we don't keep wearing masks, we're going to see more preventable deaths, and it's going to take even longer to get our state and our economy back on track," Governor Evers said.
As the Legislature moved to repeal the order, many cities and counties rushed to enact or extend local mask ordinances. Milwaukee and Dane County are among those with orders in place. The Democratic governor said in a video message that his priority is keeping people safe and that wearing a mask is the most basic way to do that.
The action by Republicans in the Legislature is a continuation of their politically calculated efforts to prevent Governor Evers from keeping Wisconsinites healthy and safe. The governor's statewide mitigation strategies to contain and respond to COVID-19 have been met with repeated lawsuits, political rhetoric, and obstruction from Republicans since last April.
Republicans also sued Governor Evers last spring, which ultimately led to a decision by the Wisconsin Supreme Court to strike down Wisconsin's Safer at Home order in May, leaving the state without critical mitigation tools to protect health and safety used by other states.
In total, Republicans in the Legislature this year alone have spent millions in taxpayer dollars in litigation to hamstring the state's ability to respond to the ongoing pandemic rather than meet to address the issues facing Wisconsinites.
Despite writing in a brief to the Wisconsin Supreme Court in April 2020 that stated Republicans were "drafting even now" legislation to respond to the pandemic, Republicans have not sent a bill to the governor's desk in more than 290 days.
The Republican position is in stark contrast to a diverse coalition of doctors, nurses, hospitals, health departments, schools, chambers of commerce, pharmacists, churches, firefighters and others who urged keeping the mask order in place.
Dr. Bud Chumbley, head of the Wisconsin Medical Society, blasted the Assembly's vote to repeal, saying it "sends the wrong message at the wrong time."
"Instead, we need all of our policy leaders to unify behind the same message: wear a mask to protect yourself and others, prevent additional deaths and restore our economy," he said in a statement.
Health experts say masks may be the most effective way to prevent the spread of COVID-19, which has killed nearly 6,000 Wisconsinites, and that a repeal risks creating confusion and sending the wrong message about the importance of masks.
"Masks save lives. They keep our neighbors safe and healthy," said state Representative Robyn Vining. "They help our small businesses survive. They protect our healthcare workers and other frontline essential workers. Overturning the statewide mask order threatens the lives and livelihoods of Wisconsinites, it's a slap in the face to our already overtaxed healthcare workers, it rattles small business owners who know they desperately need the leaders of this state to lead in ways that create consumer confidence, and it discourages educators who have turned themselves inside out to recreate our educational system in impossible circumstances."
The Assembly voted 52-42 to repeal the mandate, with seven Republicans joining all Democrats in opposition. The vote came a week after the Senate voted to kill the mandate.
The repeal had not even taken effect before Governor Evers issued a new one. He signed Executive Order #105 and Emergency Order #1, establishing a statewide public health emergency and requiring face coverings in public places to protect the health and safety of Wisconsinites.
"Our fight against this virus isn't over – it's not going away, especially as we see mutations of this virus in our state and others," added the Governor. "Wearing a mask is the most basic thing we can do to keep each other safe. If the Legislature keeps playing politics and we don't keep wearing masks, we're going to see more preventable deaths, and it's going to take even longer to get our state and our economy back on track. We're going to keep putting people first, we're going to keep listening to the science, and we're going to keep working to save lives so we can get through this pandemic together."
The coronavirus has crippled Wisconsin's economy and elsewhere across the nation, but health experts have warned of a continuing danger – including the emergence of new and more contagious variants. All of Wisconsin's neighboring states have some form of mask mandate.