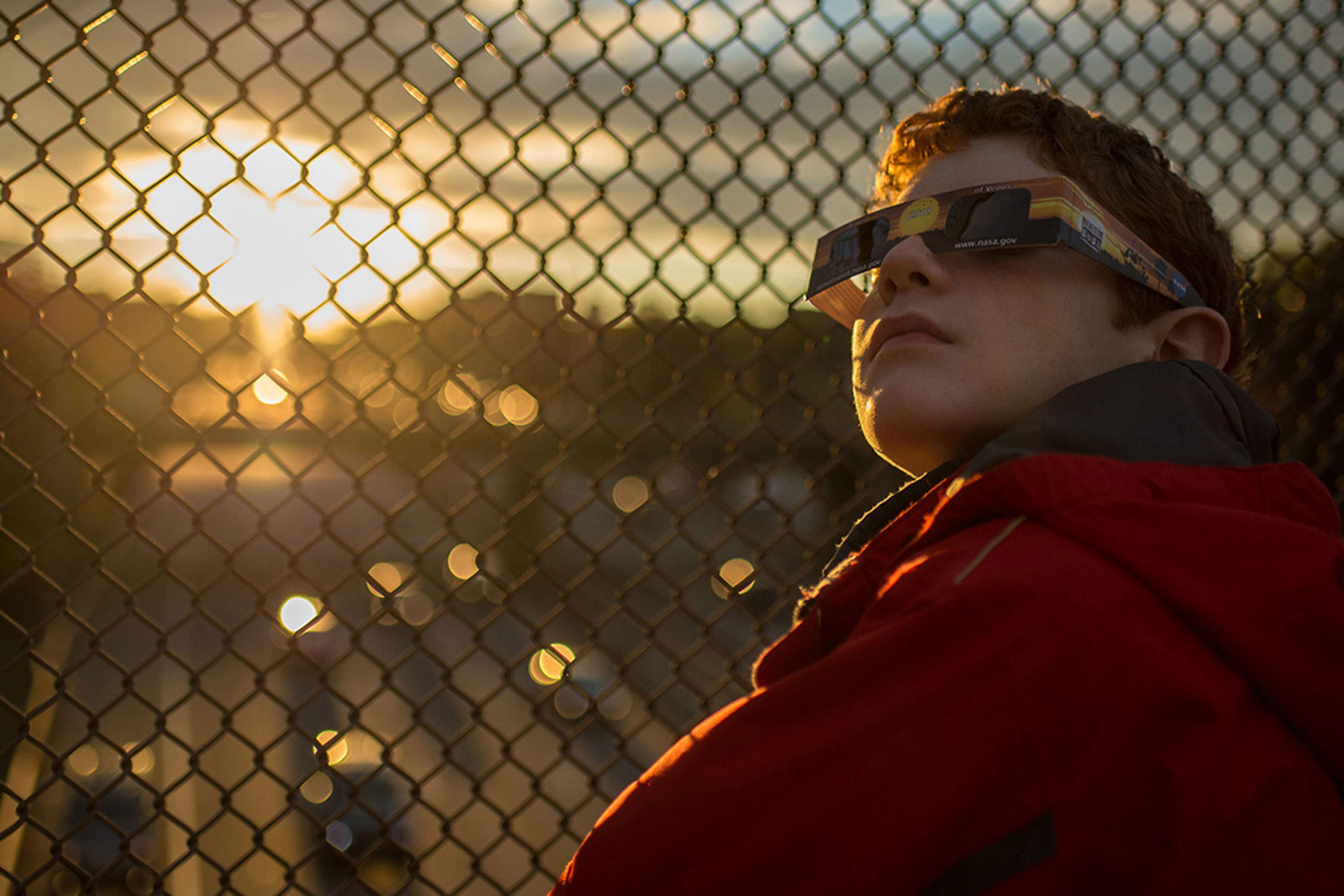 On Monday, August 21, Milwaukeeans have a chance to experience something that has not happened in almost a century, a near total eclipse of the sun.
At noon, unless it's very cloudy, the sky will begin to get unusually dark. The Manfred Olson Planetarium staff at the University of Wisconsin-Milwaukee are hosting a NASA-sanctioned viewing and picnic event that day from 11:00 a.m. to 3:00 p.m., with telescopes and safety eyewear available. It will be held outside the facility on the west end of the lawn at the corner of Kenwood Boulevard and Maryland Avenue.
The moon will begin to move in front of one edge of the sun at 11:53 a.m. local time. It will peak at 1:18 p.m., covering most of the sun, before moving off completely by 2:40 p.m.
In southern Wisconsin, the moon will cover 86 percent of the sun's surface. People living farther south and in a path stretching from Oregon to South Carolina will see total blockage, with only the sun's glowing edges visible.
Special viewing glasses will be available for purchase at the UWM event. Sky-watchers are advised to wear special safety eyewear to look directly at the eclipse because even observing a small portion of the sun without protection can permanently harm the eyes or even cause blindness.
The next time Wisconsinites will be able to see a total eclipse will be in 2024.
The viewing event will also include live music, a raffle, lawn games and a bouncy house. In case of rain, livestreams of the eclipse will be shown inside the planetarium, which is also presenting a theatrical production, "The Sun's Disappearing Act," at 11:15 a.m. and again at 2:00 p.m.
"The Sun's Disappearing Act," which explores the science, history, and culture of solar eclipses, will also be staged on August 18 at 7:00 p.m., and August 17, at 7:00 p.m.