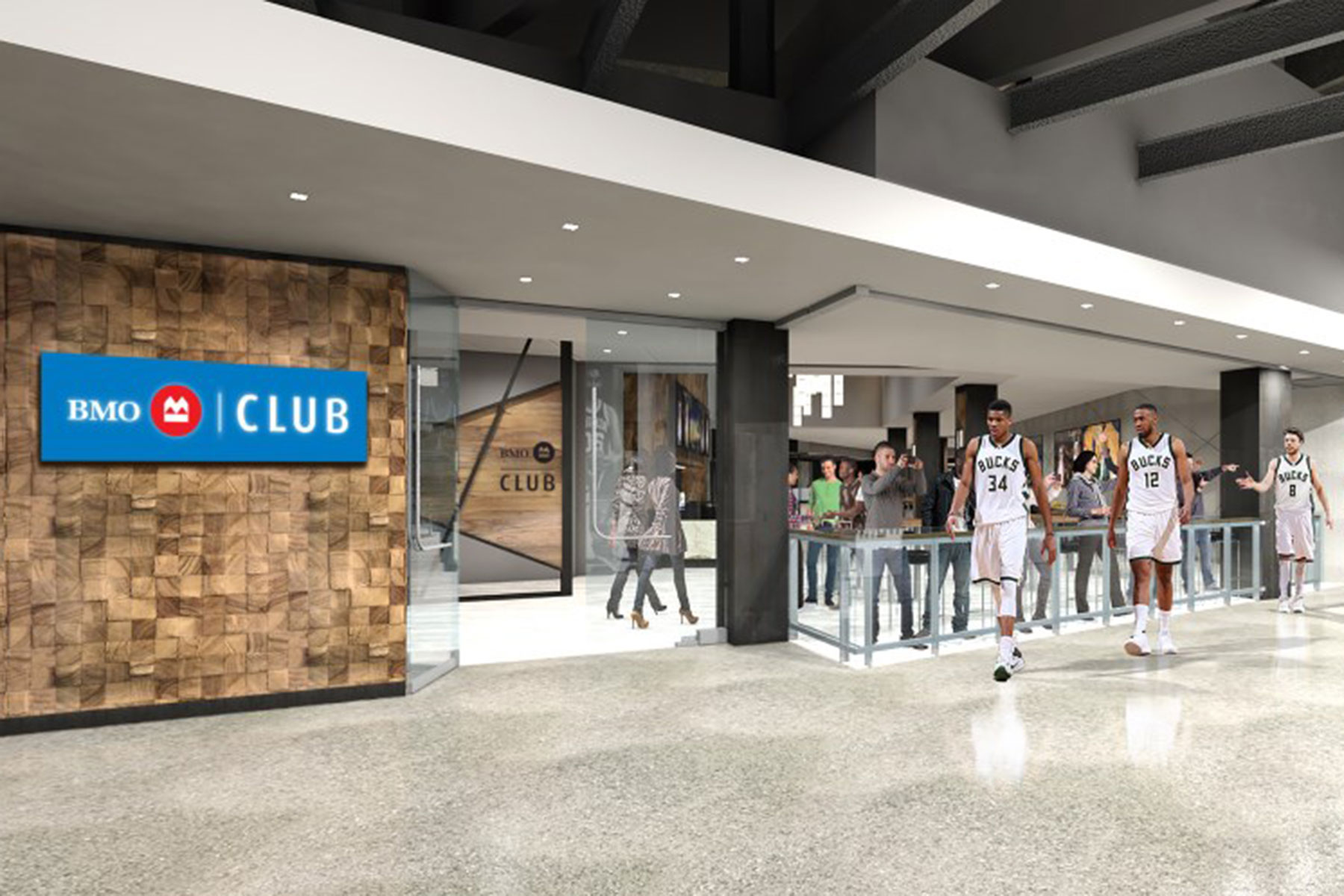 The Milwaukee Bucks and BMO Harris Bank are renewing their long-standing relationship, as BMO Harris Bank becomes a Founding Partner of the new Bucks arena and also remains the Official Bank of the Milwaukee Bucks.
As part of the partnership, the new BMO Club will be launched on the event level of the new arena. As well, the Bucks and BMO Harris Bank have also teamed up to debut a new BMO Harris Bucks Debit Mastercard® – giving Bucks fans the opportunity to have a Bucks-branded debit card from the Official Bank of the Milwaukee Bucks.
"The Bucks have generated tremendous energy and excitement throughout Milwaukee, energy that will only increase when the new arena opens next year," said David Casper, President and CEO, BMO Harris Bank. "We are thrilled to be part of that excitement by making a long-term commitment as a Founding Partner of the new arena, building on our 25-year relationship with the Bucks."
The BMO Club will be an all-inclusive, event-level club in the new Bucks arena that offers unprecedented access. It will be the most exclusive club space in the arena and will have a direct connection to the player tunnel.
"The Bucks are excited for what the future holds with BMO Harris Bank as a Founding Partner of our new arena," Bucks President Peter Feigin said. "BMO Harris Bank has been a long-time valued partner of the Bucks and our expanding relationship demonstrates to our customers, fans and employees our deep-rooted commitment both organizations have to Milwaukee and the state of Wisconsin."
The BMO Harris Bank and Bucks founding partnership extends outside of the Milwaukee area as well, with all Bucks games now broadcast statewide on the BMO Harris Bucks Radio Network. BMO Harris Bank was also announced as the first major partner of the Wisconsin Herd – the Bucks' G League affiliate in Oshkosh – where BMO Harris Bank will be able to engage, interact and entertain fans in a new, intimate atmosphere.