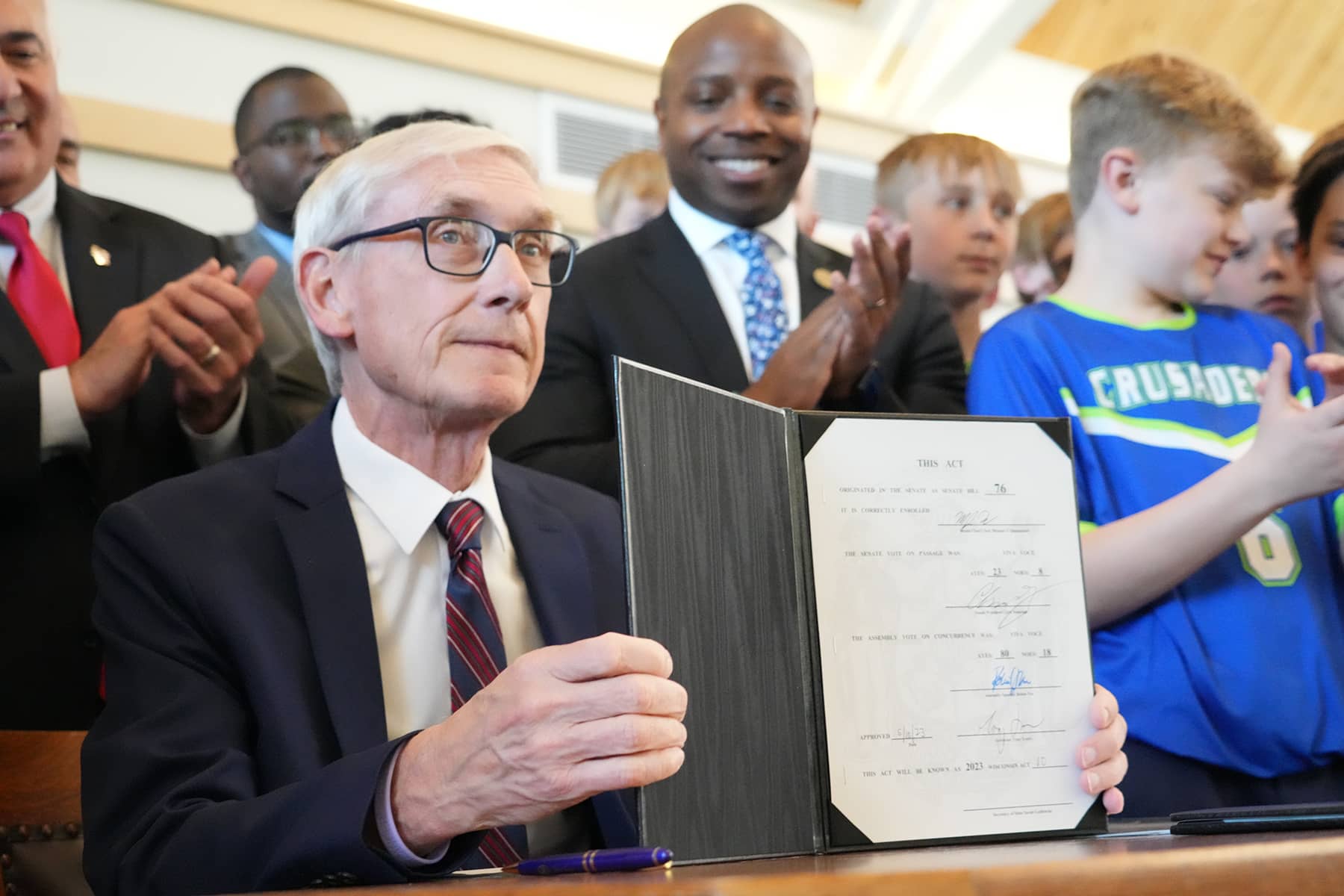 Governor Tony Evers signed a pair of bipartisan bills on May 10 that would increase penalties for carjacking and reckless driving.
The bills come as part of a Republican-backed push to crack down on dangerous driving across the state but particularly in Milwaukee, where Mayor Cavalier Johnson has called rising rates of reckless driving a crisis.
"Reckless driving and other dangerous behaviors are putting our kids, families, and communities at risk all across our state, and we must do more at the state level to address dangerous behavior on our roads," said Governor Evers. "I'm proud the first enacted bill of my second term was a aimed at curbing reckless driving, and I am glad to be continuing that work today by signing these bills to address carjacking and ensure reckless driving is treated with the seriousness it requires."
The governor, with other state and local leaders, gathered alongside Abbie Strong at Grace Evangelical Lutheran Church for the legislation signing ceremony. Strong is the widow of Rev. Aaron Strong, a pastor at Grace and father of two who was killed by a now-convicted reckless drunken driver last year near 10th and Wells Streets.
"He was simply doing what he always did, he dropped our kids off at school and came to work here at Grace Lutheran Church," said Strong. "My husband became a statistic. And over the past seven months, I have seen that my pain serves a bigger purpose, and this has motivated me to advocate for the families victims of reckless driving, so that they don't have to endure this kind of pain."
The first bill designates carjacking as a formal crime. Until now, someone who uses force or threatens to use force to steal a vehicle can be charged with operating a vehicle without the owner's consent. The bill raises the maximum sentence from 40 years in prison to 60 years. Anyone who steals a car by force without using a weapon will still face up to 15 years in prison.
The other bill doubles the fines and forfeitures for reckless driving. The range will increase to a maximum of $400 for a first offense to $1,000 for a subsequent offense. The maximum fine for reckless driving that causes bodily harm will increase to $4,000. Reckless drivers who cause great bodily harm will face up to six years in prison, up from the current maximum of three-and-a-half years.
Assembly Bill 55, now 2023 Wisconsin Act 9: Increases the penalties for reckless driving; and requires that the driver improvement surcharge and safe ride surcharge are imposed on anyone convicted of reckless driving.
Senate Bill 76, now 2023 Wisconsin Act 10: Reorganizes the crimes of intentionally taking a vehicle without the owner's consent; creates a new "carjacking" section of the criminal code; and increases certain penalties related to carjacking crimes.
"These bills are a good place to start, but our work cannot stop here," added Governor Evers. "I am once again urging the Legislature to support my budget initiatives that build upon the legislation I'm signing today to combat reckless driving across our state. I look forward to further discussions to make our roads and communities safer by taking a statewide, multi-pronged approach on this critically important issue."
In April, Governor Evers also signed Senate Bill 92, now 2023 Wisconsin Act 1, to curb reckless driving in Wisconsin by allowing counties and municipalities to enact ordinances authorizing law enforcement to impound a vehicle if its owner is cited for reckless driving, has a prior conviction for reckless driving, and has not paid the imposed forfeiture for that offense.
In addition to his 2023-25 biennial budget proposals, Governor Evers has previously announced more than $100 million in investments to support violence prevention and community safety efforts statewide, including to support the work of local and Tribal law enforcement across the state and, notably, to prevent reckless driving through environmental design and upgrades to local roads in Milwaukee.