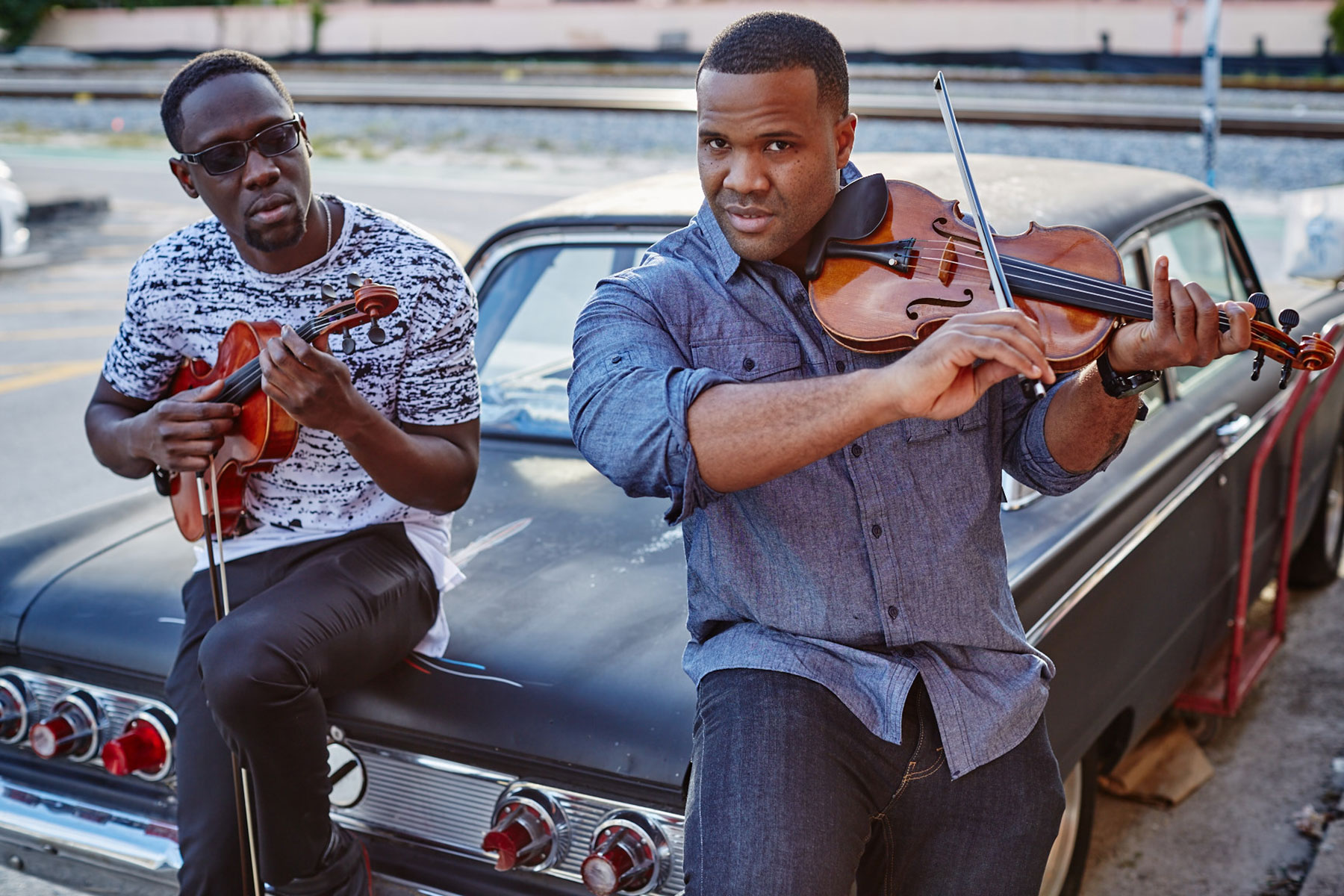 Black Violin is composed of classically trained violist and violinist Wil B. and Kev Marcus who combine their classical training and hip-hop influences to create a distinctive multi-genre sound that is often described as "classical boom."
The band released their major label debut Stereotypes, featuring Black Thought of The Roots and MC Pharoahe Monch, on Universal Music which debuted at #1 on the Billboard Classical Crossover Chart and #4 on the Billboard R&B Chart. Black Violin has shared stages with top names including Kayne West, Aerosmith and Tom Petty, and has creatively collaborated with the likes of Wu-Tang Clan, Wyclef Jean and Alicia Keys.
Wil and Kev place heavy emphasis on educational outreach, and have performed for more than 100,000 students in North America and Europe in the past 12 months, including the featured musical act for the Blue Ribbon Festival at the Music Center in Los Angeles, CA where they performed for 19,000 fifth grade students from the Greater Los Angeles area over a 3 day period. The band is endorsed by Yamaha Music, and has partnered with the National Association for Music Manufacturers (NAMM) to continue their advocacy for accessible music education.
"Through the message of Black Violin's music, we've spent the last 10 years working to encourage and empower people of all ages, ethnic and socioeconomic backgrounds to find what connects us, rather than shine a light on what divides us. This past year alone, we've played for nearly 100,000 students and over 125 public shows across the US and Europe. We've taken this opportunity to spread a message that challenges the world's view of what it means to rise above labels, be daring enough to follow their passion and most of all, be true to themselves. As black men living in America, we understand challenges and we also understand the power of "I can't", yet we decide to live by and promote the power of "I can". We realize that every opportunity to connect our diverse fans is an opportunity to break down the barriers that separate us, empower individuality and encourage progress. Our UNITY tour, with concert dates throughout the US, will be our most energetic and inspired shows yet." – Wil B. & Kev Marcus
Black Violin is coming to the Marcus Center's Uihlein Hall for one night only on Saturday, October 28 at 7:30 pm. The performance is a co-presentation of the
Marcus Center
and Black Arts MKE.