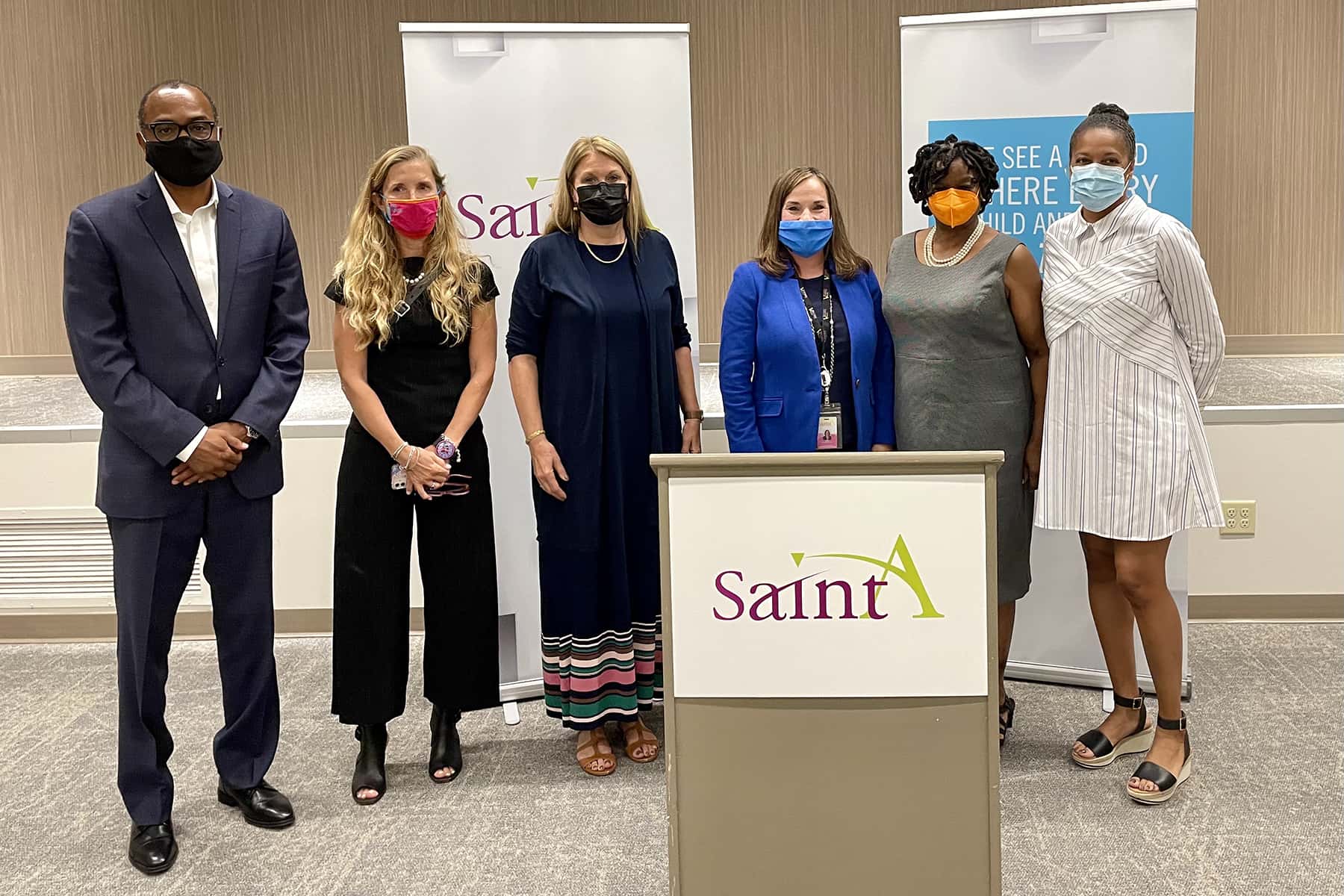 The Substance Abuse and Mental Health Services Administration (SAMHSA) recently awarded SaintA a $2 million grant that will help fund "Project Thrive" to provide increased access to evidence-based, trauma-informed assessment and treatment for children and families in the City of Milwaukee.
The program also combined local efforts, through a partnership between SaintA, Boys & Girls Clubs of Greater Milwaukee (BGCGM), and the Medical College of Wisconsin. By the end of the five-year funding period, SaintA will operate eight new mental health branch offices at BGCGM sites and will have served more than 2,700 individuals.
"This grant award signals a shift in how mental health services are provided, and funded, at the local and national level," said Ann Leinfelder Grove, President and CEO of SaintA. "The departure from more traditional service delivery to a community-based model, where services are provided in familiar settings, where kids and families feel safe, is a game-changer and at the heart of what SaintA is all about."
Project Thrive will serve children and their families who have experienced the trauma of abuse, neglect, violence, poverty, racism, and family separation. Services will be provided at BGCGM sites to provide ease of access in a trusted community setting.
The Clubs serve communities that have experienced inequities in access to mental health services and conditions that perpetuate the cycles of trauma and poverty. The majority of those served through Project Thrive will be African American (64%) and Latinx (23%) and are economically disadvantaged. Project Thrive will build upon and enhance SaintA and BGCGM's existing partnership.
"The City of Milwaukee has suffered the consequences of ongoing trauma, historical trauma and racism and it's impacted the mental health of our community," said Dr. Jody Pahlavan, Vice President of Clinical Service at SaintA and Project Director of Project Thrive. "This effort is about getting care to the people who need it the most and doing so through people and places they trust."
Project Thrive will seek to create and sustain effective relationships within the community to reduce the stigma around trauma and mental health treatment; enhance the screening and assessment process to identify youth needs for treatment earlier and with greater efficiency; increase access to effective trauma-focused mental health services for diverse, economically disadvantaged children and families in Milwaukee; provide training in trauma-informed practices to communities and child-serving systems; and create sustainability for continued mental health treatment after completion of SAMHSA funding.
"This partnership with SaintA and the Medical College is going to have a long-lasting, ripple effect on our community," said Kathy Thornton-Bias, President and CEO of Boys & Girls Clubs of Greater Milwaukee. "Lives will be changed because we are breaking down barriers to youth and families receiving mental health services and meeting those most in need exactly where they are, in their communities."
BGCGM youth development professionals will receive expanded and enhanced training to increase understanding, awareness and ability to respond to youth mental health challenges and trauma histories, including training in the 7 Essential Ingredients of Trauma Informed Care (7EI), which was developed by SaintA and is grounded in neuroscience research and the science of adversity.
In line with SaintA's commitment to data-driven, evidenced-based approaches, a key component of Project Thrive is data analysis, provided in partnership with the Medical College of Wisconsin.
"We recognize the value and importance of data analysis and evaluation and the ongoing need to learn from real-time data and adjust accordingly," said Dr. John Raymond, President and CEO of the Medical College of Wisconsin. "The diligent and intentional collection of data tied to Project Thrive will allow us to not only best serve those in need of services today, but will inform future service delivery locally through partners like SaintA and nationally through the Substance Abuse and Mental Health Services Administration network."