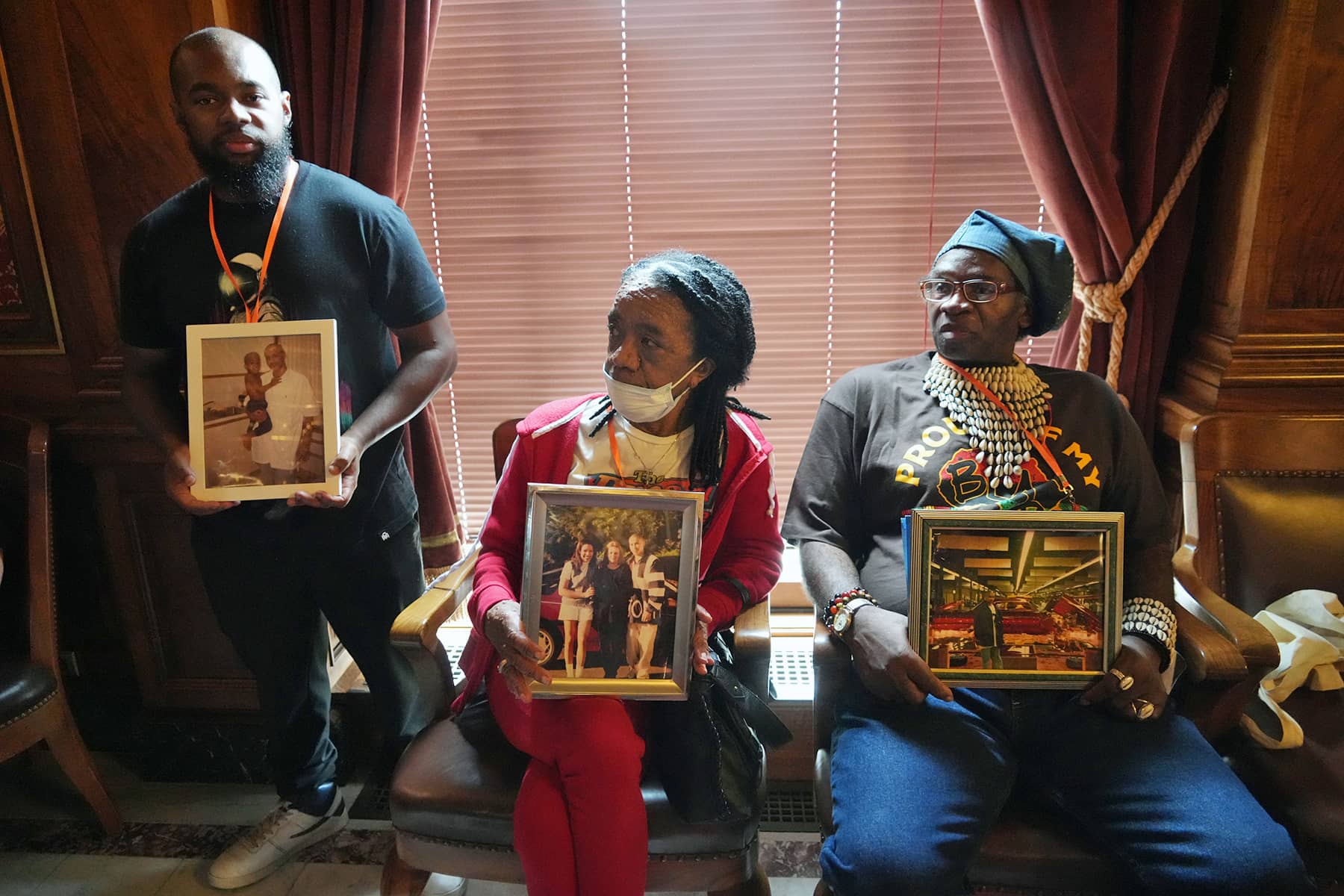 The 2023 Gun Violence Prevention Day of Action on September 21 brought groups of people to Madison from across the state, so legislators could hear directly from their constituents about the need for stronger gun laws essential for the safety of Wisconsin families and communities.
A coalition of community organizations and Democratic lawmakers gathered at the Wisconsin State Capitol Building to demand that Republican leaders address gun violence, a public health crisis they have continued to ignore.
WAVE (Wisconsin Anti-Violence Effort) Educational Fund, Brady: United Against Gun Violence, Giffords, 80% Coalition, March for Our Lives, Forward Latino, and residents from every part of Wisconsin joined together to promote some lifesaving solutions.
"Gun violence is preventable, and yet we as a society have failed to prevent it. As a consequence, more than 45,000 Americans die every year. And more hauntingly, gunshot injuries are the leading cause of death for our children, and our teenagers," said Jeri Bonavia, Executive Director of the WAVE Educational Fund. "Our children are being shot everywhere. Our children aren't safe anywhere. In daycares and preschools, our youngest children are being taught to hide under desks, or in bathrooms. They are being taught to be really really quiet, so that the bad guys can't find them."
Despite the fact that Wisconsinites overwhelmingly support gun reform, the legislature has resisted any attempt to pass common sense gun laws. Bonavia said that her young grandson's generation was being taught in schools to tie a tourniquet to stop the bleeding, while still learning to tie their shoes.
"What does that say about our community and our society, that we continue to allow our children to be in the line of fire. And what does it say about a legislative body that continues to do more to protect the profits of the gun industry than they do to protect our families and our children," Bonavia added.
In 2019, Governor Tony Evers convened a special legislative session to address gun violence. The initiatives were disregarded by the Republican lawmakers, who used the political rhetoric around the Second Amendment to shut down any discussion.
"Wisconsinites are at risk because our Legislature has yet to adopt policies we know are lifesaving, such as universal background checks and extreme risk protective orders," said Anneliese Dickman, Midwest Program Manager for Brady: United Against Gun Violence. "Most voters in our state support these common-sense gun policies. We are here to encourage our elected officials to listen to their constituents and join their peers in other states in passing laws that will save lives."
During the summer of 2023, state Democratic lawmakers again proposed a comprehensive set of legislation featuring various firearm-related policies. They included universal background checks, offering incentives for responsible weapon storage practices, and extreme risk protection orders – often referred to as "red flag laws."
> READ: Gun Safe Summer: Legislators join attorney general to urge action over removed provisions for gun safety
"Milwaukee, like many cities, has faced the devastating impact of gun violence in our community. It is more than just statistics, but the numbers are staggering," said State Senator LaTonya Johnson.
Guns are prevalent in her district on the north side of Milwaukee. Senator Johnson said more than 15,000 guns had been recovered from 2018 to 2022, with 80% of those recovered guns used in the commission of a crime. ShotSpotter activations across the entire City of Milwaukee during that same time period totaled 60,733.
"Each of those bullets represented the potential to end a life and leave a family forever broken, causing endless amounts of trauma throughout our community," added Senator Johnson. "Red flag laws will allow timely intervention to prevent tragedies, and it is obvious that these measures would help."
Other speakers included Josh Kaul, Wisconsin's Attorney General; Deb Andraca, State Representative; Shelia Stubbs, State Representative; Anthony Cooper, President of Focused Interruption; and Darryl Morin, National President of Milwaukee-based Forward Latino.
The repeated theme of many speakers was that the Republican-gerrymandered legislature should finally listen to Wisconsinites, not to the special interests of people with extreme views, and be responsive to their constituents calling for common sense gun safety laws.
Kaul referenced public remarks he made on January 7, 2019 when he was sworn in as the Attorney General of Wisconsin. Public safety was his top priority, and in order to make communities safer he wanted to address the issue of gun violence.
"Our kids are growing up in an environment that is fundamentally different from the one that I grew up in, going to public schools in Wisconsin. Our communities are facing challenges that are fundamentally different," said Attorney General Kaul. "Over the past four and a half years, we have gone through the pandemic, and we have seen a spike nationwide in shootings and gun violence. We have seen homicides rise in communities across the country. We need to take action to address the challenges we are facing."
He said a critical component of working to prevent gun violence and eliminate crime in Wisconsin's communities was to put in place common sense gun safety measures. One example was universal background checks, to prevent people who were prohibited from possessing a firearm from obtaining one. Dangerous people should not have dangerous weapons.
"Over the last few years, we have heard a lot of people claim to be tough on crime. To the legislators who are blocking these initiatives from moving forward, let me just say this: if you are blocking common sense gun safety legislation from moving forward, you are not tough on crime. So do not claim to be tough on crime," added Attorney General Kaul.
Representative Andraca used to be an elementary school teacher and was a volunteer with Moms Demand Action. Part of what inspired her to seek elected office was that people in Wisconsin did not understand the emotional impact that lockdowns had on school children. She said her generation did not have to experience those classroom drills. If they had, they would take the gun safety proposals more seriously.
"Recently there was a letter from Peggy Troy, the President and CEO of Children's Wisconsin, an open letter which said … 'in my 14 years at Children's Wisconsin nothing has shocked me quite like the increase in the number of children we have cared for with gunshot wounds. In fact, the number of children we treated due to gunshot wounds each year, more than doubled from 2019 to 2022.' The open letter was also signed by more than 140 of her colleagues," said Representative Andraca.
"We are sick of living in a war zone. We are sick of bloody gloves. We are sick of sobbing mothers. But even more so, we are sick of empty platitudes. We are sick of indifference. Every day that passes without legislative action being taken to make our communities safer is a deliberate step toward traumatizing us all, letting our kids down, and devaluing the importance of our lives. There are common-sense, evidence-based gun laws that reduce gun violence.

Other states and other countries have proven this. Wisconsin, we are asking that you pass the following gun laws immediately: Require background checks on all gun sales. Restrict domestic abusers from owning guns. Allow family members and law enforcement to temporarily remove guns from unsafe individuals in crisis. Prohibit assault weapons and high-capacity magazines.

We are doctors and nurses, men and women, conservative and liberal, Black and white and everything in between. The one thing that unites us is that we have watched too many children die by gun violence. We are doing our best; we show up every day and we plug the bullet holes and we open the chests and we restart the hearts and we hug the moms. But the onslaught of gunshot wounds is too much for us to handle alone; we need help from gun laws to stop it. Wisconsin, we are begging you."
Firearms are the No. 1 killer of children in the United States, and so far this year 220 children younger than 11 have died by guns and 1,049 between the ages of 12 and 17 have died. As of 2020, the firearm mortality rate in the U.S. for those under age 19 is 5.6 per 100,000. The next comparable is Canada, with 0.08 deaths per 100,000.
"Today is actually the anniversary of my brother's murder 27 years ago. You would think after so much time that it would get easier, but I'm here to tell you that it does not get easier," said Marlena Banks. "You think of the nieces and nephews I'll never have. My mom thinks of the grandchildren she'll never have, and all the memories we will never make. It is devastating. My brother, Tommy Shaw, was murdered by someone who purchased a gun from a private owner. He was an innocent victim of mistaken identity."
Banks urged legislators to remember that gun violence affects more than just communities, it breaks families. It was her hope they would care enough to pass the proposed laws that would save lives, and prevent all the grief connected with those losses.
The following day, on September 22, President Joe Biden announced the creation of the first-ever federal office of gun violence prevention, as an emergency measure to find ways around congressional inaction to stem rising gun violence.
The office will coordinate efforts across the federal government, offering help and guidance to states struggling with increasing gun violence. It will also take the lead on implementation of the bipartisan gun legislation signed into law last year.
The office fulfills a key demand of gun safety activists who banded together as a coalition to endorse Biden for president in 2024, and is an effort by the White House to keep the issue front-and-center as the president pushes for a ban on so-called "assault weapons" and urges Congress to act.
"The creation of an Office of Gun Violence Prevention in the White House will mark a turning point in how our federal government responds to an epidemic that plagues every state and every community in America," said Kris Brown, president of Brady: United Against Gun Violence. "Tackling this epidemic will take a whole-of-government approach, and this new office would ensure the executive branch is focused and coordinated on proven solutions that will save lives."
But the office is limited in what it can do. In order to tighten restrictions or pass a ban on so-called "assault weapons," as Biden repeatedly called for, Congress would need to pass legislation. That seems unlikely. In the year since the 2022 law was passed, Republican support for restrictions has slipped.
Vice President Kamala Harris was selected to run the new office. A former prosecutor and state attorney general, the Vice President has years of experience on the issue. The White House said she was the natural fit to lead the effort. Adding the new office to her portfolio means Vice President Harris is tasked with some of the highest-profile domestic issues, including voting rights and abortion, as well as the increase in migration to the U.S. But they are also among the most fraught, difficult to solve, and hard for Democrats to make headway on in Congress.
"Throughout her career, the vice president has worked tirelessly to protect people from gun violence," said Kristine Lucius, a domestic policy aide to Harris. "The vice president feels the urgency of this issue from every family she's grieved with and from students across the country who are fighting for their right to be saved from gun violence."
Overall, stricter gun laws are desired by a majority of Americans, regardless of what the current gun laws are in their state. That desire could be tied to some Americans' perceived impact of what fewer guns could mean for the country — namely, fewer mass shootings.
Among its first directives will be to ensure a federal gun safety law passed last year is being fully implemented. The bipartisan law, the first in decades, was passed following a school shooting in Uvalde, Texas, where a gunman killed 19 students and two teachers.
The 2022 law toughened background checks for the youngest gun buyers, sought to keep firearms from domestic violence offenders, and aimed to help states put in place red flag laws that make it easier to take weapons away from people judged to be dangerous.
Most Democrats, 92%, want gun laws made stronger. Republican support for gun restrictions is slipping a year after Congress passed the most comprehensive firearms control legislation in decades with bipartisan support. Republican desire for more expansive legislation has dropped to 32% from 49% last summer and independents' support has also declined slightly to 61% from 72%.
Yet despite the political divide, both sides believe it is important to reduce mass shootings that plague America. As of September 18, there have been at least 35 mass killings so far in 2023, leaving at least 171 people dead, not including shooters who died. That puts the country on a faster pace for mass killings than in any other year since 2006.
"Gun violence is very personal. Too many of us know that far too well. Whether a gun was used in what some would refer to as traditional crime, or in an act of domestic abuse, a fit of rage, or as a tool used to act out on hate. It is personal," said Morin. "And then there are those, who wrongfully believe gun violence is their only escape from their feelings of despair and hopelessness. Yes, gun violence is very personal."
Many people in Wisconsin believe that gun violence is an urban issue, and a minority issue. Morin said those opinions believed that such problems were exclusive to Milwaukee, so it was for Milwaukee to deal with. He explained that, based on statistical evidence, the view was completely wrong.
"Let me say that gun violence happens in every community. Using data from the CDC, the 12 deadliest counties in Wisconsin per capita, as it relates to gun deaths, are Milwaukee County, Barron County, Oconto County, Marinette County, Sauk County, Monroe County, Chippewa County, Polk County, Waupaca County, Kenosha County, Racine County, and Douglas County," said Morin.
News coverage of gun violence was a contributing factor to the distorted perception. Morin said that out of respect for the families, media organizations do not report on suicides unless they are related to another crime or act of violence. Or unless family members wanted to make a suicide public, usually as a preventative example to educate others.
"There are those who say these laws are unconstitutional. To them I say, red flag laws and universal background check laws have been tested in the courts over and over again and found to be lawful," added Morin. "There are those who say we want to take everyone's guns away. To them I say, you are flatly wrong. I am a gun owner. From a young age, I grew up hunting with my father and brother, learning how to properly use a firearm, the responsibility of owning a firearm, and the need to safely store it when not in use. None of the pieces of legislation calls for the removal of anyone's firearm, unless the individual is found to be an imminent threat to themselves or another by the courts."