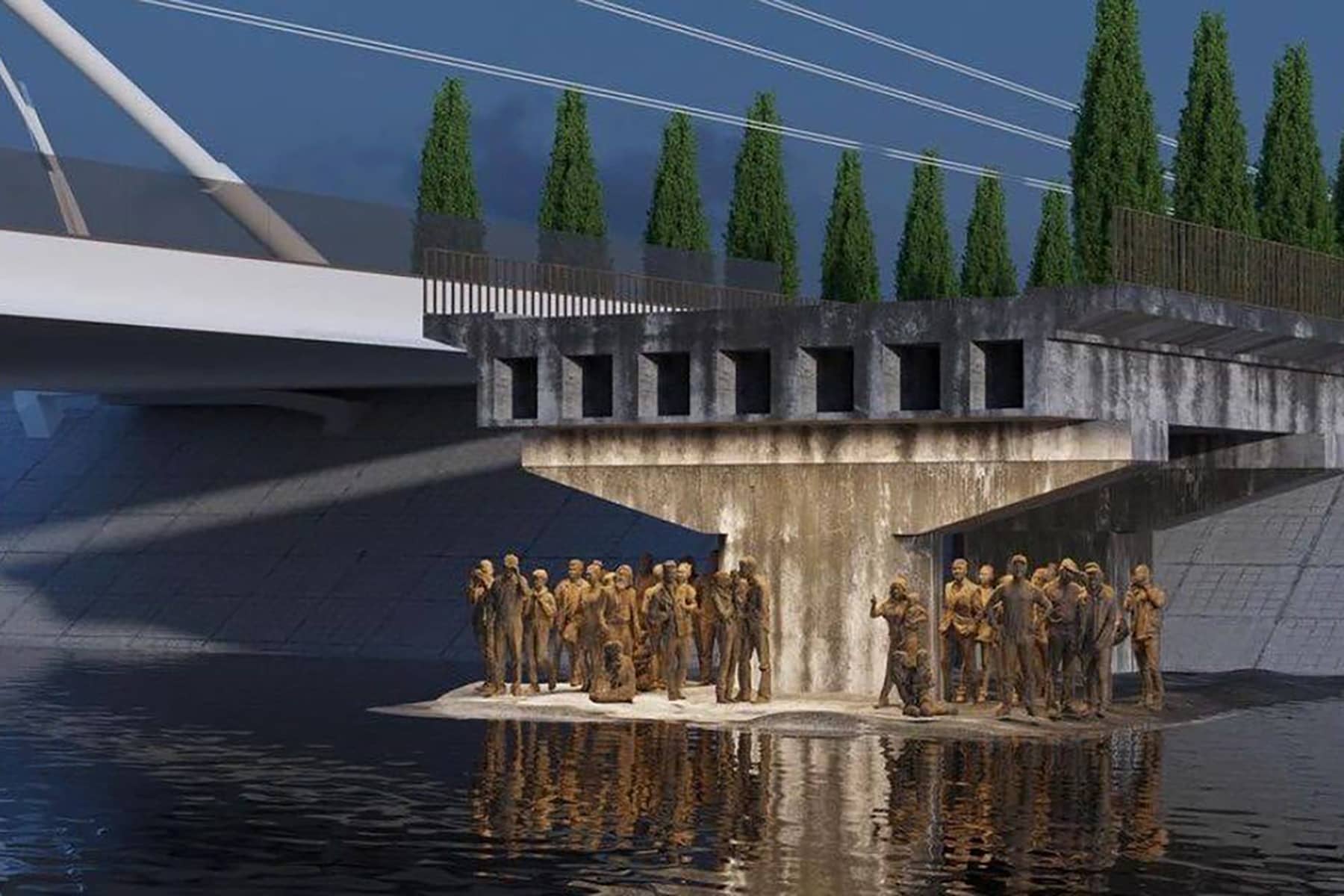 One of the most iconic images from the start of Putin's invasion of Ukraine shows refugees huddled under a destroyed bridge next the Irpin River, at the edge of Milwaukee's sister city Irpin. A Ukrainian designer recently presented plans to preserve the site as a memorial complex.
In the early hours of the invasion, Ukrainian forces demolished the Irpin bridge, and a nearby railway bridge, in order to halt the Russian advance to Kyiv. At the same time, civilian evacuations continued for days through the same route.
Residents of Irpin, Bucha, and Hostomel waited in the bridge's wreckage for their chance to evacuate to Kyiv, hiding from the constant shelling. They were forced to navigate a makeshift river crossing by foot to eventually flee from the Russian brutality.
The destroyed bridge made the process of escape more grueling for locals. But denying the Russians access to cross the river proved to be a turning point in saving the capital city. Irpin became the frontline of the invasion for several weeks, and for its effort was rewarded with the rare title of Hero City.
Civilian cars that could not originally cross the river were abandoned along the road. They littered the route to the destroyed bridge. Most vehicles were later scorched from Russian mortar fire that targeted refugee families. The broken remains were strewn with bullet holes.
While the war is not over, Russia's attempt to seize Kyiv in February and March was an utter failure. Since the withdrawal of enemy troops and Irpin's liberation on April 1, the area has been working around the clock to restore destroyed infrastructure.
The repair of one railway bridge was completed on May 7, and service by electric train began running between Kyiv, Irpen, Bucha, and Borodyanka. A temporary bridge has been in place for automobile traffic, but construction of a new vehicle bridge has not yet begun.
Plans are already being developed for revitalizing Irpin. One idea seeks to immortalize the memory of the innocent victims who fled Russia's cruelty through the destroyed bridge.
Ukrainian designer Ivan Ohiienko created a project for the future Irpin Memorial Complex. He recently shared his plans for public consideration.
His vision would preserve the remains of the destroyed bridge as a memorial, adding statues under it to represent the fleeing refugees. The new replacement bridge would be constructed next to it. Opposite the surviving part of the bridge would be an embankment from where the public could look at the monument.
No announcement has been made yet for if Ohiienko's idea would be considered by local authorizes, or when his plan could be installed.