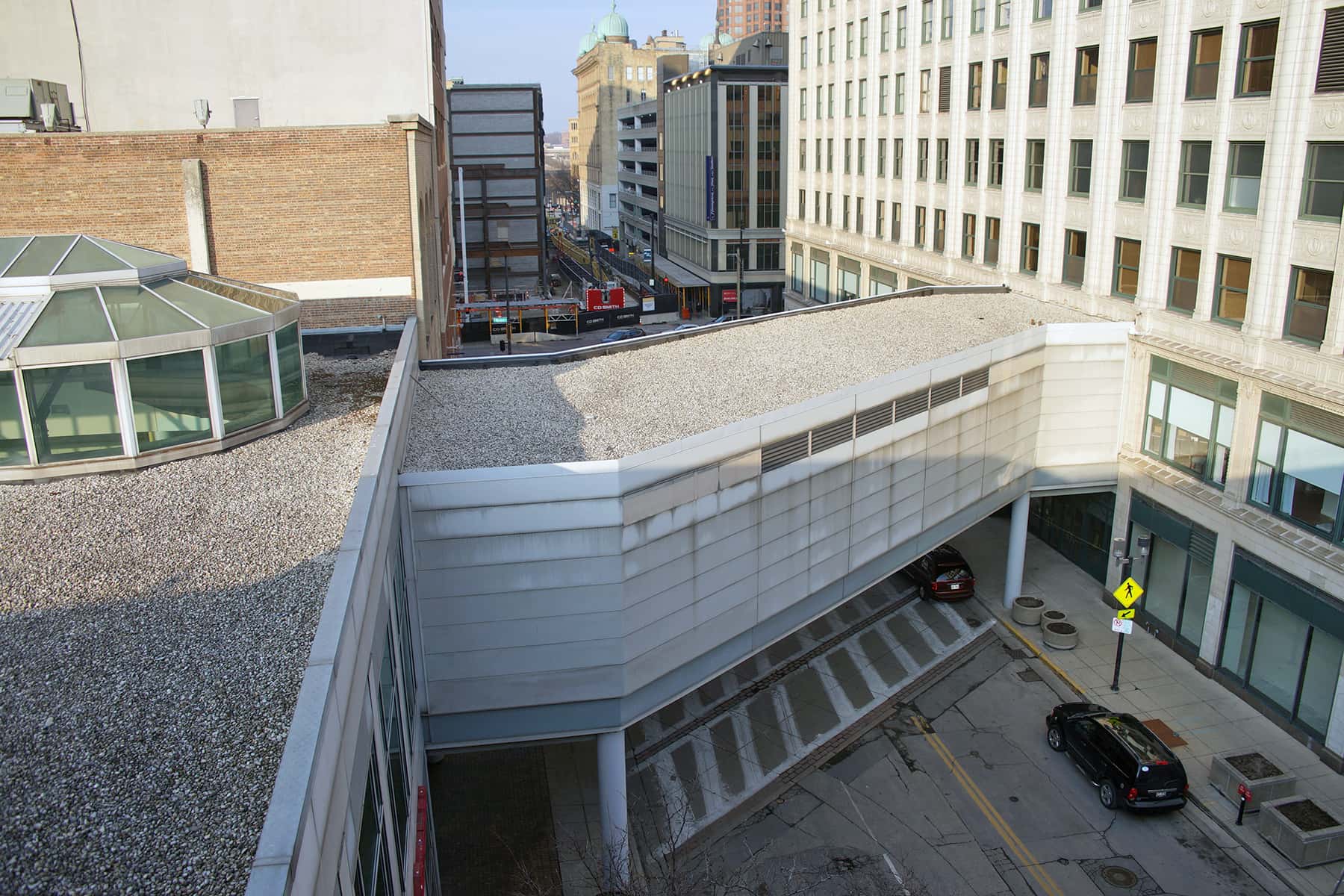 Milwaukee Downtown BID #21 is seeking submissions from local artists and artist collectives for a new mural in Westown. The intended canvas is the south-facing façade of the 2nd Street skywalk, between Wisconsin Avenue and Michigan Street.
This first-of-its-kind mural in downtown Milwaukee will strengthen pedestrian connectivity between existing parking structures and soon-to-open attractions, such as the Milwaukee Symphony Orchestra Center and 3rd Street Market Hall. The approximate dimensions of the mural space are 92 feet wide by 15 feet high.
"The surge in public arts projects in Westown over the last year has been inspiring," said Courtney Morris of Hempel. "We are thrilled to provide yet another unique canvas that will further elevate the profile of our neighborhood as a vibrant place to live, work, play, learn and invest."
In partnership with The Avenue, the skywalk mural will complement the vision for 2nd Street, which calls for additional pedestrian amenities like public art and seating between Michigan Street and Postman Square.
Artists interested in responding to the RFQ have until the February 14 deadline to submit designs. Submissions will be reviewed by the Downtown Placemaking Task Force, and the finalist will be awarded $25,000 to execute the project. The projected completion date for the skywalk mural is Spring 2020.
Once complete, the 2nd Street skywalk mural will be part of the growing portfolio of public realm improvement projects led by Milwaukee Downtown BID #21. These include enhancements at Postman Square in 2019, and murals like "Heart & Sol" by Mauricio Ramirez (2019), "Westown in Bloom" by Emma Daisy Gertel (2019), "Migration" by Katie Batten and Janson Rapisarda (2018), and over a dozen utility box murals throughout downtown by Mauricio Ramirez (2017 – 2019).
Since 2017, Milwaukee Downtown BID #21 has contributed and raised $118,500 for the implementation of large-scale mural projects, with more than half of that investment coming from sources outside of the organization.
Also, beginning in mid-February digital screens will anchor the corner storefront at Wisconsin Avenue and 2nd Street. The displays will showcase works by students from UW-Milwaukee's Department of Film, Video, Animation, and New Genres. The compositions will be selected by faculty and artists will be awarded $500 from Milwaukee Downtown BID #21. Pedestrians will be able to enjoy the digital art installations on the hour.