Scenes from the frontlines: Sergi Mykhalchuk details the wreckage of Irpin in the wake of its liberation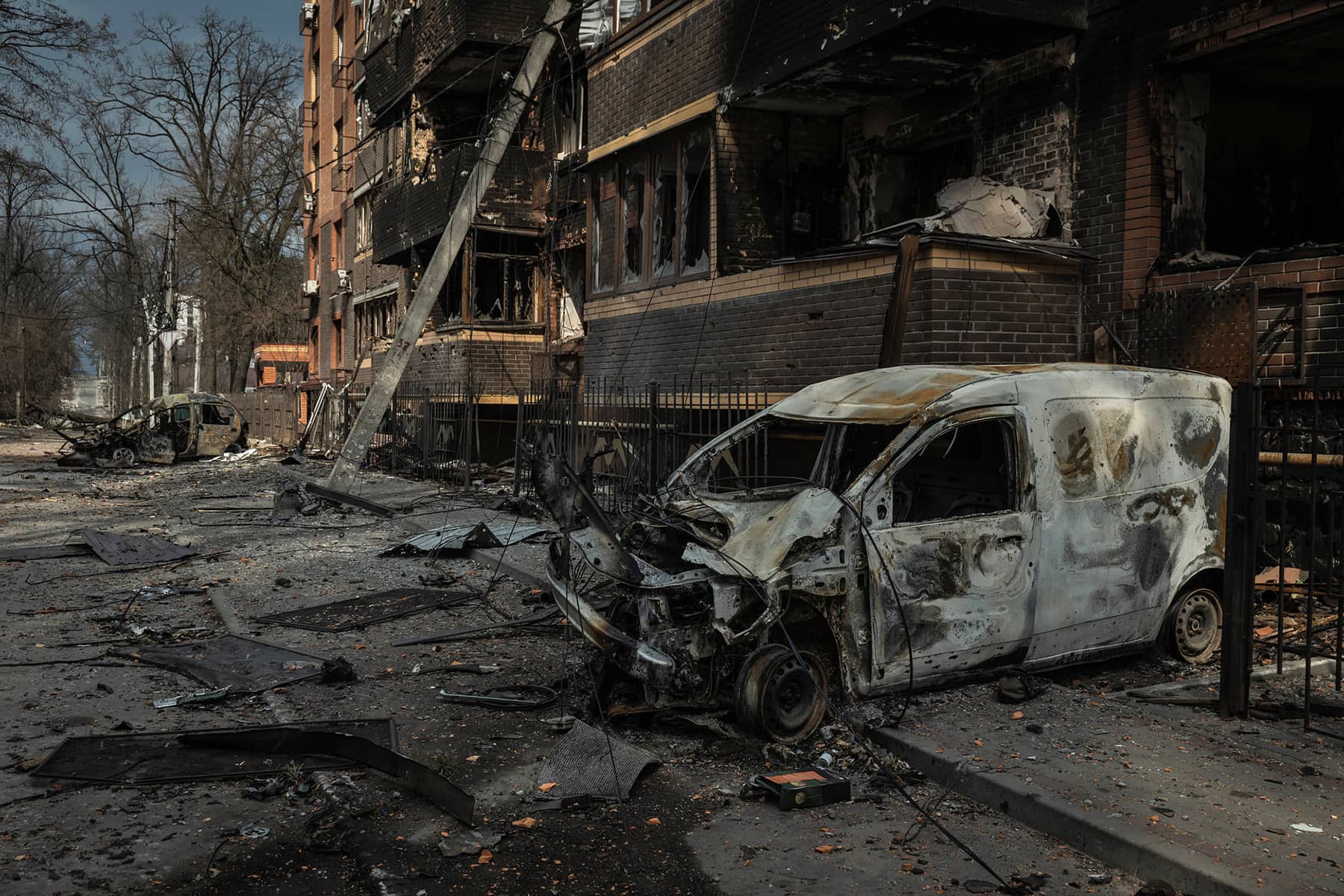 Since the invasion of Ukraine began on February 24, Milwaukee's sister city Irpin has been a strategic roadblock thwarting the Russian advance to capture the capital of Kyiv. After weeks of bloody fighting to dislodge the enemy from its foothold in the area, Ukrainian forces declared victory on March 28.
Irpin's Mayor Oleksandr Markushyn announced the liberation of his city via social media, which was later confirmed on the ground by Illia Ponomarenko, a war correspondent with The Kyiv Independent.
"Following the liberation of Irpin, it looks like Ukrainian forces have made new advancements west of Kyiv pushing Russians off the E40/M-06 Zhytomyr Highway," tweeted Ponomarenko. "Towns of Motyzhyn, Kapytanivka, Lisne, Dmytrivka have been taken back and cleaned up."
Irpin had been under siege since March 4 and, like many smaller towns, was targeted with indiscriminate and heavy bombardments. Local officials estimated that Russian troops had occupied close to 30% of the city. Confirmed reports later surfaced detailing how Russian soldiers committed acts of rape and the executions of families hiding in shelters.
Mayor Markushin said on March 30 that the actual number of casualties was still unknown since many people were buried in yards and parks.
"The Russian troops simply shot the people that they didn't like," said Mayor Markushin. "I will say this… maybe some people won't like this, but it is true. They crushed the bodies of Ukrainians who had been killed, just flattened them into the asphalt. It was frightening to watch."
The area remains under Ukrainian control but is still vulnerable, as Russian artillery from distant positions continues to hit random civilian targets.
"We are constantly being shelled from the areas around Bucha and Vorzel. Irpin is suffering from shelling from "Grads" (a Russian BM-21 truck-mounted 122mm multiple rocket launcher), mortars, and heavy artillery, and we are partially under fire from tanks and small arms," said Mayor Markushin.
Even though nearly half of the city was destroyed from constant shelling by the Russians, around 3,000 citizens have stayed in Irpin.
Mayor Markushin asked residents to not return to Irpin for now, because their safety was still at risk. The city was also under a strict curfew.
"I will let you know when to come back, but you definitely can't come back in the next month," said Mayor Markushin. "Give us time to deal with the enemy. There is no free Irpin without Bucha, Vorzel, and Hostomel being free. Because the shelling is coming at us from there. When we liberate those cities, it will be easier for us to work on the reconstruction of the city."
Municipal authorities estimate that up to 300 civilians and close to 50 defenders were killed by the Russian army in the battle for Irpin.
Ukrainian Armed Forces continued implementing evacuation efforts, with around 150 people removed from the city on March 30.
Observers have described the loss of Irpin as a significant setback for Russian forces, who are still trying to regroup after their failed attempts to encircle the capital.
After five weeks of fighting, military sources said that many Russian units have return to Belarus and Russia to reorganize and resupply after suffering catastrophic losses.
Kyiv-based photojournalist and cinematographer Sergi Mykhalchuk, has been on the ground and capturing images of Russia's war crimes in Ukraine since February 24. Milwaukee Independent previously published his images from the early evacuation of Irpin and later conditions in Kyiv.
Mykhalchuk's website hosts selections of his war photography. Viewers should be aware that some of his images are too graphic for mainstream media organizations to publish, specifically the Kyiv TV tower casualties that were hit in the opening days of Putin's surprise attack.
GRAPHIC PHOTO WARNING: This gallery contains news images from war that some viewers may find disturbing.
Video: Liberating Ukrainian Troops find Irpin a wasteland