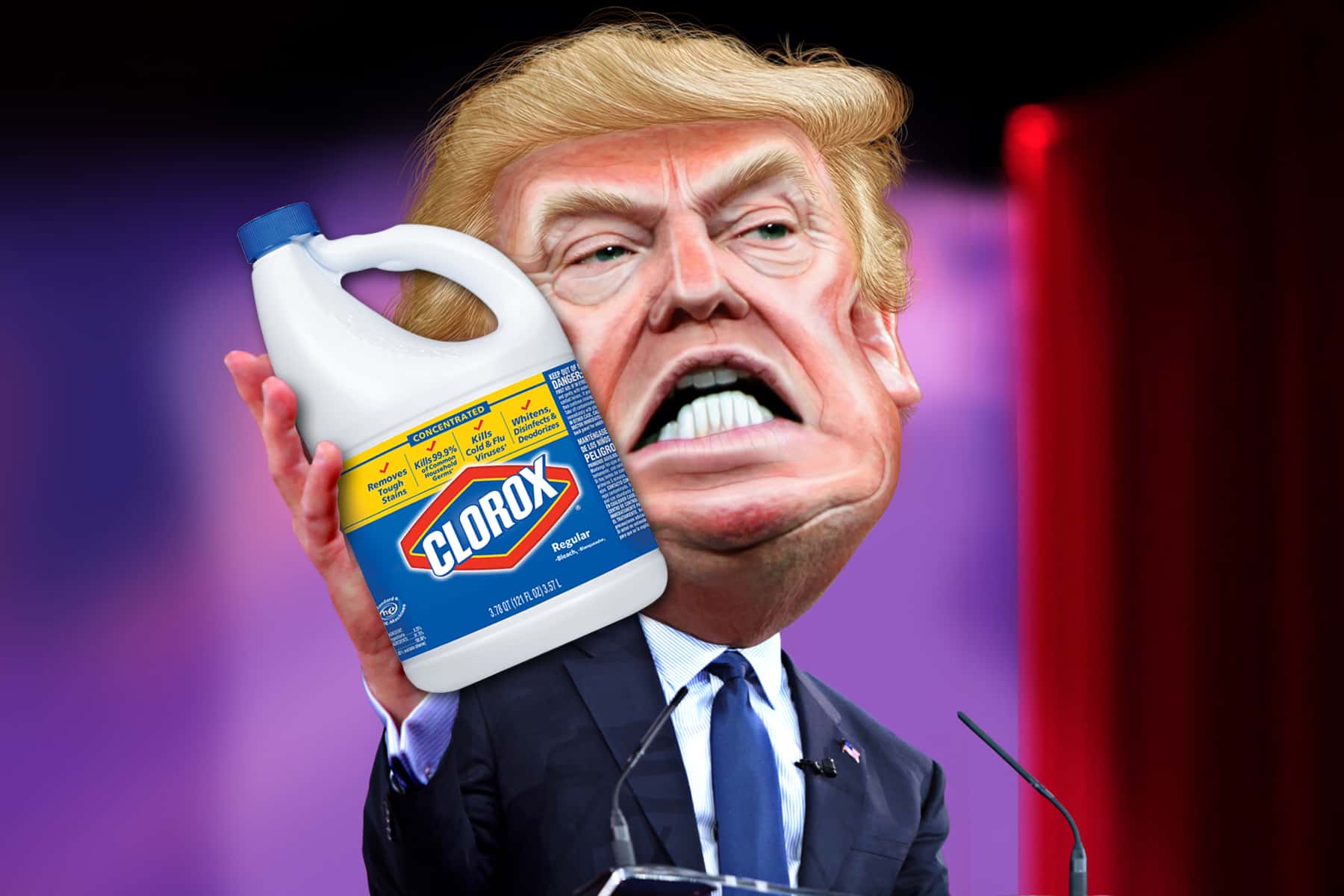 Following his obsessive push with hydroxychloroquine as an unsubstantiated treatment for the coronavirus, President Donald Trump pitched new cures involving sunlight and injecting disinfects on April 23, to the alarm of medical professionals.
The daily White House briefings about COVID-19 have become contentious propaganda rallies, and a public health menace. Trump has used the prolonged sessions to spread misinformation and push unproven medical treatments, at a time when the nation is in desperate need of honesty and leadership.
Trump brought up his latest farfetched medical theories in the context of a presentation given by William Bryan, a scientist at the Department of Homeland Security. Bryan's research indicated that the virus can be killed on surfaces by heat, humidity, and sunlight.
His office was also studying how certain disinfectants might kill the virus more effectively than others, referencing to isopropyl alcohol, known as rubbing alcohol, and bleach.
"Supposing we hit the body with a tremendous — whether it's ultraviolet or just very powerful light. And I think you said that hasn't been checked, but we're going to test it," said Trump. "And then I said, supposing you brought the light inside the body, either through the skin or some other way."
None of the medical experts at the April 23 briefing suggested that the treatments were plausible options for people already infected.
"And then I see the disinfectant where it knocks it out in a minute, one minute. And is there a way we can do something like that, by injection inside or almost a cleaning? Because you see it gets in the lungs and does a tremendous number on the lungs," Trump added.
Medical doctors have repeatedly cautioned the public against using disinfectants as a home remedy for the coronavirus, or any other illness. Chemicals like bleach are poisonous if ingested.
"Any amount of bleach or isopropyl alcohol or any kind of common household cleaner is inappropriate for ingestion. Even small amounts are deadly," said Dr. Vin Gupta, a pulmonologist and global health policy expert. "This notion of injecting or ingesting any type of cleansing product into the body is irresponsible, and it's dangerous.
Dr. Gupta said that drinking bleach was a common method that people used when they wanted to commit suicide. He added that it was demoralizing for a doctor to hear the White House "peddle improper health messaging."
Trump's Food and Drug Administration has specifically warned against drinking the chemicals in disinfectants, noting that consumption of such products "can cause nausea, vomiting, diarrhea, and symptoms of severe dehydration."
The claims promoted by rightwing media voices have been based on fake science that has also peddled them as cures for autism and HIV infection for decades. Trump has repeatedly given misleading statements about the coronavirus, from the denial that it was a problem to the assurance that it would quickly vanish.
Along with Fox News, Trump spent weeks hyping hydroxychloroquine as a potential coronavirus miracle drug. Veterans Affairs hospitals released a study on April 22 of coronavirus patients treated with hydroxychloroquine and found more deaths resulted from it than treatment with standard care. Researchers have definitely concluded that there no benefit to its use. As a result, both Trump and Fox News have remained silent on the issue.
The
Milwaukee Independent
began reporting on what was then referred to as the mysterious "Wuhan Virus" in January 2020. Other local media did not picked-up on the story until many weeks later. Our early features focused on the economic impact, social issues, and health concerns long before other Milwaukee news organizations even mentioned the coronavirus. Over the following year, we have published hundreds of articles about the pandemic and how it has affected the lives of Milwaukee residents. This extensive body of work can be found on our
COVID-19 Special Report
page, a chronological index of links by month. Our editorial voice remains dedicated to informing the public about this health crisis for as long as it persists.
For medical resources, please visit the
CDC's COVID-19 page
or the
Wisconsin Department of Health Services
. All editorial content published by
Milwaukee Independent
can be found at
mkeind.com/COVID19
. With a mission of transformative journalism, our staff is free from commercial bias and are not influenced by corporate interests, political affiliations, or a public preferences that rewards clicks with revenue. As an influential publication that provides Milwaukee with quality journalism, our award-winning photojournalism and features have helped to achieve a range of positive social impact that enriches our community. Please join our effort by entrusting us with your contribution. Your Support Matters -
Donate Now