No Studios opens rooftop club lounge and extends local membership opportunities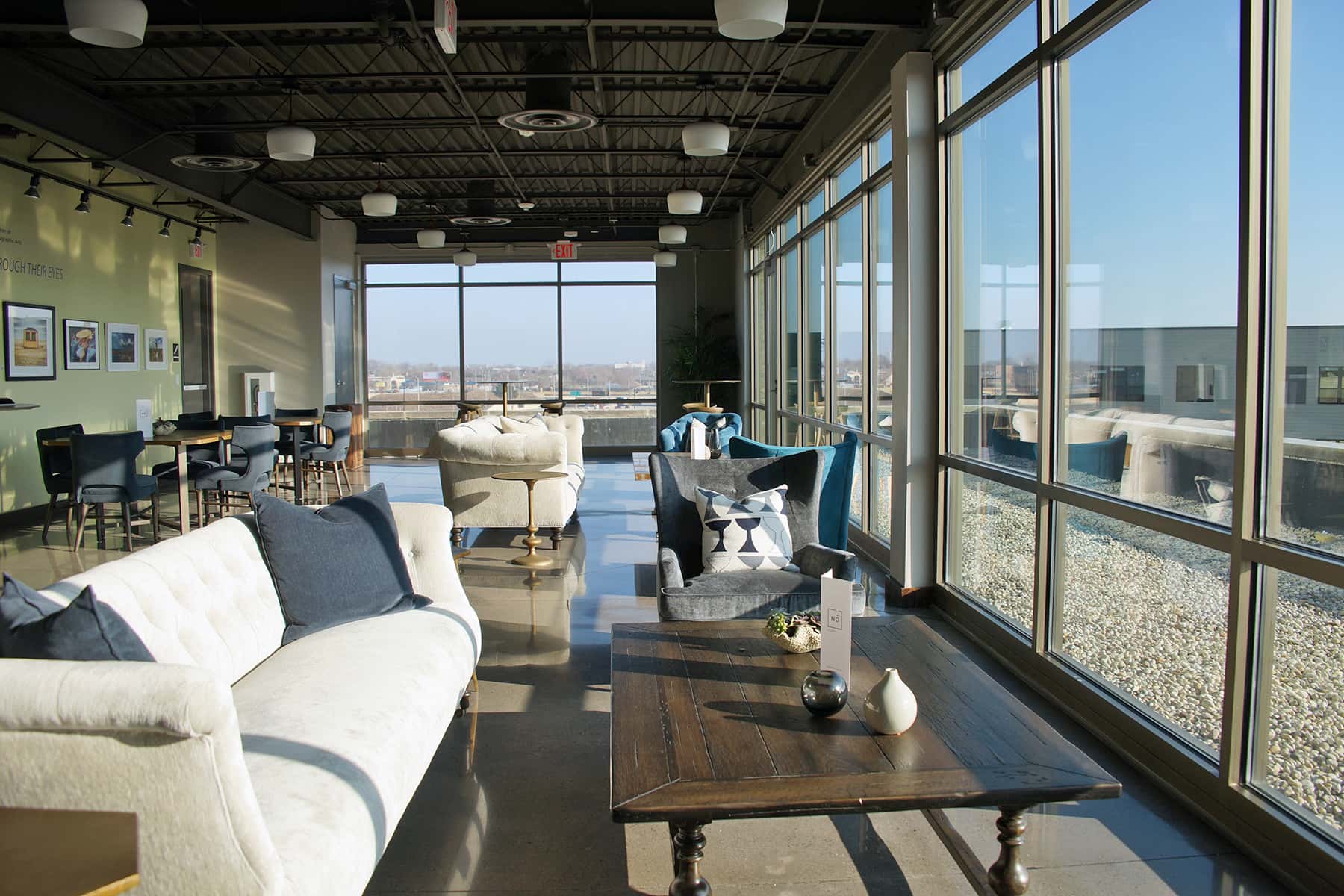 Launched in October 2018 as a hub for the creative arts in downtown Milwaukee, No Studios introduced the completion of its rooftop level and Club Lounge on March 16, and announced to opening up three new membership tiers designed for local businesses, corporations, and entrepreneurs.
Founded by Oscar-winning filmmaker and Milwaukee native John Ridley (12 Years a Slave and American Crime) and business partner Chris Abele, No Studios is a first-of-its-kind experimental concept bridging arts and entertainment experiences, a networking/social club model and shared workspaces.
The new membership tiers include club, corporate, and coworker levels. Tailored for the business community and professionals in creative fields, benefits include access to private event and performance spaces, meeting and conference rooms, and unique opportunities for networking. No Studios provides a way for companies to tap into the arts community by offering an engaging space that inspires creative ideas and expands possibilities.
"We are thrilled to add exciting new capabilities to No Studios, and to offer Milwaukee a new way to socialize with purpose," said Lisa Caesar, chief operating officer. "With a performance space and place for artists of all kinds to showcase their craft on the first floor, co-working and conference spaces on the second floor, and now a high-end social space for exclusive events and gatherings on the rooftop level, there is complete flexibility in how members can use No Studios."
Approximately 4,000 square feet, the glass-enclosed rooftop Club Lounge offers unmatched views of the Milwaukee skyline and comfortably seats approximately 100 people. The space features bar and beverage service, a catering staging kitchen and lounge-style seating, making it an ideal spot for socializing, networking and events. An outdoor patio is expected to open later this year.
"As someone who has been enthusiastically involved in Milwaukee's cultural community for over 20 years, I've been excited about this project and John's vision. With every new tenant and every new development since then, my excitement for what No Studios can do for the community I love only grows," said Abele. "The Club Lounge is going to blow people away when they see it."
The robust membership platform, which already includes artist and social levels, provides accessibility and accommodates a wide range of audiences. In addition, No Studios will soon complement its physical location with the launch of a new online community that features a member directory, job board and project planning platform, allowing No Studios members to develop connections across the country, and even around the world.
Fostering a space where all art forms are represented, No Studios named six ambassador club members from the Milwaukee arts community: Alyson Chavez, Milwaukee Ballet; Mary Chuy, actress and filmmaker; Linda Edelstein, Milwaukee Youth Symphony Orchestra; Maureen Ragalie, Saint Kate Arts Hotel; John Riepenhoff, The Green Gallery; and Della Wells, visual artist.
"In five short months, Milwaukeeans have already made No Studios their own. The space comes alive almost every night of the week with a range of events including film, visual art, book signings, music performances, panel discussions and more," said Caesar. "I'm energized by the prospect that Milwaukee's creatives are going to be the ones to shape the story of No Studios, and with the Club Lounge now complete, I hope this community will only continue to grow."