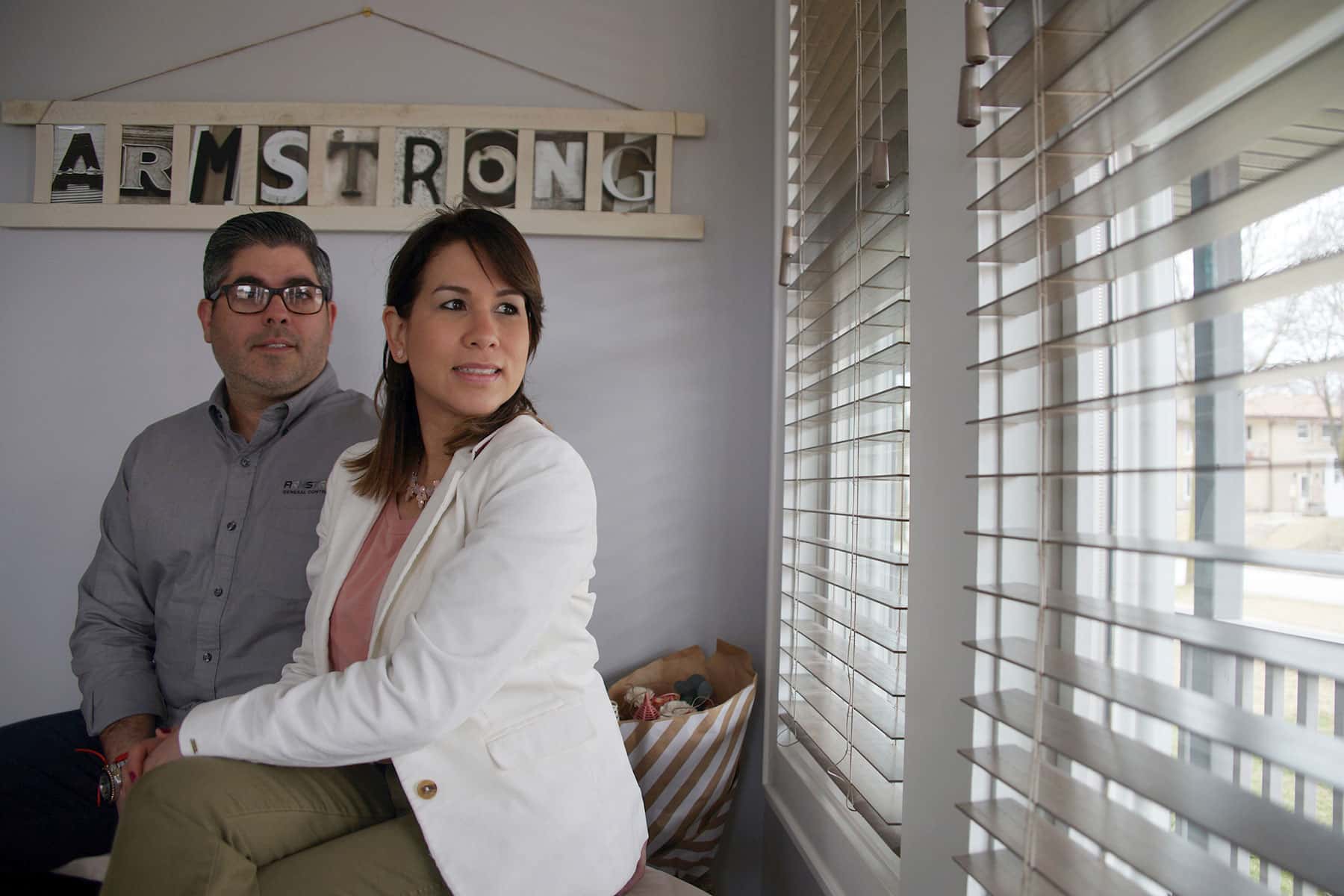 Success often appears to come easily and overnight without the public realizing the hard work, personal risk, depleted savings, and unglamorous duration it took to achieve the reality behind that appearance.
For Loriana and Nicholas Armstrong, the husband and wife business couple spent years in the construction industry, earning connections and access to resources, until they decided it was time do the work for themselves. Armstrong General Contracting is a business success story, but not just because of its financial numbers. The helpful spirit of Loriana and Nicholas towards clients, employees, and the community have produced more than buildings. Their never ending drive towards finding possibilities has created a vibrant business network built on trust and hope.
Q&A with Loriana and Nicholas Armstrong
Milwaukee Independent: What is the fondest memory of your youth, and who was the most influential person in your life?
Lorianna Armstrong: The fondest memory of my youth was moving to a different country at age 12, started a new life, learned a new language, got a used to the cold weather. That changed my life completely. The most influential person in my life would actually be two people, both my parents. They immigrated to this country with 3 of 4 kids going to college at the same time, and starting from zero.
Milwaukee Independent: What are you most proud of accomplishing and what are you still striving to achieve?
Lorianna Armstrong: The most proud accomplishment for me is to be the business owner of a construction company. I strive to develop meaningful relationships with staff. Our business is our life and each employee who works with us is part of our extended family. We try to build those relationships outside of work with various events throughout the year.
Milwaukee Independent: How is faith a part of your life and the work you do?
Lorianna Armstrong: Faith is a huge part of my life. Without faith I would not be where I am today. I had faith in my husband as a business partner, I had faith in myself that I was capable to achieve what we have now. I have faith in my employees and the people we are surrounded by. I have faith that we have the means to continually find ways to give back to the community and those who helped us along the way.
Milwaukee Independent: Why have you stayed in Milwaukee and not moved to another city that embraces diversity?
Lorianna Armstrong: Milwaukee is very diverse from my point of view, so there is a great amount of opportunities and chances to build good relationships.
Milwaukee Independent: Can you tell me about Armstrong General Contracting and how the company came about?
Lorianna Armstrong: In 2014, I was driven by a desire to be self-employed. My husband and I started to think of our strengths and expertise, and that led to the decision of starting Armstrong General Contracting. Nick and I began fulfilling a residential carpentry project for 17 homes in Milwaukee. We started out operating Armstrong GC from our basement, and within a few months we moved to a small office in Bay View. A year later we move to our present warehouse and office space in downtown Milwaukee.
Nicholas Armstrong: When I left another company, most of the clients were familiar with me and started to call me. Loriana, my wife, decided to open a company and she did. Now 3 years later we are Armstrong General Contracting.
Milwaukee Independent: As a manufacturing town, Milwaukee is good at building but not communities, so how are you building bridges between people to help remove segregation barriers?
Lorianna Armstrong: No job is too small or too big, and each one of us takes every job personally. The care we put into each and every one is a reflection of who we are. We treat every customer the same, it doesn't matter if we are in the North Side of Milwaukee, the South Side of Milwaukee, or where we are working.
Nicholas Armstrong: We work with a majority of the community programs. Our strength is going and identifying the needs of our clients and their neighorhoods.
Milwaukee Independent: What do you enjoy most about your job, and what part of the process is most unpleasant that you are working to change?
Lorianna Armstrong: The thing that I enjoy most about my job is to be able to help customers, and sort out solutions when it comes to remodeling or renovations to the property. The most unpleasant is encountering delays due to unreliable contractors. Having to wait for other subs that don't always maintain the same high customer service standards that we have.
Milwaukee Independent: It is impressive to see that your company made more than $1 million in revenue, but how do you determine your success without using money as a measure?
Lorianna Armstrong: So far, I determine my success in our company by the increase in workforce, company vehicle additions, amount of projects we are doing, and getting important awards.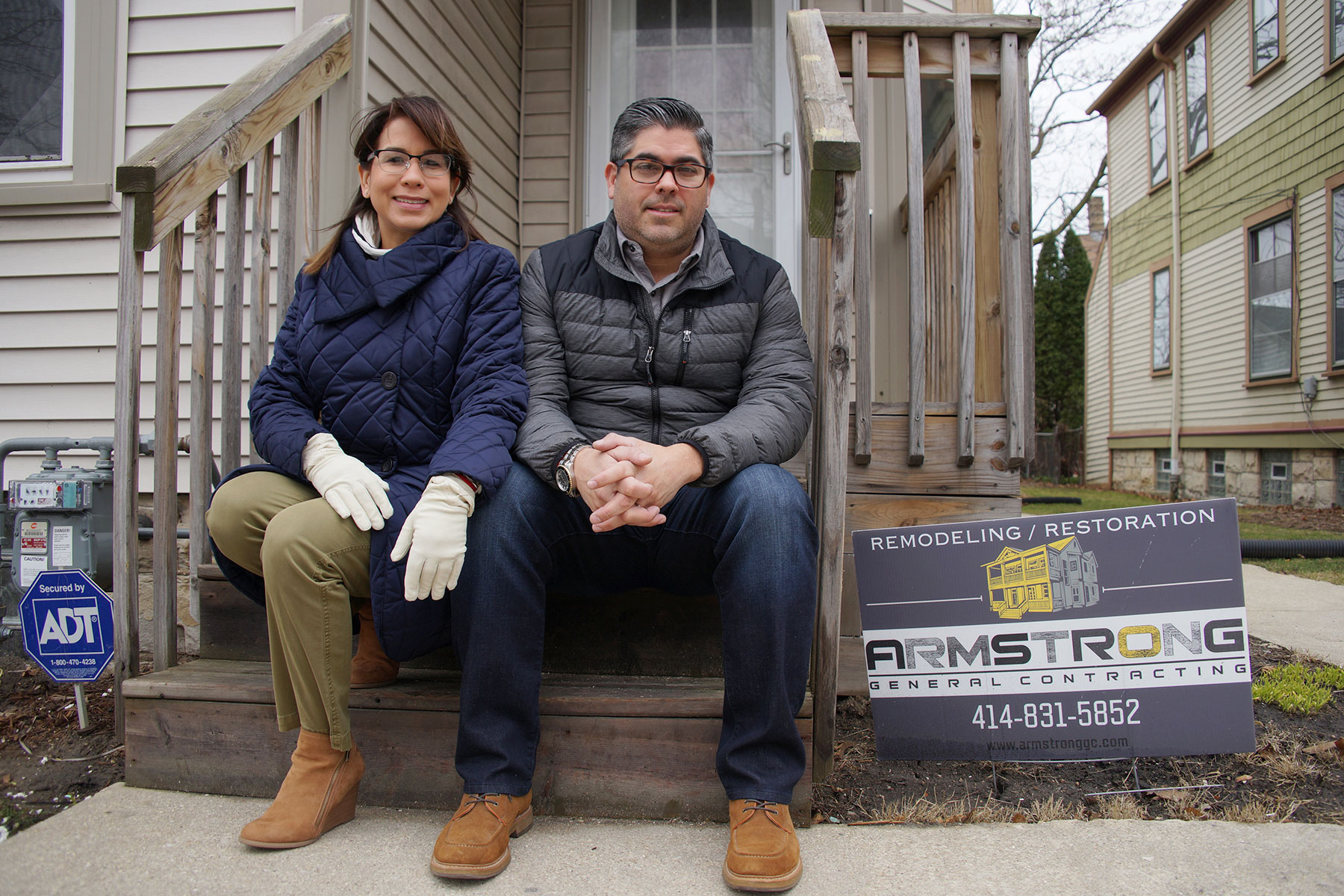 Milwaukee Independent: You have recently earned several awards, how has that made you feel and what has been the result of the attention?
Lorianna Armstrong: I'm very honored for all the awards we have earned since we started the company 3 years ago. But I know that none of our success would have been possible without the support of family and friends who helped financially, emotionally, and physically to make this a reality. The result of the attention from awards is huge. We have received calls, emails, letters, and cards from many important people across the entire state. I'm very overwhelmed with all the recognition we have been getting from those awards.
Nicholas Armstrong: It's like getting your grades at school, serving as a reminder that no matter how good we do we need to work harder.
Milwaukee Independent: You work with many different sectors, from the city of Milwaukee, to private businesses, to home owners, so which kind of customer is more challenging and why?
Lorianna Armstrong: Most definitely home owners, because it is their home that they are opening their doors to. So they are very meticulous about the work that we do. I understand them because I'm the same way when it comes to my house. I'm extremely picky and a perfectionist. I always try to be in their shoes.
Milwaukee Independent: What has been your involvement with Scale Up Milwaukee and the GMC?
Lorianna Armstrong: I was part of Scale Up, the 3rd cohort that graduated, and it was an amazing experience. The knowledge I gained and the contacts I made are unmeasurable. Armstrong General Contracting is an active member of Scale Up organization.
Milwaukee Independent: How important was WWBIC to your business, and what kind of support did you get from Wendy Baumann?
Lorianna Armstrong: WWBIC was the first entity that believed in us and our business. WWBIC offer our first loan, to be used for working capital, within our first year in business. Wendy Baumann has included us in everything they do since we started working with them. She has made us feel like part of a big family. We get the support not only from Wendy but from the entire team at WWBIC, including our Business Coach, Athena Agudemos.
Nicholas Armstrong: Wendy is an inspiration to us, a person who really cares about seeing others succeed. She is part of our success.
Milwaukee Independent: What has been your relationship with WHEDA, how has the organization helped your business, and what are your plans for the future?
Lorianna Armstrong: The relationship with WHEDA have been key to our success. When I think of WHEDA, I think about Maria Watts. WHEDA has been our supporter and coach, but mainly a partner to obtain our first line of credit with a conventional bank. After knocking on many doors to find a line of credit, WHEDA came further along than we expected to get Park Bank to offer us what we needed. We plan to continue working with WHEDA for many years to come, and be part of great things it is doing for the community.
Nicholas Armstrong: WHEDA is an organization, but on top of that it is a group of sincere people who treat their clients like family. Maria Watts walked the extra mile to find a solution and provide us with the tools that we needed. Not only that, but WHEDA provided us with a lot of wisdom and family care. Wyman Winston is a great leader, but also have a phenomenal team member. They are real, and we are proud to be part of their family.
Milwaukee Independent: What is the question that you are most often asked?
Lorianna Armstrong: How do you see yourself in 10 years from now?
Nicholas Armstrong: How easy was it for you to become Armstrong General Contracting?
Milwaukee Independent: Is there a question that no one ever asks that you wish they would, so you can finally talk about the subject?
Nicholas Armstrong: Yes, how we can serve more to the community and help those in need?
Milwaukee Independent: What is your hope for the future of Milwaukee, and the conditions for those living in the most disadvantaged communities?
Lorianna Armstrong: I hope that Milwaukee continues to grow and become an even more diverse community, where the segregation and problems from it decreases. My wish is not only from the perspective of a business owner but as a mother raising two daughters.